Meet "Sunshine" Sonny Payne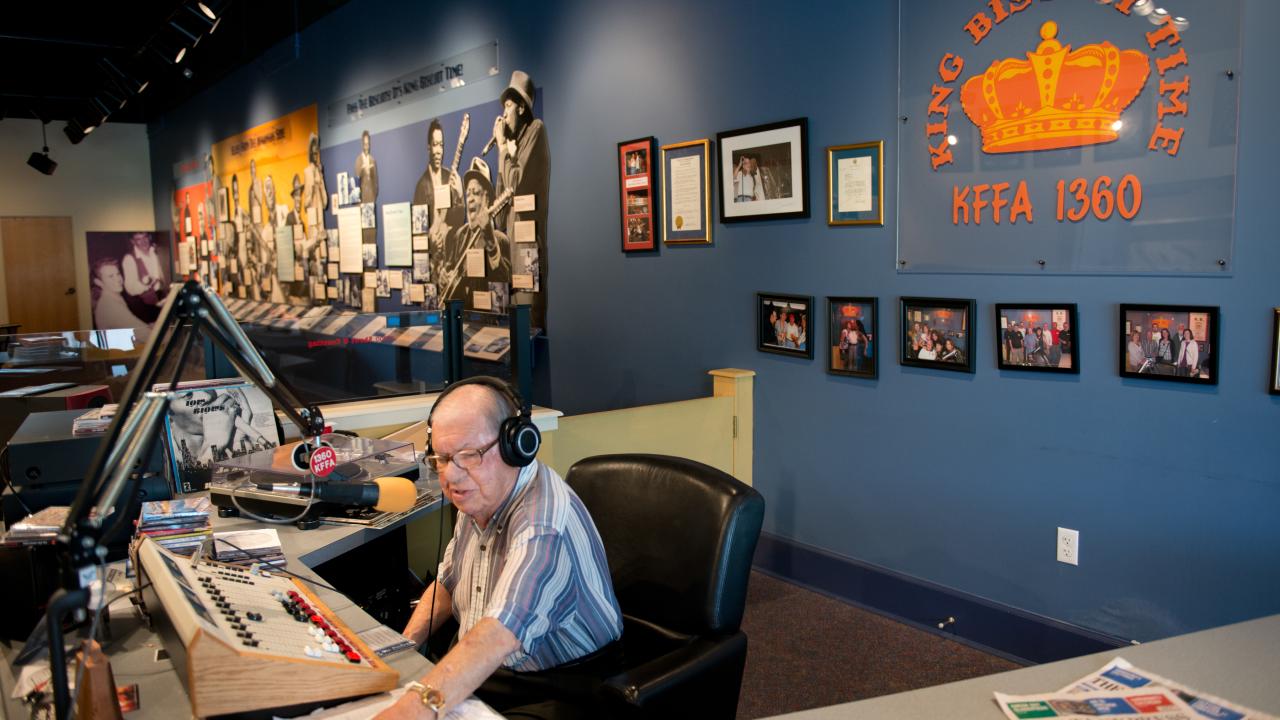 Editor's note: This blog was published in August 2015. The legendary "Sunshine" Sonny Payne passed away on February 9, 2018, at the age of 92.
We use the word "legend" so easily these days…but I'm about to use it and, in this case, it's VERY deserving. "Sunshine" Sonny Payne, host of the award-winning King Biscuit Time radio show, is a legend. That's just the truth.​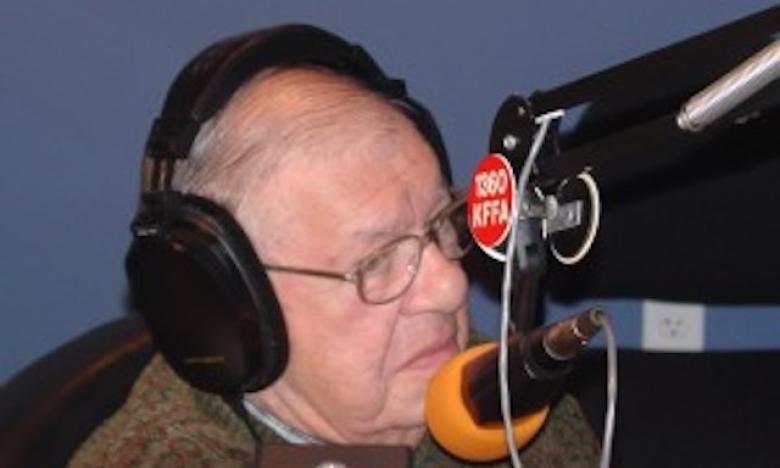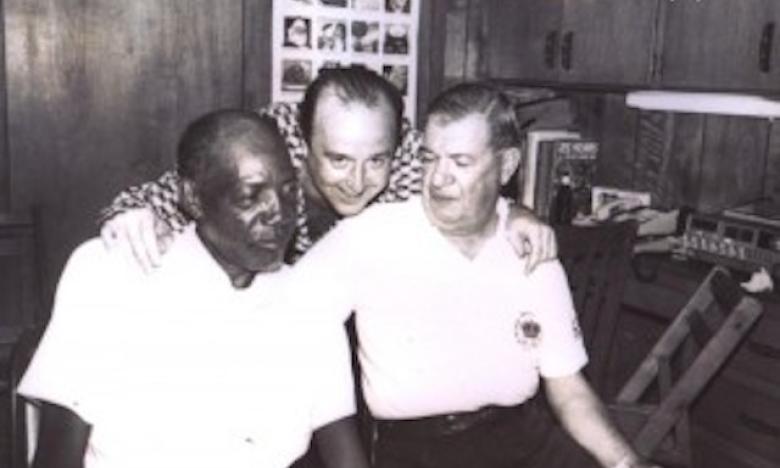 John William "Sonny" Payne began working for KFFA Radio shortly after the station opened in November 1941. He started as a janitor mere days before the station began broadcasting. His first announcing opportunity came in July 1942 when Sam Anderson, station manager and King Biscuit Time announcer, stepped out of the control room for a few minutes too long and Sonny had to quickly read the live commercial. Although not a perfect delivery, he was given the chance soon after and delivered without a hitch.
A radio career had been born. But it wouldn't happen immediately.
Payne joined the military in late 1942, and was shipped overseas to assist in setting up communications on enemy-held islands. He left military service in 1948 and began touring as a bass player for Ted Weems. By 1951, Sonny was tired of being on the road and decided to return to Helena. He was welcomed back to KFFA Radio and began his new career as permanent host of King Biscuit Time, which he still broadcasts weekdays at 12:15 p.m. from the Delta Cultural Center in downtown historic Helena.
King Biscuit Time is the longest-running daily blues radio show in the nation and possibly the world.
The legendary show began in November 1941 when Sonny Boy Williamson and Robert Lockwood Jr. approached Helena's new radio station, KFFA, with the idea for a live blues program. After finding a sponsor for the program, King Biscuit Flour, the blues show took to the airwaves and became an instant hit.​
Musical legends such as B.B. King and Arkansas Delta native Levon Helm have named "Sunshine" Sonny Payne and King Biscuit Time as influences in their music careers. Music greats Robert Plant and Elvis Costello have made the trek to Helena to visit Sonny on the set of King Biscuit Time. He is a member of the Blues Hall of Fame, an inductee of the Arkansas Tourism Hall of Fame, and a recipient of the Arkansas Broadcasters Association's Pioneer Award.
Payne and King Biscuit Time were awarded the George Foster Peabody Award, considered by many the "Pulitzer for Media," in 1992.
In May 2014, King Biscuit Time celebrated the 17,000th show, and "Sunshine" Sonny Payne was at the microphone. In honor of the historic event, Governor Mike Beebe proclaimed May 14 as "Sunshine" Sonny Payne Day in Arkansas.​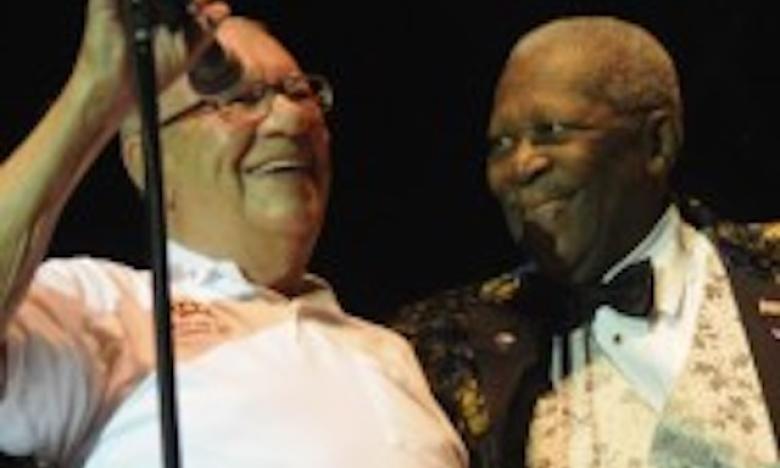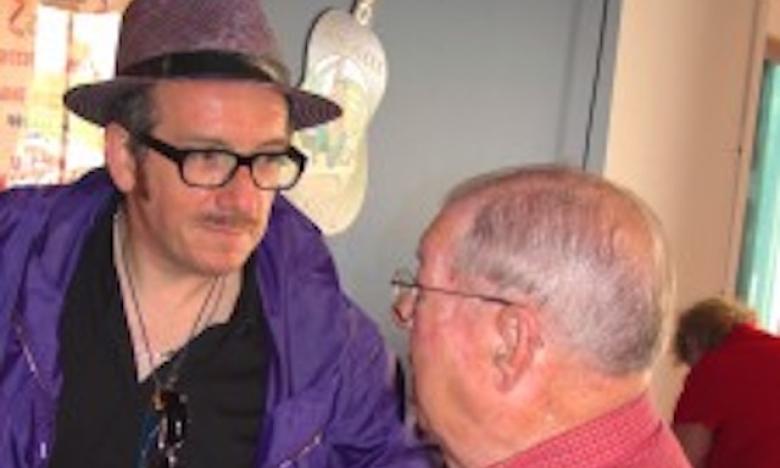 On a personal note, I've known Mr. Sonny nearly 20 years. I can literally sit for hours and listen to him talk about his life, his career and music. I first met him when I started working at the Delta Cultural Center. I happened to be working the front desk at the DCC several years ago when a nice gentleman walked in to meet Mr. Sonny. That gentleman's name was Elvis Costello. He was in the area recording an album and said he had to drive to Helena to meet the legendary Sonny Payne. He did…and they've been friends since.
Mr. Sonny has known or worked with so many musical legends
B.B. King,  Robert Lockwood (whom he considered his best friend), Levon Helm, Elvis Presley, and so many others, it's impossible to list them all. But he doesn't consider himself a legend…none of the great ones do.
To see all the people that flock to see Mr. Sonny, meet him and watch one of his live broadcasts, anyone can realize that he is legendary and he is special.
During the King Biscuit Blues Festival each October, one of the most coveted spots is to be interviewed by Sonny on KBT. People pack in at the Delta Cultural Center just to watch the show. They realize they are watching history being made before their eyes.
"Sunshine" Sonny Payne turns 90-years-young this November.
The 30th annual King Biscuit Blues Festival will be held on Oct. 7-10, and one of the biggest draws will be the live broadcast of King Biscuit Time each day…and of course, the show's legendary host, Sonny Payne. But don't tell him I called him legendary…he won't believe it anyway. But ask Elvis Costello…he'll agree with me!