The merry month of May is even merrier this year in the Arkansas Delta, because it's filled with musical events for the entire family!
Warfield Concerts in Helena-West Helena offers the annual Outdoor Concert and Picnic on May 1. Held on the campus of Phillips Community College/University of Arkansas, this year's event features the Memphis Symphony Big Band. The MSO Big Band plays historic music originally performed and broadcast at the Peabody Hotel during the golden years of big band music. Bring a picnic and enjoy a beautiful Arkansas Delta evening. Admission is free. Log on to www.WarfieldConcerts.com for more information.
Head to Village Creek State Park in Wynne on May 4-7 for a music festival like no other – Pickin' in the Park! There are no set bands or performance times, but music fills Camp Area A throughout the event. Visitors are encouraged to bring their instruments and sit in with any of the bands or, if you're not musically inclined, bring a chair or blanket and just sit back and enjoy the music, ranging from bluegrass to country to folk to gospel. Admission is free. Contact the park at 870-238-9406 for details.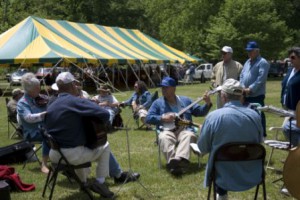 Osceola is the site for the 2016 Osceola Heritage MusicFest on May 20-21. This year's lineup include Buddy Jewell, Sonny Burgess and the Legendary Pacers, the Beale Street All-Stars, and more. Find out details by visiting the event Facebook page here.
The Delta Cultural Center in Helena-West Helena hosts the 16th annual Arkansas Delta Family Gospel Festival on May 21. The free festival features all facets of gospel music, ranging from traditional African-American quartets to mass choirs to contemporary Christian music. Bring a lawn chair or a blanket, relax along the Mississippi River levee, and enjoy a day of gospel music. Visit www.DeltaCulturalCenter.com or phone 800-358-0972 for additional information.