Sponsored Article
An Ozark getaway checks all boxes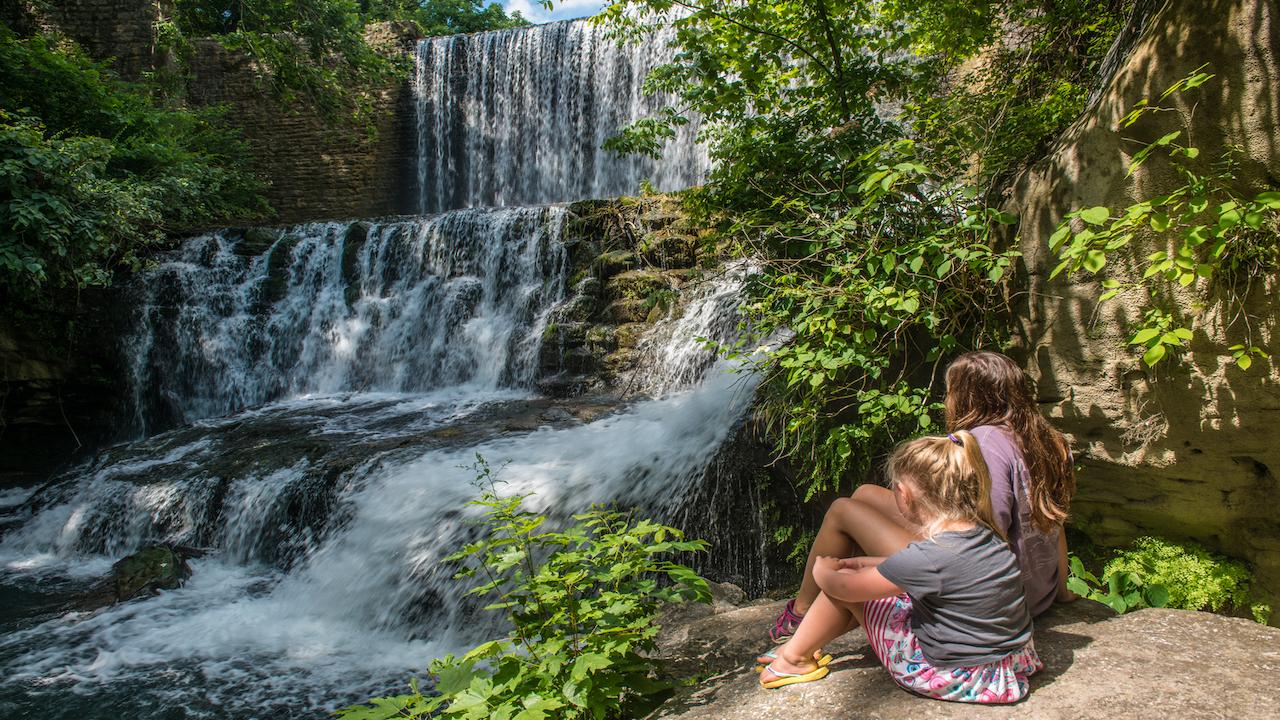 Spectacular trails lead to waterfalls. Trout jump high and bass glide deep in renowned fishing rivers. Master crafters share the secrets of blacksmithing, weaving, and doll making. Musicians pick out amazing runs on the guitar. Historic buildings and culture have survived over generations —it's all waiting for you in Arkansas's Ozark Gateway region!
With such beauty in the heart of the Ozark National Forest, it's no surprise that visitors in search of scenic spots flock to the Sylamore District, which includes both walking and mountain biking trails. The North Sylamore Creek hiking trail is a 22-mile point-to-point trail featuring sandstone bluffs rising out of crystal-clear waters. The Syllamo Trail is one of only 37 trails across the nation designated as EPIC by the International Mountain Biking Association. Fifty miles long, the mostly single-track trail has options for novice to advanced bikers with five interconnecting loops.
These stunning outdoor experiences are only the beginning in an eight-county region that includes scores of memorable attractions and state parks with many free public amenities.
State parks
Ozark Folk Center State Park
One of the state's most unusual and beloved state parks, this park celebrates the music, crafts, and culture of the Ozarks. The arts-loving town of Mountain View is a perfect setting for this center that features demonstrations and workshops by expert handcrafters in baskets, brooms, stained glass, jewelry, leather, pottery, and much more. And in the Craft Village, folk music will float around you to brighten your day with fiddle, mandolin, guitar, dulcimer and autoharp. Concerts and workshops regularly take place in the amphitheater with celebrated masters of Americana music. Cabins and an on-site farm-to-table restaurant make this one of only six sites in the state to qualify as a state park lodge with resort-like amenities. In addition, the park also hosts the Loco Ropes obstacle course and zip line for extra fun for families.
Jacksonport State Park
Once a thriving steamboat port, Jacksonport became the county seat in 1852 and was occupied by Confederate and Union forces during the Civil War because of its location at the convergence of the White and Black rivers. The park is now popular not only for its historical significance, interpretive programs, and 1872 courthouse, but also for a swimming beach, pavilion, playground and river walk.
Davidsonville Historic State Park
In Davidsonville Historic State Park in Pocahontas, you can trace the evidence of the state's first post office and see the results of archeological excavations that are still uncovering streets, buildings and more. Fishing is a major draw with the proximity to the Black River, but campers will find 20 sites from which to enjoy the scenery and history.
Powhatan Historic State Park
Powhatan Historic State Park holds six historic buildings including an 1888 courthouse with a Lawrence County museum and guided tours.
Mammoth Spring State Park
Mammoth Spring State Park is in Fulton County near the town of Salem and features one of the world's largest springs that then flows southward as one of the most famous trout streams in Arkansas, the Spring River.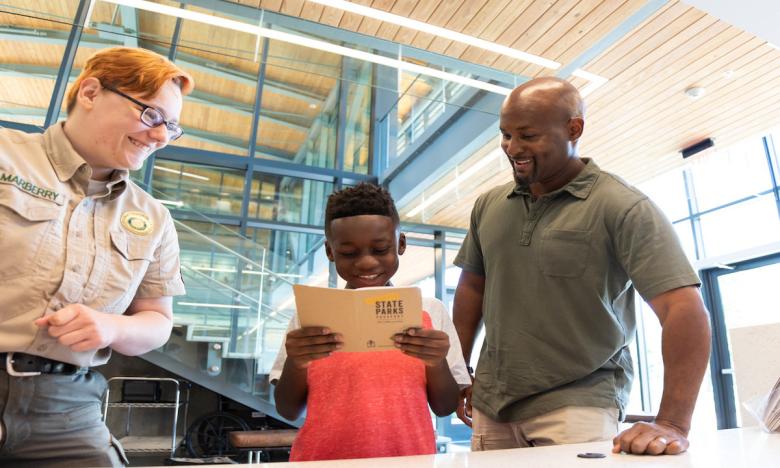 Lakes & rivers
No trip to the Ozark Gateway region would be complete without taking in one of the rivers and lakes that have a deserved reputation for great fishing, stunning beauty, as well as breathtaking encounters with wildlife and birds.
The Spring River and the White River are world-famous for their trout fishing. Whether you are in search of trophy rainbow trout or brown trout or others, these two rivers deliver. You'll find many fishing retreats along both rivers (and on the Southfork of the Spring River) that will outfit you with boats, floats, gear, and guides to help you catch your limit at some of the best fishing holes in the world.
Mirror Lake is not only a haven for rainbow trout: it's sometimes called the prettiest three acres in Arkansas. Petite in size, it more than makes up for it in beauty and is spring-fed by Blanchard Springs from the Blanchard Springs Caverns (which makes for its own supercool underground tour while you are in the area). The Mirror Lake dam creates a lovely waterfall that attracts countless sightseers in the state all year round.
The Black River offers its best fishing access in Davidsonville Historic State Park, where a 12-acre fishing lake borders the river. There, you will find a barrier-free fishing pier, fishing boards, pedal boats, and canoes for rent to help you get on the water. And, like the Black River, the southern stretches of the White River and the Southfork offer wonderful fishing for bass, perch, walleye and catfish. The Cache River in Jackson County features scenic wetlands and fish hidey-holes for abundant crappie, bass, bluegill and catfish.
Lake Charles State Park is best-known for its 645-acre lake where large numbers of 20-inch bass are caught every year. Sixty campsites provide convenient and relaxing access to the lake and its four hiking trails.
Charming towns rich with heritage
Ozark Gateway towns stand out for their distinctive personalities with a common respect for nature and the arts.
Mountain View is known far and wide for its folk culture and traditional music. In addition to the Ozark Folk Center State Park, Mountain View is famous for its Folk Festival, founded in the 1960s. The town has become a magnet for musicians, craftspeople and artists and is the headquarters of the Arkansas Craft Guild. The historic downtown hosts music stores, antique shops and galleries. Most special of all in town tradition are the impromptu musical gatherings called pickins, where locals and visitors will simply pick up their instruments and play through the warm afternoon until the stars come out. It's an experience visitors have fallen in love with for generations.
Downtown Pocahontas in Randolph County has its own unique historical appeal as one of the largest National Historic Districts in Arkansas, covering 17 square blocks. Picturesque red brick buildings showcase some of the best architecture in the state and hold art galleries, restaurants, and performance venues. The Century Wall at the River Walk displays etchings of 100 influential Americans of the 20th century. An innovative quilt trail holds over 50 quilts transferred to vinyl to enliven the downtown buildings.
Cherokee Village was the first planned recreational community in the state and now harbors a large population of full-time residents as well as vacationers. Visitors can enjoy swimming, golf, a beach, tennis, fitness centers, nature trails, an RV park, lakes for boating and fishing, and the Southfork of the Spring River. Not far away is historic downtown Hardy, with lots of quaint shops that make for good browsing.
Horseshoe Bend, located along the Strawberry River in the Ozark Mountains, also has numerous resort-style amenities such as golf, bowling, tennis, mini golf, swimming or boating on Crown Lake. The new Crown Lake Aqua Park is a welcome addition for summer.
Batesville in Independence County is home to Lyon College. The attractive and well-preserved downtown on the White River now contains antique stores, music shops, and art galleries as well as the historic Melba Theater originally constructed in 1875 and still operational. The holidays are a magical time to visit with their recent recognition as the Christmas Capital™ of Arkansas. Guests can enjoy a number of attractions, light displays and much more along the banks of the White River. Batesville also draws thousands of visitors each year to the Mark Martin NASCAR museum.
Festivals and celebrations 
Festivals celebrating the history and culture unique to the Ozark Gateway region happen year-round. Each September, Calico Rock celebrates Native American culture honoring those that endured the Trail of Tears through the city. Back in Batesville, Lyon College holds the annual Arkansas Scottish Festival with Highland dancers, Scottish athletics and more.
Looking for arts and culture in one location? Experience the Delta Arts Festival in downtown Newport. Held the first full weekend in June, the multi-disciplinary festival celebrates creativity and talent in art, literature, film and music.
If you want to see a huge group of fans having the time of their lives, come to the Beatles on the Ridge Festival in Walnut Ridge. Held every fall, the festival commemorates the night in 1964 when all four Beatles—John, Paul, George and Ringo—stopped through this small Arkansas town. Now, their visit lives on in Beatles Park, which has a sculpture of Abbey Road where visitors can capture their own photos walking through the famous album cover. Guitar Walk centers on a massive concrete guitar monument that also honors legendary musicians like Elvis and Johnny Cash. The festival offers free admission and free entertainment with plenty of vendors offering memorabilia, arts & crafts and more.
In Sharp County, two festivals make for great family fun. The Cave City Watermelon Festival is now in its 40th year and features three days of fun and entertainment with acclaimed musicians, a kids' fishing derby, 5K run, car show, seed eating and spitting contests, play spaces, free melon feast, and much more. The recently inaugurated Arkansas Pie Festival in Cherokee Village invites bakers from all over the state to celebrate the southern love of pie with contests for professionals, amateurs, and youth, as well as surrounding festivities.
Though Mountain View is best known for its folk festival, another local celebration that draws thousands for fun is the Mountains, Music and Motorcycles Festival now in its 19th year. With biker games, poker run, scavenger hunt and a bike and car show, this laid back and welcoming festival is a great time for all who love bikes and cars to kick back with great food and music.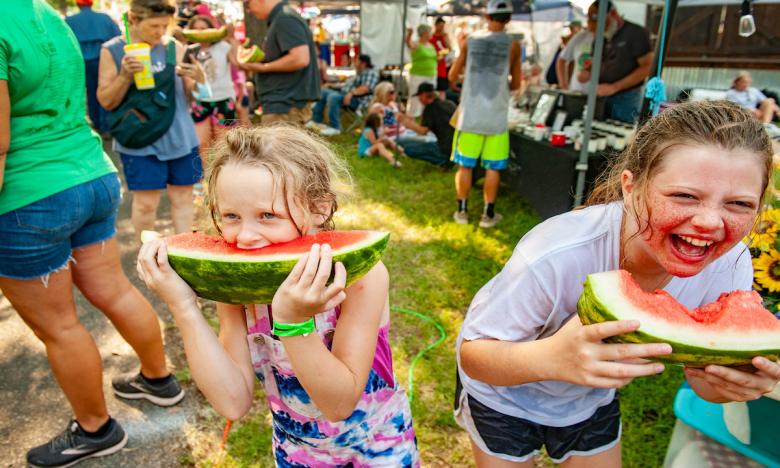 Experience the Ozark Gateway Region for yourself
Don't miss the haunting beauty of the wilderness scenery, history, and folk culture that bring people back to the Ozark Gateway region again and again. Whether you come for the music, the rivers, or the forests, you will leave with memories that stir your heart. Escape from today's rush in this place full of peace, beauty, adventure, and a simpler way of life. Start planning your trip at ozarkgateway.com.