Rockwater Marina in North Little Rock Now Open
The new Rockwater Marina in North Little Rock is now open! The marina caters to high speed and luxury boats and the docks can accommodate boats up to 100 feet long. The marina has been permitted by the U.S. Army Corps of Engineers for 136 boat slips. As of now, 66 are open in the completed first phase of the project.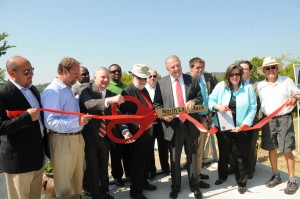 ​
Those present at the Grand Opening included North Little Rock Mayor Joe Smith and Congressman Tim Griffin. The marina is located on the north side of the Arkansas River. It is central Arkansas's first marina downtown and the full-service marina houses a fuel dock and ship store.
There is a main dock that serves as a 'community area' and a main walkway that leads to all the boat slips. The walkway and main dock offer a nice view of the Little Rock skyline.  The marina is located near popular area attractions like the River Trail, Dickey-Stephens Park, Simmons Bank Arena, and the Little Rock River Market District.
​
When completed, the project will total $3.8 million. The project received more than $1 million via a boating infrastructure grant from the U.S. Fish and Wildlife Service. Plans for a second marina downriver on the Little Rock side have gained approval from the Little Rock Planning Commission.