10 Reasons to Visit Central Arkansas in September
September brings thoughts of autumn in Arkansas.  From the changing of the leaves and a new major arts event, to pumpkin patches and locally grown produce, there's a kaleidoscope of color and activities around nearly every bend. Start planning your trip now.
  1.   A Top 10 in September's 10: It's pretty impressive when the Los Angeles Times singles out an Arkansas fair as one of the Top 10 in the country but that's exactly what happened to the annual White County Fair in Searcy. The 78th edition will be Sept. 6-13.  Downhome activities include a parade, horse show,  4-H show and sale, the queen's contest, and musical performances by Cody Slaughter as Elvis, the J.R. Rogers Band, and Matt Dame. Not for the faint-at-heart are the lawn mower races, an autocross, ATV races, a demolition derby and the IPRA/ACA bull riding, featuring the All-American Cowgirl Chicks, and NFPB bull riding.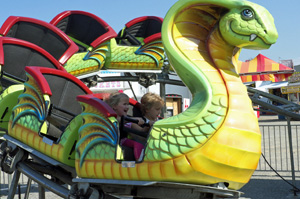 2.   A Sizzling Affair: The meat of the pig is exalted to a higher level on Saturday, Sept. 13 at the inaugural Little Rock Bacon Fest.  Both amateurs and professionals test their cooking skills using this pork.  If America's version of pancetta is one of your favorites, then the bacon eating contest is for you. Other planned activities include a 5K run/walk, merchant booths, live music and a special kids' area with inflatables.  Bring your appetite and make your way to the Arkansas State Fairgrounds. Tickets are available online.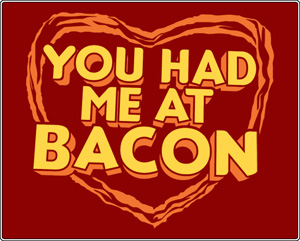 3.   Sensory Sensations: Your abilities to see, hear, smell and taste are in for a treat during the inaugural ACANSA Arts Festival, Sept. 23-28.  There's something going on daily at various venues throughout Little Rock and North Little Rock featuring a wide variety of activities. Highlighted are mime, painting, ballet, modern dance, drawing and adult puppetry, plus various types of choral music. Several of the events include food and beverages. A full schedule, locations and prices are available on the ACANSA website.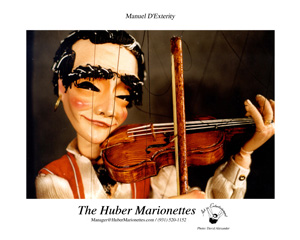 4.   The "Hay" Days of Autumn: Nothing says fall quite like pumpkin patches, mazes and other outdoor fun. Head on over to Mary's Place for her 6th annual Pumpkin Patch and Train Ride. It takes place Sept. 25-Nov. 8 in Bryant. Hay and train rides, a bounce house, a hay mountain with tunnel, and a Western town with an old-fashioned shoot-out are scheduled.  You'll also find a treehouse, swing and slides, a maze and plenty of spots for photo ops.
For the 10th year, Schaefers Farm in Mayflower invites visitors to experience rides on the Corn Maze Express, hay tunnels, rides and mounds, and a sand play area. Also on the grounds Sept. 27-Nov. 1 are concessions, playground equipment, kiddie toy rides of wagons, tykes, and cars, picnic areas and a snack shack.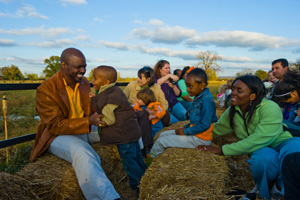 The J & P Ranch in Scott is having its fall fest of fun Sept. 29-Nov. 8 with a pumpkin patch, hay rides, playground, places for basketball and volleyball, and a picnic area.  A petting zoo with rabbits, goats, chickens and more animals is on-site. Horseback riding for the kids is also offered. Everyone under the age of 12 gets a free pumpkin.
5.   Fiery Show: Most people think of the Ozarks or the Ouachitas when looking for fall color viewing.  But there is some beautiful color in Central Arkansas as well.  Whether it's the brilliant red maple trees lining Markham Street through the River Market District leading to the Clinton Presidential Center or the west Little Rock oasis that is Pinnacle Mountain State Park, there are many opportunities to see some fiery foliage. September is probably a little early for a massive color change but it's never too soon to start planning your trip.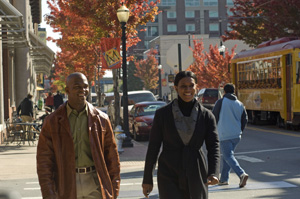 6.   Visit a Movie Star: North Little Rock's Old Mill is an Arkansas landmark.  It's also motion picture history — and is believed to be the only remaining structure from the 1939 classic "Gone with the Wind."  Seen in the opening sequences of GWTW, it was built in the 1930s made to look old even then. Open year-round, the beautiful park setting is especially gorgeous during fall and spring.  September is an awesome time to visit.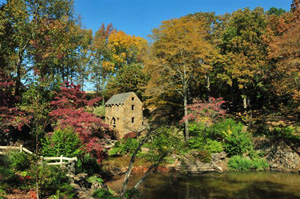 7.   Pies, Produce and Plantation History:  The communities of Scott and Keo in Central Arkansas pack a ton of attractions into a relatively small area.  In Scott, learn what 18th century agrarian life was like in Arkansas at the Plantation Settlement and Plantation Agriculture Museum State Park. Fresh produce grown on the family farm in Grady is available at Hardin Farms and Market Too along with daily smoked meats, menu specials and homemade desserts.  Still hungry? Just down the road is the legendary Cotham's, home of the hubcap burger. Fried pies are also on the menu along with other Southern favorites.  A few miles away in Keo, you'd better bring your walking shoes if you like to shop because Morris Antiques has 60,000-square-feet of treasures.  Old Gin Antiques is close-by for even more perusing opportunities. Charlotte's Eats and Sweets is a destination unto itself.  Awarding-winning, nationally recognized pies are accompanied on the menu by burgers, salads, and the famous "Keo Klassic" sandwich.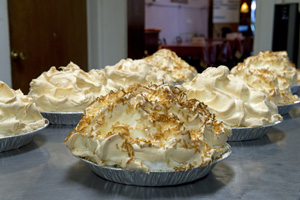 8.   Tisket-A-Tasket — Pack a picnic basket: Check out the amazing number of municipal parks in Central Arkansas.  There are so many to choose from.  In Jacksonville you can picnic at the Recycling Education Park while taking part in the exhibits.  North Little Rock's Burns Park has more picnic areas than you can use in a month of Sundays.  In Little Rock, the venerable War Memorial Park has been revamped and now shines like new without losing any of its charm.  In Conway, both Toad Suck and Cadron Settlement Parks have fascinating histories to go along with the outdoor eating areas.
9.   Hoofing It:    September's weather is generally perfect for strolling, power walking or running.  The Arkansas River Trail lines both sides of the river in downtown Little Rock and North Little Rock and heads west.  At Pinnacle Mountain State Park in Little Rock, the Kingfisher Trail is for those with accessibility needs. Conway has a National Recreation Trail at Cadron Settlement Park which interprets a route taken by early Arkansas settlers.
10.   Prancing Ponies, Penguins and Other Animals:   Riding the Little Rock Zoo's one-of-the-kind-in-the-world historic Over the Jumps Carousel is an experience everyone should have.  While at the compound, visit with the tiger cubs, penguins, cheetahs, elephants, primates, and many other "residents" You can also feed the colorful lorikeets. In addition, there's also a playground and special children's area.  The Arkansas Diamond Express, a C.P. Huntington replica train, travels around the Little Rock Zoo's Children's Farm, flamingo exhibit, and duck pond.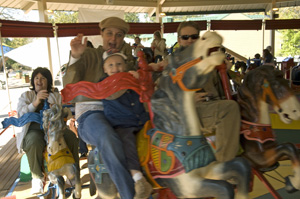 Marionette photo by David Alexander