An awesome April in the Arkansas Delta
April is a great time to get out and explore the Arkansas Delta. From food to music to outdoor fun, you'll find all that and more this month in the Upper and Lower Delta regions of The Natural State.
The Museum of the Arkansas Grand Prairie hosts the 9th annual German Heritage Festival on April 16. Paying homage to Stuttgart's heritage, the festival starts with a 5K run/walk, followed by a bratwurst cook-off, Germanic beer and wine tastings, children's activites, a live polka band and a variety of food and beverage vendors. Log on to www.GrandPrairieMuseum.org or call 870-673-7001 for full details.
Historic downtown Helena is the site of the 17th annual Wild Hog
Musicfest and Motorcycle Rally on April 21-24. The event features various bike events, a bike show, the ever-popular Ms. Wild Hog contest, food and merchandise vendors, and great music. This year's headliners include Molly Hatchet, Blackfoot, Jim Dandy & Black Oak Arkansas, Landslide, Deep South, and more. The Wild Hog Saloon, the official rally headquarters, also offers music during the event. Visit www.WildHogMusic.org for more info and a full lineup of events and music.
The East Arkansas Community College Fine Arts Center in Forrest City hosts Ragtime: The Musical on April 22. At the dawn of a new century, everything is changing…and anything is possible. This all-new touring production tells the stories of an upper-class wife, a determined Jewish immigrant, and a daring young Harlem musician in turn-of-the-century New York. This 13-time Tony winning musical is a timeless celebration of life. Ticket prices range from $31.20 to $39. For details, log on to www.EACC.edu or call 870-633-4480 ext. 352.
The Delta Resort & Spa in Tillar (six miles outside McGehee) sponsors the first Southeast Arkansas Outdoor Expo on April 23. The event, which benefits the Boys and Girls Club of McGehee, features a variety of demonstrations, sporting competitions, activities for all ages, exhibitors and vendors. The cost is $5 per person. Check out www.DeltaConferenceCenter.com or phone 870-222-8576 for more information.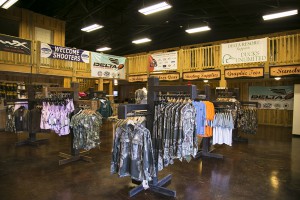 Warfield Concerts in Helena-West Helena welcomes the Moscow Festival Ballet for a performance of Romeo and Juliet on April 25. Shakespeare's timeless tale of star-crossed lovers comes to life when performed by some of the most talented dancers in Russia. Admission is free. Visit www.WarfieldConcerts.com to learn more.