Music and history headline April in the Arkansas Delta
Editor's note: The event featured in this article occurred in 2017, but you'll find other great happenings on our events page.
April showers may very well bring May flowers, but in the Arkansas Delta this month, April brings music and history to the region.
Historic Helena is set to host a new music festival on April 21-22. Long considered an essential destination for fans of the music and legacy of the blues, historic Helena is the perfect site for the Southbound Music Festival, which will be held Friday, April 21, and Saturday, April 22,  just a stone's throw from the banks of the mighty Mississippi River. 
​
John Mohead, a musician and regional restaurateur, is spearheading the new festival to showcase up-and-coming Americana artists and expose fans to the veterans of the roots genre. Billed as a music and arts festival, the two-day event features music, crawfish, and barbecue, along with original local artwork, regional craft beers, and lots of other cuisine.
The family-friendly event will also include a kids' zone, giving young ones plenty to do as well. Headliners include alt country king Ray Wylie Hubbard, the groove of Blue Mother Tupelo, former Allman Brothers Band member and keyboard wizard Johnny Neel plus the country soul of superstar Lee Roy Parnell. Many more artists with local and regional ties will play stages located throughout Helena's downtown. 
​
Marion is the site of the 2nd annual Sultana Heritage Festival, commemorating the 1865 explosion and sinking of the steamboat Sultana, the largest maritime disaster in U.S. history. Events will be held Saturday, April 22 at the historic Marion Courthouse Square. The Sultana was carrying more than 2,000 freed Union prisoners of war, along with cargo and private passengers, upstream in April 1865 when a boiler explosion caused the ship to burn and sink near Marion. Over 1,500 people died in the disaster.
​
The remains of the steamboat are now buried about 30 feet beneath a soybean field inside the levee, about 4 miles east of Marion. The anniversary heritage festival will feature a lecture series lead by regional and national history scholars.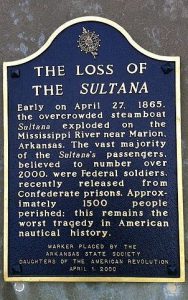 ​
The focus of this year's lecture series is the legal aspects of the Sultana disaster and the ensuing court trials. Additionally, the festival will include living history demonstrations, Civil War authors, buggy rides on the nearby Marion Lake Trail, tours of the Sultana Disaster Museum, along with period music and food.