Things to Do in Fayetteville on Razorback Game Day Weekends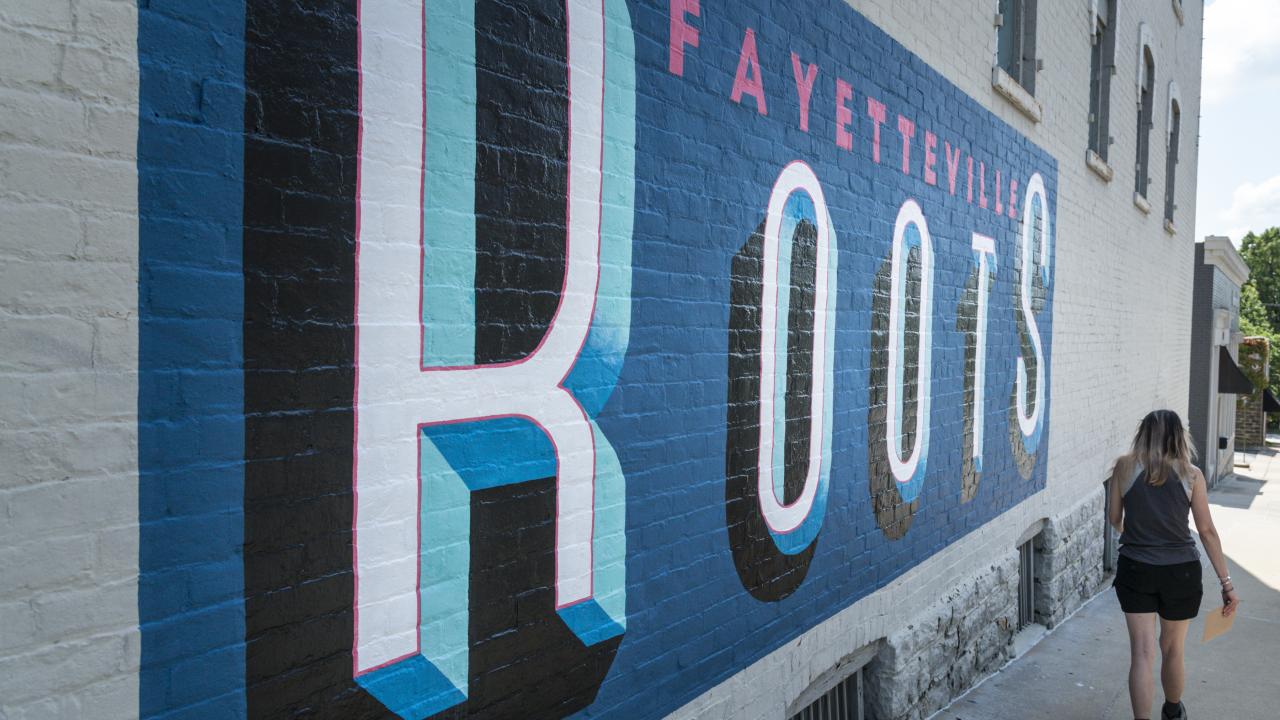 There's nothing like the feel of an SEC game day in Fayetteville, where high energy levels and tailgating fun fill the air in anticipation of a win by the University of Arkansas Razorbacks. Home to the state's major research and flagship education institution, Fayetteville also has an arts and culture side to its roots in education.
The UA has 19 teams competing at the highest level of NCAA competition in the SEC, arguably the nation's elite athletic conference. That equates to more than 200 sporting events on campus every year! 
Whether you're an Arkansan rooting for the Razorbacks or an out-of-towner for the opposing team, Fayetteville has plenty to offer fans during their weekend stay.
Here's your list of don't-miss fun in Fayetteville and the surrounding region:
Dickson Street – An eclectic gateway to the university, Dickson Street is the place for unique retail shops, restaurants, bars, and live music venues. You'll find people shopping, eating, and drinking here before, during, and after the game.
Downtown Square – It's known for its beautiful landscaping and Farmer's Market that runs three days a week – Tuesday, Thursday and Saturday - beginning in spring and ending in early autumn. One of the longest running in the state, it's not your average Farmer's Market. Market merchants sell flowers, produce, art and more. Businesses around the square offer coffee, breakfast, brunch, lunch and dinner. You'll also find an art gallery, retail shops, musicians and lively throng of folks mulling around. It's an energy filled space to start your game day.
ORA - Connecting Dickson Street and the square is an Outdoor Refreshment Area, which allows people to walk around with adult beverages in a designated downtown entertainment district. The city has more than 60 businesses participating. The area is marked by a series of 50 aluminum signs so people know where outdoor drinking is allowed. A second district is located in a portion of the Evelyn Hills Shopping Center.

Participating businesses can sell alcoholic beverages in special cups provided by the city from 10 a.m. to 10 p.m. every day. Customers must wear a branded wristband before they can leave the business with their drinks and walk around outside. No other alcohol is allowed inside the boundaries. The drinks are served in environmentally-friendly cups that can be disposed of in a number of recycling receptacles.

Live music – Stages, big and small, let you feel the heartbeat of Fayetteville. Some offer free music, while others require a cover charge. George's Majestic Lounge is the king of live music with two stages and a history dating to 1927. JJ's open air patio is always a lively place. Kingfish is popular for its outdoor stage with free music and a large deck and lawn. Smoke & Barrel and Powerhouse Seafood & Grill  are also known for their great music vibes. 

Fayetteville Ale Trail – This craft beer tasting adventure is a self-guided beer tour that lets visitors experience the award-winning craft beer culture of the Ozarks. Pick up an ale trail passport and have it stamped at each brewery to receive a commemorative bottle opener. Passports are available at the Fayetteville Visitors Center on the square and all 17 stops. 

Escape Rooms – Free your inner sleuth. Solve puzzles, piece together information and race against time to escape the room you've been "locked" in at one of these two new adventure spaces. Ozark Escape has three rooms of various sizes, each with its own theme, and a Game Master tracking your progress. 

Terra Studios – An artsy wonderland, this is the home of the world famous Bluebird of Happiness.  Enjoy the whimsical art park, buy unique gifts in the gallery of 100-plus regional artists, enjoy coffee or a snack, play giant games, take a mini-class, and walk the labyrinth.

Dickson Street Book Shop – Call the maze runner to get you through aisle after aisle of floor to ceiling books on every subject in the universe. This city landmark offers 100,000 used and out-of-print books, antique and rare volumes, and specializes in literature, poetry, Irish Studies, and Americana. You'll be in awe of the loaded shelves and stacks of reading material.
Golf – the toughest decision golfers will have to make is which course to play – there are more than 30 in Northwest Arkansas. Or, Gator Golf offers two 18-hole mini-golf courses on a wooded hillside. Lokomotion Family Fun Park has mini-golf, video games, and go-karts.
Arkansas and Missouri Railroad – Travel in the style of a bygone era in refurbished antique passenger or parlor coaches over trestles with views for miles, through a quarter-mile tunnel, to the top of the scenic Boston Mountains, and into the historic Arkansas River Basin. Choose from three popular excursions. Sometimes there are special rides associated with events.
Games – Modern Mission uses the latest equipment for laser tag games for all ages with outdoor and indoor battlefields. Arkadia Retrocade goes old school with video games such as Pac Man, Galaga, Asteroids, Joust, and much more.
Outdoors – Take a hike at nearby Devil's Den State Park, Lake Fort Smith State Park, or Hobbs State Park-Conservation Area. Or, located inside the city limits, Lake Fayetteville offers a paved trail and a mountain biking trail.
History & Heritage – While Fayetteville is without a doubt the arts and entertainment center of Northwest Arkansas, it is also rich in Civil War history with the national and confederate cemeteries and Headquarters House. Prairie Grove Battlefield State Park is about 20 minutes west of Fayetteville and Pea Ridge National Military Park is about 45 minutes north.
Botanical Garden of the Ozarks – Located on 42 acres adjoining Lake Fayetteville, the garden contains the Carl A. Totemeier Horticulture Center, plaza and great lawn, 12 themed gardens and the region's only butterfly house. Educational programs for all ages, concerts, and plays take place here. Plus, it serves as a trailhead for the multi-use trail around Lake Fayetteville and the Razorback Regional Greenway.
Razorback Regional Greenway – Walk, bike, or hike this 40-mile-long, shared-use trail that extends from Mile Zero in Fayetteville to the Bella Vista Trail in Bentonville. The paved trail contains impressive bridges, follows along several creeks, runs through farmland and wooded areas, and connects to other trails, lakes, and parks. While the greenway offers plenty of scenic beauty, it also links dozens of popular community destinations, including six downtown areas, arts and entertainment venues, restaurants, historic sites, playgrounds, and residential communities. 
Arkansas Air and Military Museum – See the history of Arkansas aviation through original artifacts and memorabilia. Static displays range from the golden age of aviation to the jet age. The museum contains world-famous racing planes from the 1920s and 1930s to an early airliner, Vietnamese-era Army helicopters, and a navy carrier fighter. It's housed in a vast, wood hangar that was former headquarters for one of the United States' many aviator training posts during WWII.
Crystal Bridges Museum of American Art – Located in Bentonville, the museum's permanent collection spans five centuries of American masterworks from Colonial era to current day and is enhanced with temporary exhibitions. Sculpture and trails link the museum's 120-acre park to the downtown. Also enjoy the museum store, library, and restaurant. Nearby is the Amazeum, a hands-on interactive experience for kids, and the Walmart Museum, chronicling the rise of the retail giant and serving coffee, treats, and ice cream.
eScooters - The University of Arkansas was founded in 1871 on the site of a hilltop farm that overlooked the Ozark Mountains, giving it the nickname "The Hill."  Look for eScooters to rent for an easy way to get around. You won't have to look far as there are hundreds of them available throughout town.
If you're staying in a surrounding town, click on these cities to see additional things to do in Northwest Arkansas: Springdale, Rogers, and Bentonville.