Arkansas Destinations Where You Can Unplug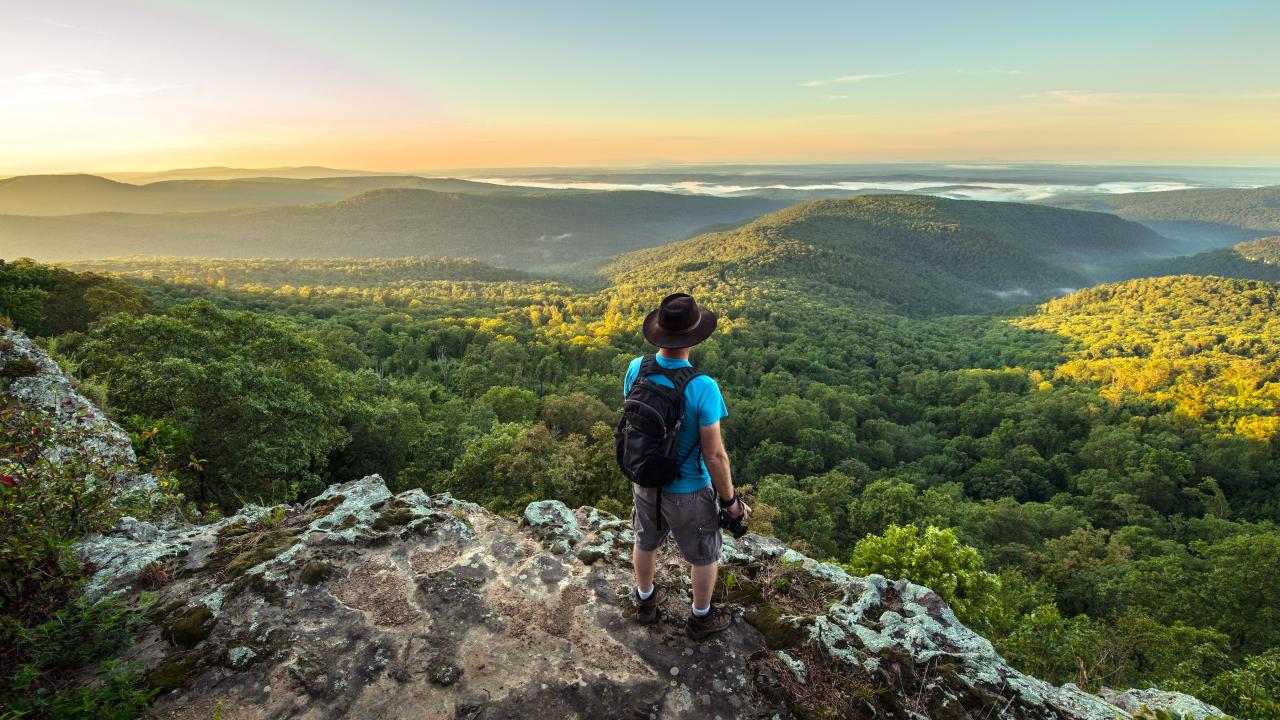 Sometimes you just want to get away and find solitude among the trees, near rippling waters and within the sights and sounds of wildlife. Spotty cell service can be a nice advantage for a true getaway too. Here are six places to immerse yourself in nature.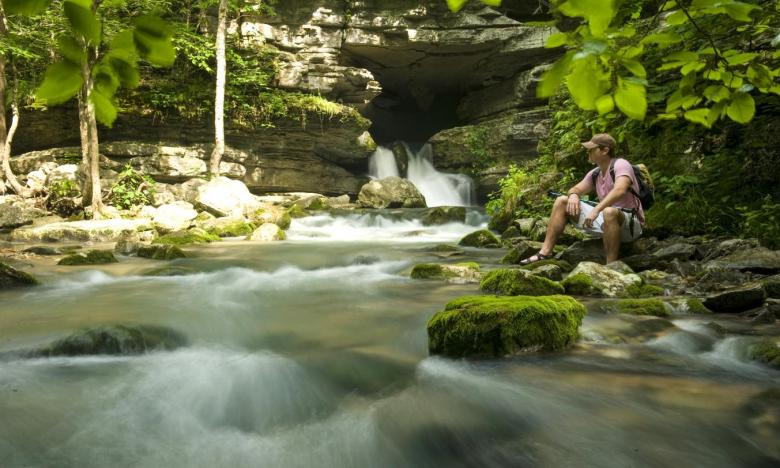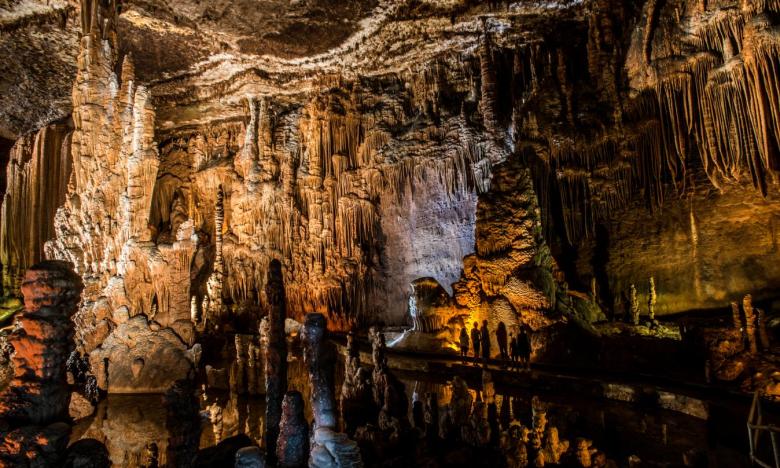 1. Blanchard Springs Caverns and Recreation Area
Discovered in 1963, Blanchard Springs Caverns and Recreation Area near Mountain View is filled with opportunities for outdoor adventure — unspoiled cave formations, crystal clear streams, large flowing spring (12,000 gallons per minute), small lake, scenic trails, picturesque bluffs, fishing, campground, hiking and biking trails, picnic grounds, and swim areas.  
Take a paved trail with handrails for easy walking on the guided walking tour where you'll encounter large, lighted rooms, or channel your adventurous side to climb and crawl through an undeveloped section of the caverns with only a headlamp to show you the way. Either way, you won't believe your eyes.
The Caverns are open seven days a week from mid-March through October (closed Mondays and Tuesdays November through mid-March). The Visitor Information Center, which is fully accessible, opens daily at 9:30 a.m. with the last tour of the day departing at 4:30 pm. Ticket information and tour reservations. 
2. Jamestown Crag
Located just south of Batesville, Jamestown Crag offers some of the best and only sport climbing rock in Northeast Arkansas. It contains more than 100 bolted routes on one of the largest most exposed areas of Atoka sandstone in the region.
Three brothers, Nathan, Aaron and Kyle Christopher, own the property under the name Nomads. They purchased The Crag and about 40 acres in 2013 with the goal of preserving the area for future visitors. They continue developing the property for outdoor recreation use.
Now, Nomads owns about 500 acres surrounding the Crag. They have established about eight miles of multi-use trails and camping sites. All camping is primitive. Campfires are only allowed at the designated sites above the bluff line, but people may camp anywhere on the property, which is gated. Text 870-613-4662 for the current gate code. There's a donation box on site.
3. Buffalo National River
You won't find much in the way of cell service. You will find 95,730 acres, three designated wilderness areas, a river wending its way 135 miles through the lush green valley.
Along its corridor, you'll find canoe and kayak outfitters, campsites, hiking trails, towering limestone bluffs, quiet pools and whitewater rapids, an elk herd, and historic areas such as the Boxley Valley Historic District, the Parker Hickman Homestead, and the Villines Cabin.
There are more than 75 miles of designated equestrian trails, and 100 miles of maintained trails within the river park. Mountain biking and hiking are very popular activities, as are rock climbing, fishing and wildlife watching, particularly for elk. There's really something for everyone in Buffalo River Country.
Overnighting along the Buffalo can be unrolling a sleeping bag on a primitive backpacking adventure, pitching a tent at an NPS campground, or staying in rustic housekeeping cabins constructed in the late 1930s by the Civilian Conservation Corps at Buffalo Point. Cabins and resorts just outside the park are popular with visitors as well.
Plan your visit at Nps.gov/buff/.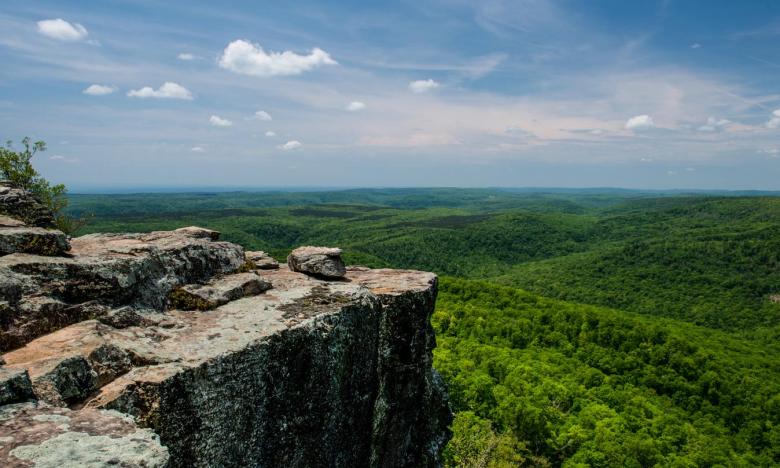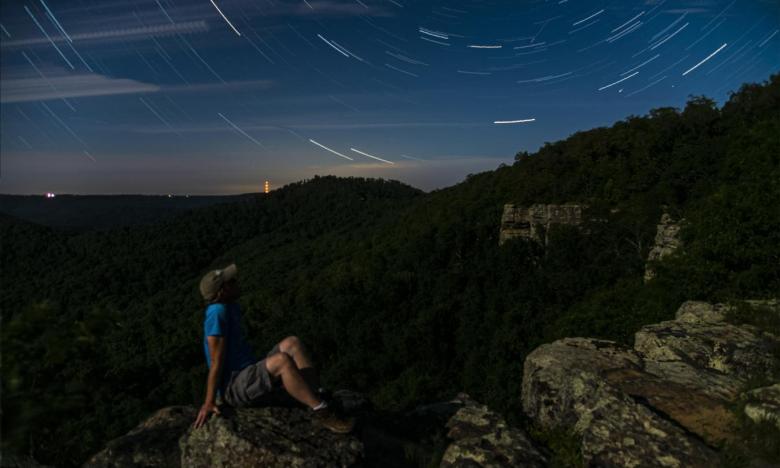 4. Prim
Prim is the definition of unplugged. Here you'll find unusual rocks, Longbow Resort and a diner serving homestyle cooking.
Prim is known for its proliferation of large round sandstone boulders ranging in diameter from 1 to 4 feet that are part of the Bloyd/Hale Formations of Morrowan age in the Pennsylvania System deposited some 300 million years ago.
The resort is a remote cabin getaway spanning two square miles and is located between Greers Ferry Lake and Mountain View. It's so private and secluded, you won't see a sign at the entrance. The GPS on your phone is not reliable to get you to the town of Prim so you're encouraged to follow the directions they give you when you contact them for a reservation.
Cradled in the beautiful Ozark landscape, the resort's four cabins are striking in design. Designed within their surrounding nature, the interiors feature rock and wood elements, and embrace waterfalls, mountain streams, towering cliffs, and vista views.
5. White Rock Mountain
A visit to White Rock feels a little nostalgic when you visit the three natural stone cabins and lodge built in the 1930s by the Civilian Conservations Corps. At 2,260 feet, White Rock Mountain offers spectacular views along its rim and plenty of trails so you can immerse yourself in nature. Tent camping and picnicking units are also available. Enjoy the starry night skies.
6. Holla Bend National Wildlife Refuge
Holla Bend is located along the Arkansas River five miles downstream from Dardanelle and bounded by an old oxbow lake. It's home to a variety of wildlife species within its habitats, which include bottomland hardwood forests, open water, seasonal wetlands, grassland and croplands. There are 7,055 acres under refuge management.
Drive slow along the self-guided auto tour and you're likely to see plenty of wildlife, from the white-tailed deer to the white-footed mouse. Early morning or late afternoon are the best viewing times. You might even see a bobcat or black bear. The refuge is also a feeding and resting area for migratory waterfowl. Additionally, songbirds use the refuge as a stop during their fall and spring migrations or as breeding and nesting grounds during the spring and summer. Check out the list of birds that have been observed at Holla Bend.
Along the auto tour route, there are two hiking trails, numerous walk-in access trails, an observation tower, informational panels and kiosks. Take lots of photographs and note that hunting and fishing is allowed during respective seasons.
Plan your visit to Holla Bend by visiting the website and don't use the Google maps to get you to the refuge headquarters. There is a small entrance fee.