Sponsored Article
Come outside and play in Pine Bluff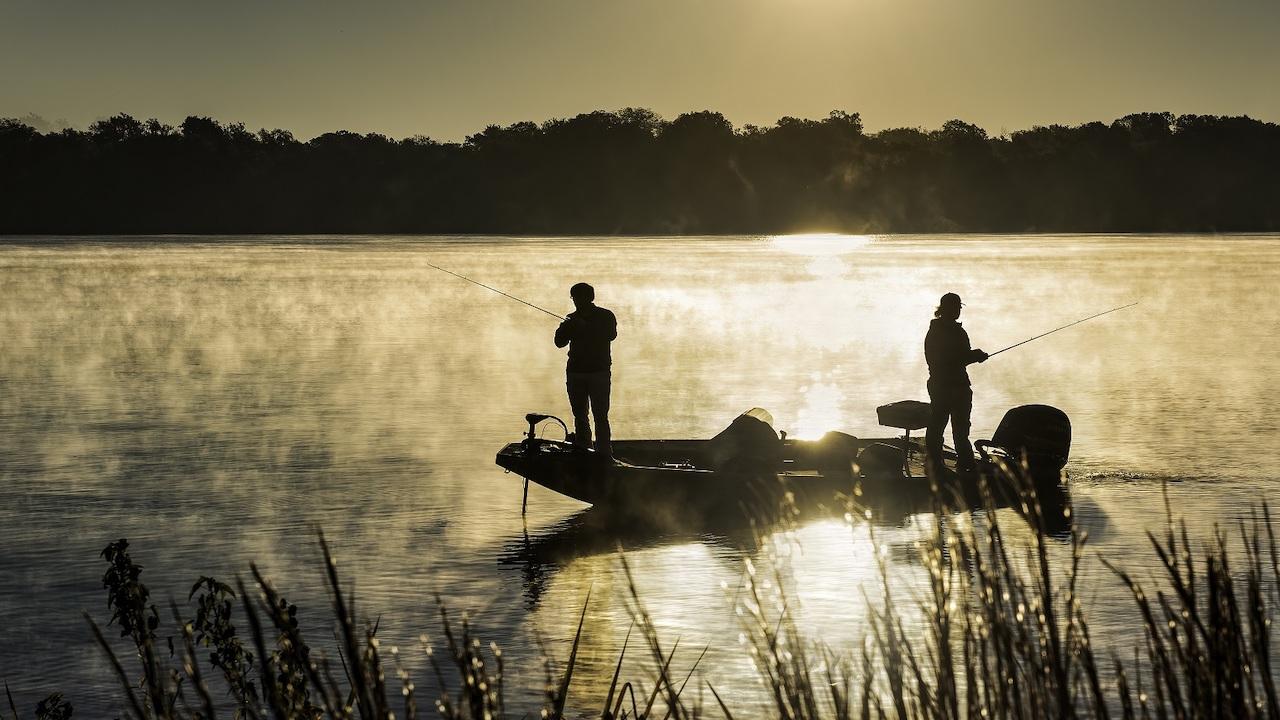 From bustling lakes and vibrant parks to lazy bayous and peaceful walking trails, Pine Bluff has plenty of ways to enjoy the outdoors. Choose from a whopping 19 parks, two major lakes and some of the most popular waterways in the country to make the city your playground.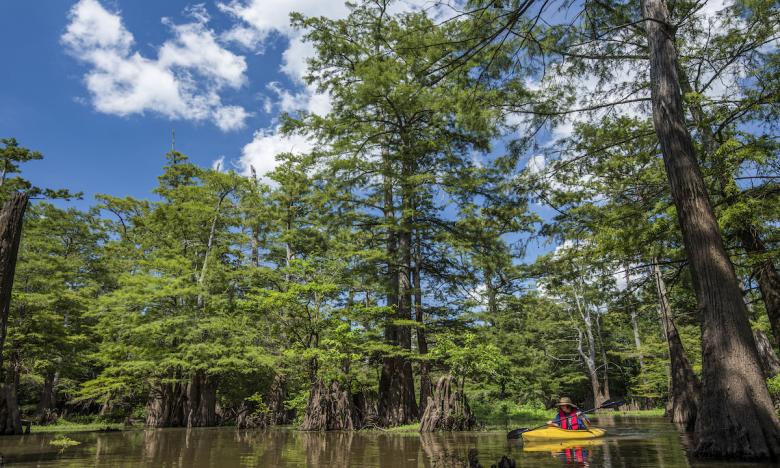 Have a river adventure
Whether you enjoy the water from a boat, with a fishing pole or relaxing along the shore, these bodies of water will have you saying, "This is the good life."
First, set your sights on the largest river in the state – the Arkansas River! Running right through Pine Bluff, you can launch your boat from Regional Park, Island Harbor Marina, Sainte Marie Park or Shepherd's Island. Hop on a speedboat, fishing boat or jet ski and set off for a day of fun. There are several parks, marinas and sand barges to lounge at in between cruising this great waterway, as well as endless opportunities for catching trophy fish, including bass, crappie, catfish, stripers and bream. In fact, the city has taken on the nickname "Bass Capital of the World," due to the record-breaking catch made here during a Bassmaster tournament.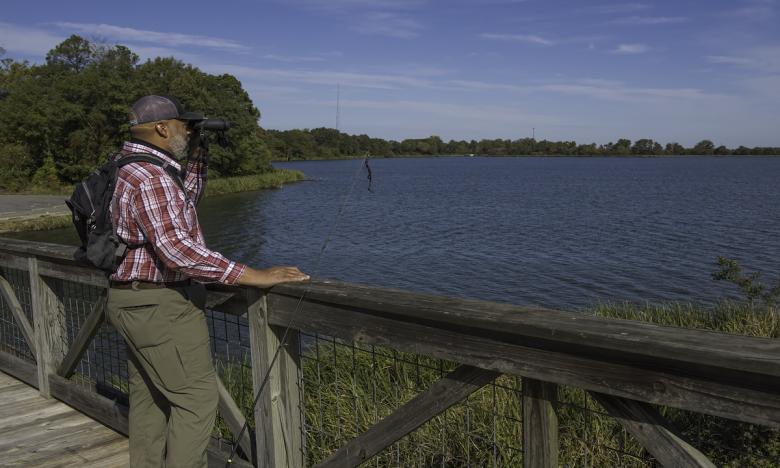 If your hopes are to slow down and forget all sense of urgency, then look no further than the easygoing Bayou Bartholomew Water Trail. Known as the longest bayou in the world, this waterway winds its way through Arkansas and Louisiana, covering more than 350 miles. Kayak or canoe a portion of this expansive waterway from the Dr. Curtis Merrell Access, located in the heart of town. Enjoy the serenity of leisurely weaving through majestic groves of tupelo and cypress trees as turtles and frogs bask on nearby logs, wintering waterfowl and migratory songbirds soar above and 117 species of fish swimming below your paddle. Try your hand at catching local favorites such as crappie or bream with minnows, jigs or spinners, or hook a catfish with worms, minnows or stink baits.
To experience the bayou from land, head to the William G. Layher Nature Trail, which begins off South Hazel Street. On this 1.8-mile loop, you'll walk along Bayou Bartholomew, Waterfowl Pond, Marsh Basin and Beaver Pond. Keep an eye out for beaver lodges, a great blue heron nesting site and a variety of birds, reptiles and mammals.
Lake day, all day, every day
If hitting the lake is your idea of time well spent, you're in luck. Pine Bluff has two you won't want to miss. Lake Langhofer is a backwater reservoir of the Arkansas River and is a popular destination for fishing. The area is known for bass, crappie, bream, stripers, hybrids and catfish. You can access Lake Langhofer from Sainte Marie Park, where you can walk, camp and have quiet moments along the bank, at a pavilion or laying on a picnic blanket in the grass.
At 500 acres, Lake Saracen is a hub for outdoor activity in Pine Bluff. Spend the day catching largemouth bass, white crappie, bream and catfish. End your outing by watching a brilliant sunset from the middle of the lake.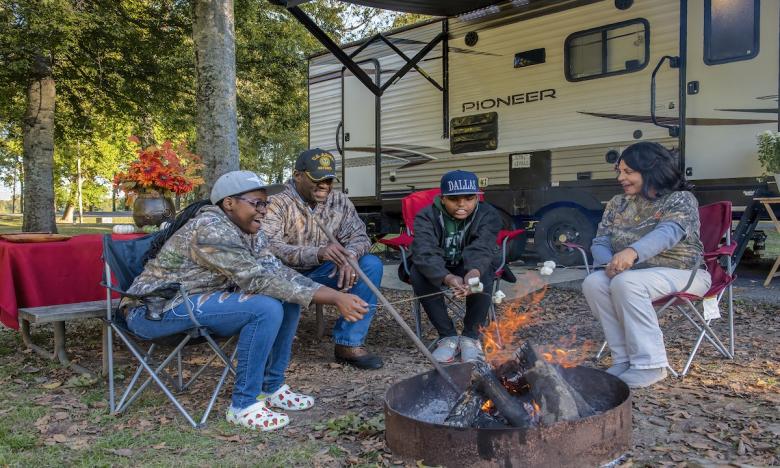 There are many spots to enjoy Lake Saracen from land as well. Brump Bayou Fishing Pier offers the perfect spot for wildlife observation and Saracen Landing provides a 10,080 square foot pavilion to host your next party or family gathering. From Saracen Landing, you can also enjoy nearby picnic shelters with grills, an all-inclusive playground and a splash pad where kids can cool down and have a blast all summer long. Want to stay on the move? Check out the Lake Saracen Walking Trail that takes you around the entire lake for an almost five-mile journey. You'll find plenty of benches for resting and taking in the views along the way.
Plant yourself at a park or natural area
Head to one of the many parks throughout Pine Bluff for hiking, biking, wildlife viewing and endless opportunities for playing your favorite sports.
At Pine Bluff Regional Park you'll find wide open space for play, walking trails under large canopies of trees and a small bayou for fishing. Amenities include six boat launch ramps that provide access to Lake Langhofer and the Arkansas River, a boat dock, softball complex, Civitan Playground, picnic areas, a fishing pond, Ben Pearson Memorial Archery Range, an amphitheater and an 18-hole golf course. For those wishing to extend their stay in the great outdoors, a quiet and secluded RV park is located at the back of the park with electric and water hookups. Many of the RV spots are located right along the Arkansas River and provide the perfect spot for fishing, taking in the sunrise and watching birds flock over the water.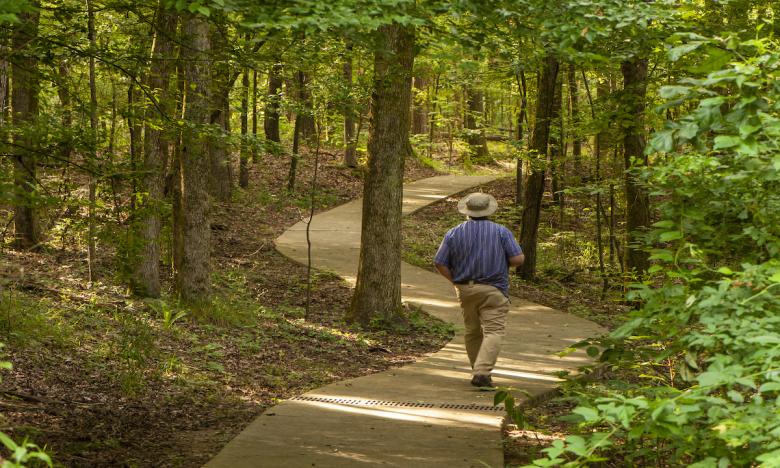 Located within Pine Bluff Regional Park, you will also find the Governor Mike Huckabee Delta Rivers Nature Center. This impressive center holds a museum, 20,000-gallon freshwater aquarium, nature store and education facility. Enjoy four peaceful walking trails through the bottomland wilderness where you might spot ducks, beavers, minks, birds, frogs and turtles. On the grounds, you can also see a 9-foot alligator, 120-pound alligator snapping turtle, and a live birds of prey area housing bald eagles, hawks and owls.
Another great retreat within the city is Byrd Lake Natural Area. This .5-mile paved trail will help you slow down and reconnect with the simpler things in life as you stroll through wooded wetlands. Listen for birds chirping, wind blowing through bald cypress trees and keep your eyes open for little critters along the trail.
So much more
In addition to all these great destinations, there are many other parks throughout the city just waiting to be discovered. Come see what all you can do in Pine Bluff.