The World Championship Running Of The Tubs in Hot Springs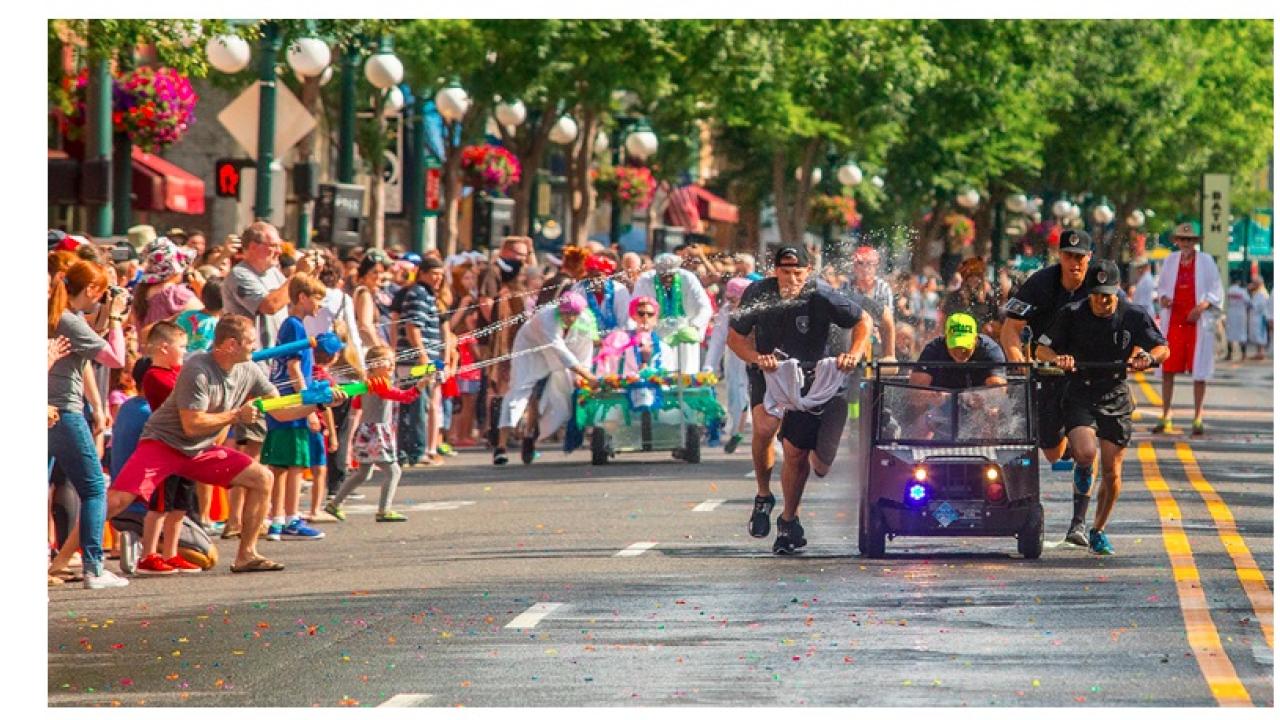 Hot Springs and Hot Springs National Park owe their existence to an array of springs that still supply naturally heated water for thermal baths. The World Championship Running Of The Tubs is an annual event that takes place in Hot Springs every year that pays homage to these waters.
The famous bathtub races were created in 2005 in honor of Bathhouse Row and it's historic ties to the bathing industry. Comprised of eight bathhouses, the bathhouses are now part of Hot Springs National Park. They were constructed between the years of 1892 and 1923, and  along with the Grand Promenade, are now a designated National Historic Landmark District. Among the bathhouses you can visit are the  Fordyce Bathhouse, which now serves as the national park visitor center and museum of the bathing industry; the Buckstaff, which has operated continuously since 1912; the Quapaw, which has been renovated into a modern day spa, and the Superior, which is now a famous brewery.

The race, which takes place in June, was named after local businessman Steuart Pennington and winning teams are awarded the Steuart Pennington Cup, which is the highest honor in bathtub racing.
As to details of the event, costumed teams, and their souped up bathtubs, race down Central Avenue, the main thoroughfare of downtown, while navigating random obstacles along the way. The location is significant because on one side of the street is Bathhouse Row and on the other side are the many shops, art galleries, and restaurants that make downtown such a great strolling destination. Spectators also have an important role to play in the race by throwing water balloons at racers as they pass by, spraying water guns at them, and cheering them on too. 
As to specifics, any old or new bathtub can be entered into the competition,  but there are specific measurements they must meet. No motors or mechanical devices can be used to push the tub, and the four members of the team, not in the tub, must power the tub the entire length of the race.
What makes the race stand out even more are the rules that are part of the event, which are 'subject to change at the whim of the judges.'  Each team must consist of five members: a captain, who must ride in the tub; a Bath Towel Attendant; a Bath Mat Attendant; a Soap Attendant; and a Loofah Mitt Attendant.

During the race, each team member must keep one hand on the tub at all times. In addition, 'the attendants must hold in their other hands, their particular item. For instance, the Soap Attendant must keep one hand on the tub and hold a bar of soap in the other hand.' If you are in Hot Springs during this popular event, be sure to check it out!