Arkansas Products Make Great Holiday Gifts
Editor's note: This blog was published in 2014, but it still gives great ideas for Arkansas made products!

It's the holiday season, and the travel writers for Arkansas Tourism decided we'd offer some suggestions of Arkansas products that make great gifts! Here are just a few from our areas of The Natural State.
Zoie Clift
Everyone likes something sweet! Juanita's Candy Kitchen in Arkadelphia is well known for its thin homemade peanut, pecan and cashew brittle. The family-owned operation has been in business since 1974. You can order the brittle via fax, phone or mail order (details are available at the kitchen's website) or you can pick up a bucket from the company's headquarters. More details about Juanita's Candy Kitchen, which is located at 47 Stephenwood Drive, can be found by calling 870-246-8542 or by checking out www.juanitascandykitchen.com.
Arkansas diamonds! For something a little different, you might try your luck at landing an Arkansas diamond from Crater of Diamonds State Park in Murfreesboro. An Arkansas found diamond would make a (very) memorable gift, or the gift could be the trip itself of digging for them. The park, which is located at 209 State Park Rd., is the world's only diamond-producing site open to the public. For a small fee, visitors can dig for diamonds and other gemstones and keep what they find. For more details, check out www.craterofdiamondsstatepark.com.
Larkmartin Soaps are handmade with the famous spring water of Hot Springs. The family-owned and operated business has a lot of fun concoctions on hand like Muscadine Wine Soap and Honeysuckle Soap. You can browse through all products online at www.larkmartinsoaps.com.
Fruit preserves from Suzanne's Fruit Farm make a wonderful, tasty gift. Suzanne's Fruit Farm in Hampton is a 155- acre U-pick farm that specializes in peaches and berries. In business since the 1970s, the Reddin family shares its farm and farming heritage with visitors during the harvest season and also offers gift baskets throughout the year. You can order up some preserves in Arkansas-made baskets for the holidays via the farm's website at www.suzannesfruitfarm.com.
McClard's BBQ Sauce is a regional favorite. The secret is in the sauce, as the saying goes. McClard's has been a staple of Hot Springs since 1928 and the family-owned restaurant is well known for its sauce. The top secret recipe is locked away in a safe in downtown Hot Springs, but you can order your own bottle of the famous sauce from the restaurant's website at www.mcclards.com.
Kerry Kraus
If there is someone REALLY special on your list and money is no object, how about purchasing an Aloha Pontoon Boat, perfect for enjoying all the wonderful lakes found in The Natural State. Begun in 1960 and made in North Little Rock, Waco Manufacturing is the oldest pontoon builder in the South and one of the oldest in the country. They were the first company to build both an upper sundeck and a sun cushion enclosure over the outboard engine and fuel compartments. Check www.alohapontoons.com for more information and to see the various styles available.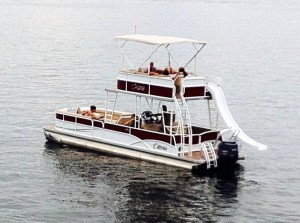 You want to give an Arkansas gift but there are just too many items to choose from. Here's the solution: an Arkansas gift basket. Several companies offer these, including Gifts of Arkansas in Little Rock and Hodge Podge in North Little Rock. You'll find a variety of baskets, ranging from spa items, wine, handmade candies and cookies, to scented candles, lotions, soaps and nuts. Teas, coffees, jellies, syrups, barbecue sauces and flavored oils and vinegars are also available.
There's nothing much better than a steaming cup of premium coffee. Some of the best fresh roasted you'll ever try is found at RoZark Hills Roasterie in the small town of Rose Bud. If you can't make it to the retail shop, you can order various blends, including espresso, online. Coffees are from Mexico, Tanzania, Panama, Kenya, Guatemala, Brazil and Columbia. Other gourmet specialties include black, Oolong, green, herbal and real fruit teas, along with chocolate covered coffee beans and chocolate covered fruits.
A dazzling array of Arkansas items are found in several museum gift shops in Little Rock. Two of the best selections are offered by the Historic Arkansas Museum and the Old State House downtown. Hand-woven baskets, pottery, woodwork, glassware, jewelry and textiles are all popular items offered.
You can rarely go wrong by giving chocolate, and fudge is about as chocolate as you can get. Pickles Gap Village just north of downtown Conway is famous for its coco-based confections with more than 30 different flavors. Don't miss the best seller, a dark chocolate caramel with sea salt. In addition, you'll find hard candies, hand-dipped chocolates, taffy, and chocolate-covered bacon, Twinkies and strawberries.
Jill Rohrbach
Classic pieces and the unusual can be found at Terra Studios in Fayetteville. Here, artisans produce glass and pottery home wares, gifts and fine art pieces. Visitors can explore the pottery showroom and watch skilled glassworkers create the now famous Bluebird of Happiness. For more information, call 800-255-8995 or visit www.terrastudios.com.
Decorative home fragrances and bath products can be found at Panache, Aromatique Gift Gallery based in Heber Springs. For more information, call 800-875-3111 or visit www.aromatique.com. Shop online or visit the website to find an Aromatique gift shop near you.
A.G. Russell Knives in Lowell offers handmade and production knives. Its catalog and website also list a section for masculine gift ideas, such as watches, wallets and tools. For more information or a free catalog, call 800-255-9034 or visit www.agrussell.com.
Arkansas's wine country features family-owned vineyards open for tours and tastings, providing a truly pleasurable way to shop for Christmas. Buy bottles of wine or wine-themed accessories. Around Altus, you'll find Chateau Aux Arc (800-588-9463; www.chateauauxarc.com), the Mount Bethel Winery (479-468-2444; www.mountbethel.com), and the Post Familie Winery (479-468-2741; www.postfamilie.com). Near Paris is Cowie Wine Cellars (479-963-3990 or www.cowiewinecellars.com). Two wineries are located in Weiderkehr Village: Weiderkehr Wine Cellars (479-468-WINE; www.wiederkehrwines.com) and Neumeier Winery (479-209-1224). Additionally, you'll find Keel's Creek Winery (479-253-9463; www.keelscreek.com) in Eureka Springs and Tontitown Winery (479-361-8700; www.tontitownwinery.com) in Tontitown.
Try a gift package of savory Petit Jean Meats. Hams, bacon, beef, turkey and more are available at stores throughout the state or online at www.petitjeanmeats.com. For more information, call 800-264-2475.
Kim Williams
James Hayes Art Glass Co. in Pine Bluff offers a wide variety of the artist's beautiful hand-blown pieces. The award-winning glassblowing artist has studied in Murano, Italy; Columbus, Ohio; and the Pilchuck Glass School near Seattle, Wash. At his studio/gallery you'll find items ranging from vases, bowls, stemware, chandeliers and other lighting fixtures, and Christmas ornaments. Hayes' work is highly collected throughout the region, and James was once asked to create a Christmas ornament for the White House. Log on to www.hayesartglass.com for more information.
Over 30 years ago, Gail Miller decided to try pottery as a hobby. That hobby has grown into Miller's Mud Mill in Dumas. Miller has built a reputation on her one-of-a-kind, wheel-turned pieces. The handmade art features hues ranging from subtle and understated to brilliant and incandescent. The distinct glazes feature Arkansas Delta themed names, like Delta Cotton, Delta Blue, Delta Mud and Bayou Bartholomew. Miller travels throughout the region to arts and crafts shows and her works are favored by collectors far and wide. Gail Miller's pottery is featured at the Arkansas Governor's Mansion, as well as several Arkansas Welcome Center and hotels throughout the region. To learn more, visit www.millersmudmill.com.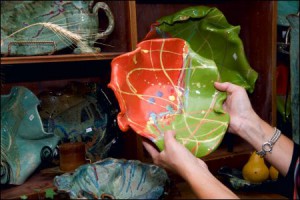 Throughout shops and retail stores throughout the region, shoppers can find Secrets of the South mixes for dips, soups and desserts, as well as seasonings, jellies and jams. The tasty company is headquartered in Gillett. Founded in 1993 by Alice May and Glenn Johnson, all the products are made in Arkansas County. You can find the Secrets of the South products at retailers throughout Arkansas and the region, but you can also order online at www.secretsofthesouth.net.
Arkansas ranks first among the six major rice-producing states, accounting for approximately 48 percent of the U.S. rice production. The majority of the rice grown in The Natural State comes from the Arkansas Delta. Riceland Rice in Stuttgart offers great gift baskets featuring the locally grown grain, in addition to specialty oils, cookbooks, hats and shirts. And, of course, rice. You can check out the Riceland store at www.ricelandstore.com.
For a great variety of Arkansas products, visit the Museum of the Arkansas Grand Prairie Shoppe in Stuttgart. You'll find art pieces, pottery, jewelry, soaps, books housewares and much more. Several items are exclusive to the Shoppe. You can check out the museum's Facebook page here or give them a call at 870-673-7001.
We wish you all a safe and happy holiday season!