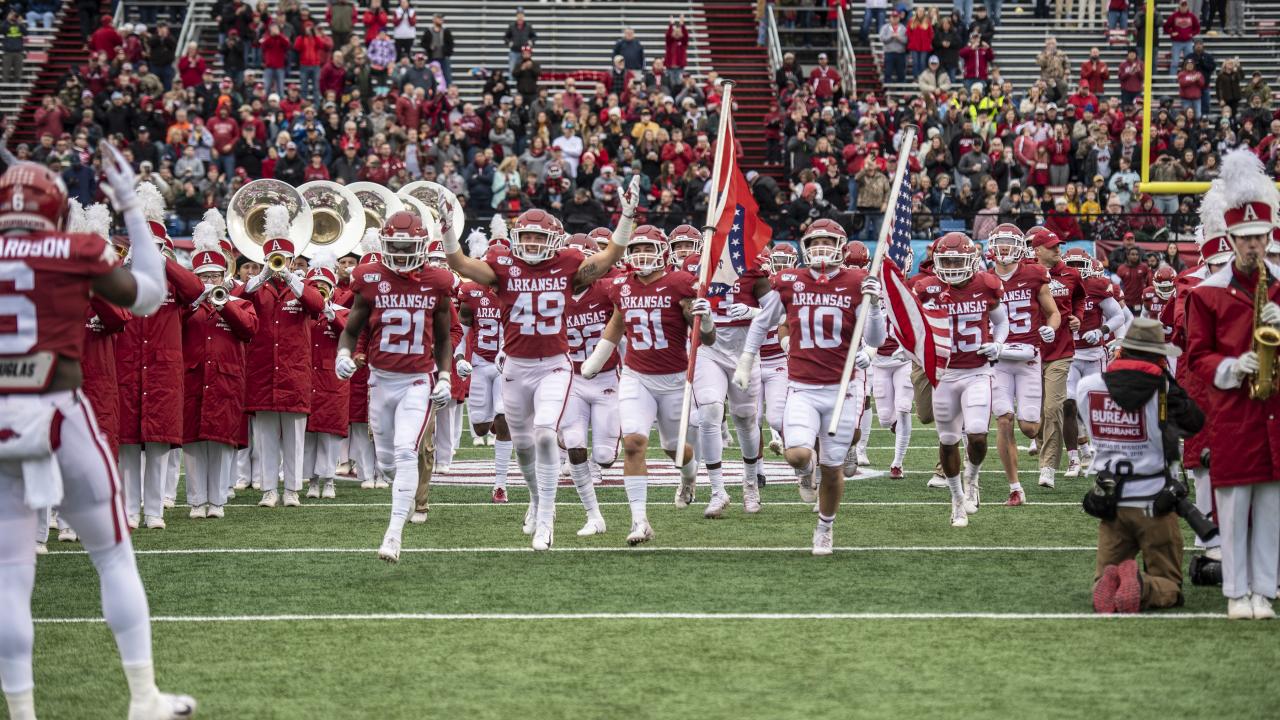 Arkansas is the home to the University of Arkansas Razorbacks which has produced many different athletes. However, the legacy of sports runs throughout the state, with famous basketball players, football players, golfers, coaches and more. 
Famous Athletes
Hubert Eugene "Geese" Ausbie (b. 1938)
He played college basketball at Philander Smith College in Little Rock where he earned All-Conference and All-American honors. He later gained fame as a member of the world-famous Harlem Globetrotters. During his 24 years with the Globetrotters, he earned the moniker "Clown Prince of Basketball" for his dazzling playing and his irrepressible pranks on the court. He received a Globetrotters Legends ring, a recognition given to only a few elite former players. He retired from the team in 1985, but returned in 1995 to become the head coach/manager of basketball operations for the Globetrotters. He makes his home in Little Rock.
Lou Brock (b. 1939)
This El Dorado native is considered the greatest base stealer of his era. After three seasons with the Chicago Cubs, Brock joined the St. Louis Cardinals in 1964 and fueled their World Series victory. During his 19-year career, the outfielder stole an unprecedented 938 bases, a record that stood until 1991. Brock earned the Roberto Clemente and the Jackie Robinson Awards, among others. He was inducted into the Baseball Hall of Fame on the first ballot in 1985.
Paul "Bear" Bryant (1913-1983)
Born in Moro Bottom and raised in Fordyce, Bryant picked up his nickname when, as a youth, he wrestled a bear at the Fordyce Theater. He was the head coach of the University of Alabama's Crimson Tide from 1958-1983 and is the second-most winningest college football coach with 323 victories and six national championships. Five weeks after retiring as head coach, he died of a heart attack.
William "Bill" Carr (1909-1966)
Bill Carr ran only three open 400-meter races in his life. He beat the world record holder and bettered the listed record each time. He won the gold medal in the 400 meters and ran the anchor leg on the 1,600-meter relay team that set a new world record and won the gold medal at the 1932 Olympic Games in Los Angeles. The Pine Bluff native achieved all of this during his only full season of varsity competition while at the University of Pennsylvania.
Mike Conley (b. 1962)
Noted triple-jumper whose best is 59-7, when he won the Olympic golf medal in 1992 in Barcelona, Spain. He attended the University of Arkansas where he was a nine-time NCAA champion and served as an assistant coach to head coach John McDonnell.
John Daly (b. 1966)
Professional golfer from Dardanelle who became an overnight celebrity by winning the 1991 PGA Championship. He played golf at Dardanelle High School and the University of Arkansas in Fayetteville before joining the professional circuit. In 1995, he won the British Open along with other PGA championships including the 2004 Buick Invitational. He is best known for being one of the tour's longest hitters.
Jay Hanna "Dizzy" Dean (1911-1974)
Born in Lucas, this Baseball Hall of Fame pitcher (aka Jerome Herman Dean) won 150 games, mostly for the St. Louis Cardinals as part of the Gas House Gang. In 1934 he won 30 games, a record that went unbroken for 34 years. He was a hero and role model for many poor, rural Arkansas youngsters during the Depression. He later became a popular sportscaster and was elected to the National Baseball Hall of Fame in 1953. His number 17 was retired by the Cardinals in 1974.
William Malcolm "Bill" Dickey (1907-1993) 
This Baseball Hall of Fame member was a catcher for the New York Yankees from 1928-1946. In 1936 Dickey set a major league record which still stands for batting average by a catcher when he hit .362. He drove in 133 runs in 1937, a mark that still has not been surpassed by an American League catcher. He later served as the Yankees manager, coach and scout. He was inducted into the National Baseball Hall of Fame in 1954.
Dave "Hawg" Hanner (1930-2008) 
Born in Parkin, Dave "Hawg" Hanner was an American football player, coach and scout for the Green Bay Packers. He began his football career with the Arkansas Razorbacks. Hanner, who played defensive tackle from 1952 to 1964 for Green Bay, won two NFL championships and two Super Bowls. He was also selected for two Pro Bowls.
On September 27, 1959 he has a recorded safety that helped the Packers beat Chicago 9-6. He was honored by Green Bay with "Hawg Hanner Day" on November 18, 1962. Following his playing career, Hanner became the defensive line coordinator for Green Bay. Once Dan Devine took over as head coach, he promoted Hanner to defensive coordinator.
In 1975, Hanner became the assistant head coach and defensive coordinator. In 1982, he became Green Bay's quality control assistant. He transferred into a scout role until he retired in 1996. Hanner suffered a heart attack and passed away on September 11, 2008.
Torii Hunter (b. 1975)
A native of Pine Bluff, Hunter is an outfielder for the Detroit Tigers. Known for his acrobatic "climbing the fence" defense where he has robbed many hitters of a home run. He has won nine consecutive Golden Glove Awards signifying the best outfielder in the game.
Hunter is involved in many charities, including the Torii Hunter Project Education Initiative, which provides college scholarships to students in Arkansas, California, Minnesota and Nevada, and the funding of the Torii Hunter Baseball, Softball and Little League Complex, located next to the University of Arkansas at Pine Bluff campus. Because of his philanthropic work, he was awarded the 2009 Branch Rickey Award.
Charlie Jones (1930-2008) 
Born in Fort Smith, Arkansas, Charlie began his career at ABC in 1960 broadcasting American Football League games. He moved to NBC in 1965 continuing to broadcast AFL games, later moving over to the National Football League. He worked NFL games until 1997 when NBC lost NFL broadcasting rights.
Jones was also involved, while at NBC, with the 1988 Summer Olympics, 1986 FIFA World Cup, 1992 Summer Olympics and 1996 Summer Olympics as well as golf and Wimbledon. He was also a play-by-play announcer for the Cincinnati Reds and Colorado Rockies. In 1997, Jones was awarded the Pro Football Hall of Fame's Pete Rozelle Radio-Television Award.
He also received an Emmy Award in 1973 for his part as writer, producer and host of the documentary, "Is Winning the Name of the Game?" Jones earned an undergraduate degree at the University of Southern California and a law degree at the University of Arkansas. Jones died at age 77 in San Diego, California of a massive heart attack.
Jerry Jones (b. 1942)
Millionaire owner of the Dallas Cowboys football team hails from the Rose City community in North Little Rock. He attended the University of Arkansas where he played as an offensive lineman for the 1964 NCAA National Championship Razorbacks. He is also a successful businessman in the oil and gas industry.
George Kell (1922-2009)
This Hall of Fame third baseman, who was born in Swifton, played for the Detroit Tigers (1943 - 1957) and won the American League batting title in 1949. He later became a sportscaster for Detroit ball games. A long-time resident of Swifton, he was inducted into the National Baseball Hall of Fame in 1983. Kell passed away on March 24, 2009.
Cliff Lee (b. 1978)
This Benton native is a former University of Arkansas Razorback baseball player. He was a fourth-round draft pick in 2000 by the Montreal Expos. Lee fought his way back after injuries relegated him to the minor leagues in 2007. In 2008 he posted a 22-win, three-loss season and was named the American League Cy Young Award winner in a landslide vote by the Baseball Writers' Association of America with 24 of 28 first-place votes and a total 132 points. Lee and his family make their home in Benton.


Charles "Sonny" Liston (1932-1970)
Nicknamed "the Bear" for his massive physique, Liston was born in the small St. Francis County community of Sand Slough; he won the world heavyweight boxing championship by knocking out Floyd Patterson in the first round on September 25, 1962; Liston held the title until February 25, 1964 when he lost the title to Cassius Clay who later became Muhammed Ali. Inducted into the International Boxing Hall of Fame in 1991.
Mark Martin (b. 1959)
Racecar driver on the NASCAR Circuit who was born and raised in Batesville. He cut his teeth on the many dirt tracks around The Natural State before making it big on the Winston Cup (now Sprint Cup) series. Martin was inducted into the Motorsports Hall of Fame of America in June 2015.
Jerry McKinnis (b. 1937)
This nationally renowned fishing expert had aspirations of playing major league baseball growing up. As a minor league player in the 50s, McKinnis saved enough money to pay for a trip to the world-famous White River in the Arkansas Ozarks. He had the great fortune to draw Forrest Wood as his fishing guide.
"By the end of the trip, he had me ready to pack my stuff and move to Arkansas."
Wood went on to found Ranger Boats. McKinnis began his television career by doing short fishing reports for KATV-Channel 7 in Little Rock. The show blossomed into popular syndicated program and in 1979, McKinnis convinced then fledging ESPN to air his show. The Fishin' Hole aired on the network from 1980 to 2007, second only to Sports Center in longevity. He currently owns JM Associates production company in Little Rock.
Sidney Moncrief (b. 1957)
Born in Little Rock on September 21 1957, "Super Sid" Moncrief's impact on Arkansas basketball cannot be measured. Moncrief led the University of Arkansas's trio known as "The Triplets" along with Head Coach Eddie Sutton to the 1978 Final Four, which ended in a win in the NCAA Consolation Game versus #6 Notre Dame.
The All-American Razorback became one of Arkansas's greatest and most popular basketball players. Moncrief went on to play 11 seasons in the NBA, and was one of the most highly regarded NBA players of the 1980's. While playing with the Milwaukee Bucks, he was named Two-time NBA Defensive Player of the Year (1983 and 1984), Four-time All-NBA First Team, Five-time NBA All-Defensive Team, and Five-time All-Star.
Wallace "Wally" Wade Moon (b. 1930)
Born in Bay (Craighead County), Moon was signed by the St. Louis Cardinals as an amateur free agent in 1950. In 1954, Moon homered in his first major league at-bat en route to batting .304 and winning the Rookie of the Year award over Hank Aaron.
He peaked with 24 home runs in 1957, but was traded to the Los Angeles Dodgers after a .238 showing in 1958. "Moon shots" were what the home runs were called that left-handed-batting Moon sent over the 42-foot wall, a mere 250 feet down the Los Angeles Coliseum's left-field line with his inside-out swing. Though he didn't hit many of them, the newly arrived Moon hit them early in 1959, and his resourcefulness seemed to capture the spirit of the ragtag bunch that took the Dodgers from seventh place to the World Championship.
Appropriately, he scored the last run ever in the Coliseum. In 1959, baseball writers gave Moon more Most Valuable Player votes than Willie Mays. A fine defensive outfielder, he won a Gold Glove in 1960.
Chris Mortensen (b. 1951)
Chris Mortensen, an award-winning journalist and reporter that covers the National Football League, joined ESPN in 1991. He appears on ESPN's Sunday NFL Countdown, Monday Night Countdown, SportsCenter and annual NFL Draft coverage. He has also contributed to Outside the Lines. He and his wife Micki live in Bella Vista.
Ben Pearson (1898-1971)
Industrialist - Tournament Archer - Bowhunter - Exhibition Shooter: Ben Pearson was born in a log cabin near Paron. In 1926, while working for Harvey Couch as a rural electrification specialist, Pearson developed an interest in archery after reading a Boy Scouts magazine. In 1933 or '34, Pearson left AP&L in 1931 to pursue a career in archery.
With the financial backing of Carl Haun in 1937, Ben was able to utilize his knowledge of electricity and mechanics to become the first to industrialize and mass-produce archery equipment. The Ben Pearson Company would become the world's largest manufacturer of archery equipment from the late 1930s thru the late 1960s. In the 1950s, the company also became the third-largest producer of mechanical cotton pickers.
Pearson is widely known for his famous bow hunts and shooting exhibitions, which he performed across the state and country. He is one of the founding members of The National Archery Hall of Fame (1972), Arkansas Bowhunters Hall of Fame and The Arkansas Outdoor Sportsman's Hall of Fame. Pearson is also a member of the National Bowhunters Hall of Fame, The National Sporting Goods Industry Hall of Fame and The Arkansas Sports Hall of Fame (1999). In 1967, Pearson received the Compton Medal of Honor, which is the National Archery Association's highest award.
Scottie Pippen (b. 1965)
Scottie Maurice Pippen was born September 25, 1965 in Hamburg. He graduated from the University of Central Arkansas, and is a former professional basketball player who played in the National Basketball Association (NBA).
Pippen is most remembered for leading the Chicago Bulls, together with Michael Jordan, to six championships and for being one of the best all-around players of all time. He played briefly with the Houston Rockets and the Portland Trail Blazers before returning to the Chicago Bulls where he retired in 2004. The Chicago Bulls retired Pippen's jersey number "33" on December 9, 2005.
Inducted into the Naismith Memorial Basketball Hall of Fame in 2010. Member Arkansas Sports Hall of Fame.
Brooks Robinson (b. 1937) 
Known for his fielding, Robinson is considered by many as the best third baseman to ever play baseball. He played his entire career for the Baltimore Orioles (1955-77). Robinson, a native of Little Rock, won 16 Gold Glove Awards, more than anyone else in the sport. He was named the American League's MVP in 1964.
He was inducted into the Arkansas Sports Hall of Fame in 1978 and the National Baseball Hall of Fame in 1983.
Elwin Charles "Preacher" Roe (1915-2008)
Professional baseball player, born in Ash Flat; one of the famed Brooklyn Dodgers "Boys of Summer" during the 1940s and 50s along with Jackie Robinson, Duke Snider and Gil Hodges; known for his hardball and his questionable spitball. He came by his unusual nickname at age three when an uncle returning from WWI, seeing his nephew for the first time, asked him, "What's your name, young man?" He replied "Preacher." Between 1951 and 1953, he won 44 games and lost eight.
John Franklin "Johnny" Sain (1917-2006)
Born on September 25, in Havana, Sain was a part of the one-two Sain and Spahn pitching punch for the Atlanta Braves, especially in 1948. "Spahn and Sain and pray for rain," was the Braves' motto for that season when they won their first pennant since 1914. Sain led the National League that year with 24 wins, 39 starts, 28 complete games and 314 innings. He also led the league in many pitching categories in 1948, and finished second in the Most Valuable Player balloting.
He was known as a great control pitcher and was a 20-game winner four times with the Braves. He was later traded to the New York Yankees where he was used more in relief than as a starter, and led the American League in saves in 1954 with 22.
After his playing career was over, Sain became a highly respected pitching coach during the 60s and 70s. He was inducted into the Braves Hall of Fame on August 13, 2002 and the Brooklyn Dodgers Hall of Fame in 1993. Sain has the distinction of being on the mound when Jackie Robinson made his National League debut with the Dodgers on April 15, 1947.
Clyde Scott (1924 - 2018)
A Smackover native, Scott played college football at Arkansas and Navy between 1944-48. Lettered at the University of Arkansas between 1946 and 1948. He was an All-Southwest Conference player for all three years and the Razorbacks' first three-time all-SWC player. Played pro football with the Philadelphia Eagles and Detroit Lions; inducted into the College Football Hall of Fame in 1971.
Scott won the Silver Medal in the 110 meter high hurdles during the 1948 London Olympic Games and five months later was selected to an All-American football team representing the University of Arkansas. As a Razorback, he won the 1948 NCAA high hurdles championship and set school records in the 100-yard dash, 120-yard high hurdles, 220-yard low hurdles, and 440-yard relay. Voted the number 30 of the 50 Greatest Sports Figures from Arkansas by Sports Illustrated in 1999.
Pat Summerall (1930-2013)
Although not a native, Summerall is an adopted Arkansan because of playing football at the University of Arkansas at Fayetteville. Born in Lake City, Florida, he was a basketball, football, baseball and tennis star in high school. He was an all-state selection in both football and basketball, but recruited by the University of Arkansas to play football.
Summerall was a defensive end, tight end and placekicker for the Razorbacks from 1949-51. After graduation from the U of A (to which he returned in later years to get a masters degree), he was drafted by the Detroit Lions in 1952 though due to injury, he never played a down for them. He was traded to the Chicago Cardinals, then the New York Giants where he made his greatest contribution to pro football. During the 1959 season, he was 30 for 30 on extra-point attempts and 20 of 29 on field-goal attempts.
After football, he became one of the best-known voices in sports journalism, pairing with John Madden for NFL broadcasts. During his legendary career, Summerall received many honors: National Sportscasters and Sportswriters Association Hall of Fame; recipient of the Pete Rozelle Radio-Television Award by the Pro Football Hall of Fame, and a member of the American Sportscasters Association Hall of Fame.
A member of the Arkansas Sports Hall of Fame, Summerall lent his name to the annual ASHOF golf tournament, a fund-raiser for the museum. One unique area is the Pat Summerall Broadcast Booth, which allows museum-goers to view a tape, then pop on a headset, record their own play-by-play calls and then take the tape home.
Barry Switzer (b. 1937)
Former head coach of the former Super Bowl Champion Dallas Cowboys was born in Crossett and played on the 1964 NCAA Championship Razorback football team. He was the head football coach at the University of Oklahoma (1973-1989) where he won three national championships and was named the 1973 Coach of the Year. In 1990, he authored the autographical book Bootlegger's Boy.
Reese "Goose" Tatum (1921-1967)
Harlem Globetrotter's first "funny man," he was born in Calion. As a ninth-grader at El Dorado's Washington High School, he began what would become a successful basketball career. He played for the Globetrotters from 1941-1954 before forming his own team, the Harlem Road Kings. He managed the Road Kings until his death. Tatum's #50 was retired by the Globetrotters, and the entire Globetrotters team was enshrined in the Basketball Hall of Fame.
Hazel Walker (1914-1990)
Considered one of the greatest women basketball players to ever play the game; native of Oak Hill just outside Ashdown; played three seasons with the All-American Red Heads before leaving to start her own barnstorming club: Hazel Walker's Arkansas Travelers. Playing up to six nights a week against male competition, the Travelers proved their ability as players, winning over 85 percent of their games. The Travelers played a total of 16 seasons before Walker decided to retire in 1965 at the age of 50. Inducted into the Women's Basketball Hall of Fame in 2001.
Interested in learning more? Check out these other famous Arkansans!