Famous Authors & Journalists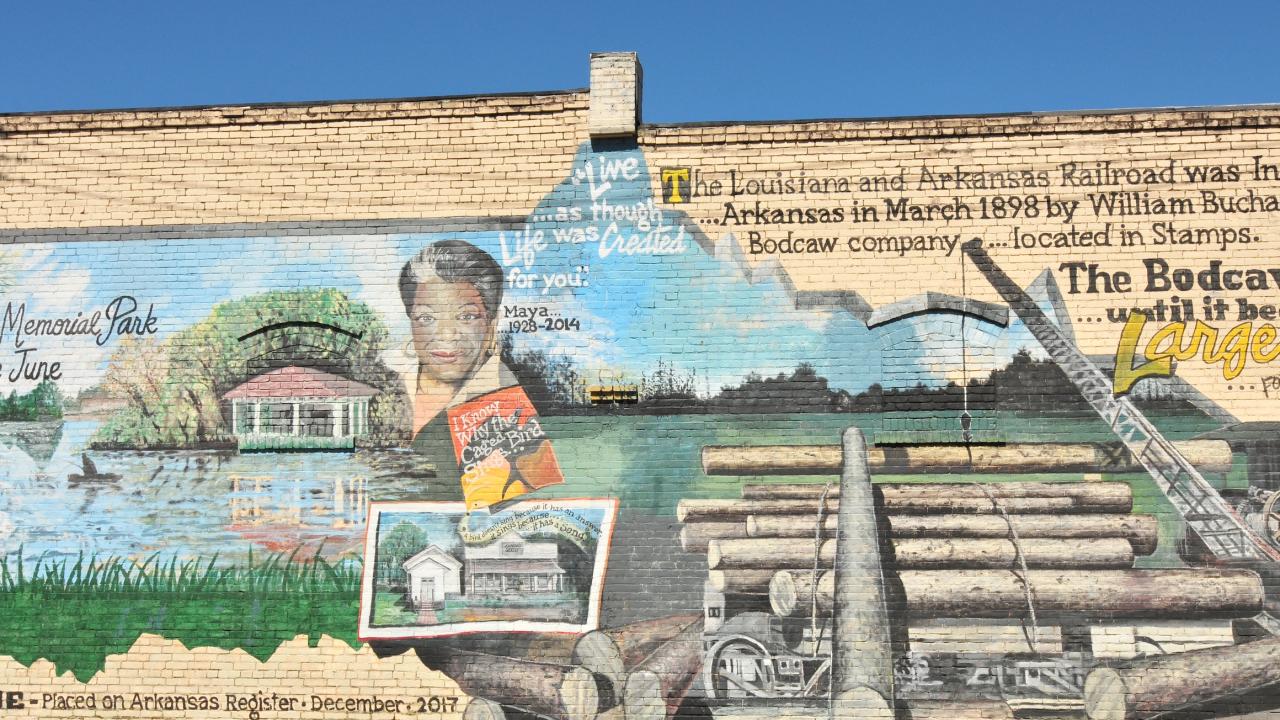 Famous Authors & Journalists
There is inspiration abound in The Natural State, as evidenced by the authors and journalists from Arkansas.
Famous Authors & Journalists
Maya Angelou (1928-2014)
African-American poet, actress, and singer who was raised in Stamps. She was a National Book Award nominee for her autobiographical "I Know Why the Caged Bird Sings" (1970), a Pulitzer Prize nominee for "Just Give Me a Drink of Water Fore I Diiie" (1972) and a Tony Award winner for her performance in "Look Away." She also received an Emmy nomination for her role in the television miniseries "Roots" (1977). She was the second poet in the country to be selected to present an inaugural poem reading "On the Pulse of Morning" at President Clinton's inauguration in 1993.
Harry Scott Ashmore (1916-1998)
Editor and author from Arkansas who won a 1958 Pulitzer Prize for his editorial coverage in the Arkansas Gazette of the 1957 Little Rock Central High desegregation crisis. He also wrote several books including "Hearts & Minds."
Douglas A. Blackmon (b. 1964)
Born in Stuttgart, Arkansas, Blackmon's family moved to Mississippi, then back to Monticello, Arkansas, where he graduated from high school. He earned his college degree at Hendrix College in Conway. After college, he was first an intern then reporter for the Arkansas Democrat. In 1987, he became managing editor and part-owner of the Daily Record in Little Rock.
Blackmon then moved to the Atlanta Journal-Constitution in 1989 before joining the Atlanta office of the Wall Street Journal in October 1995. He was awarded the 93rd Annual Pulitzer Price in General Non-fiction for his book Slavery by Another Name: The Re-Enslavement of Black Americans from the Civil War to World War II (Doubleday) in April 2009. It is described as "a precise and eloquent work that examines a deliberate system of racial suppression and that rescues a multitude of atrocities from virtual obscurity."
Dee Alexander Brown (1908-2002)
Historian and author of the million seller book "Bury My Heart at Wounded Knee" (1971) which has been translated into more than 20 languages. Brown moved from Louisiana to Stephens, in Ouachita County, at age 5. He graduated from Arkansas State Teachers College in Conway and was, for many years, a librarian and full professor at the University of Illinois.
Among his score of books is "American Spa," a history of Hot Springs. Since retiring in 1972, Brown again called Arkansas home until his death.
Helen Gurley Brown (1922-2012)
Born in Green Forest and raised in Little Rock, this former ad copywriter hit it big in 1962 with her bestselling book "Sex and the Single Girl." After becoming editor-in-chief of Cosmopolitan Magazine in 1966, she transformed the failing publication into the sleek, successful "bible of the unmarried woman" who became known as the "Cosmo Girl." Other books include "Having It All" (1982) and her memoir "I'm Wild Again" (2000). She was married to David Brown who co-produced of "Jaws."
Ernie Deane (1911-1991)
A 1934 graduate of the University of Arkansas, Deane is considered by many to be the father of journalism in the state. He served as the information officer for General George S. Patton during World War II. He was also the head of public relations with the Office of Chief Counsel for War Crimes at Nuremberg, Germany. Deane was a journalist with the Arkansas Gazette for many years and, in 1956, created the very popular Arkansas Traveler column. He then taught journalism at the University for 10 years.
Michael Disfarmer (1884-1959)
Born as Mike Meyer in 1884, the sixth of seven children in a German immigrant farming family in Cleburne County. He rejected farm life and his family by legally changing his name to "Dis – Farmer." The eccentric Arkansas artist taught himself photography perhaps also as a way to escape farm life.
After a tornado in the 1930s destroyed his family home where he had worked, he built a studio on Heber Springs' Main Street and became a professional photographer. Using glass plates, Disfarmer shot his subjects in direct north light creating a unique and compelling intimacy. He captured the lives and emotions of the people of rural America from 1939 to 1945, a defining time in history in which the Great Depression yielded to World War II.
Critics have hailed Disfarmer's remarkable black and white portraits as "a work of artistic genius" and "a classical episode in the history of American photography." His unique works are included in the permanent collections of the New York Museum of Modern Art, The Metropolitan Museum of Art, The Arkansas Arts Center Museum and the International Center of Photography in New York City. Disfarmer's photography has also been exhibited in museums and galleries throughout Europe and the United States. He is buried in a Heber Springs cemetery.
John Gould Fletcher (1886-1950)
Born in Little Rock, he was the first Southern poet to be awarded the Pulitzer Prize in Poetry in 1939 for "Selected Poems." In the 1930s he was considered a literary peer of Pound and Eliot. He was also a respected critic and prose writer.
Ellen Gilchrist (b. 1935)
Noted author from Fayetteville, Gilchrist did her postgraduate work at the University of Arkansas. She worked as a freelance writer, journalist and commentator. Her books include "The Land Surveyor's Daughter" (1979), "In the Land of Dreamy Dreams" (1981) and "Falling Through Space" (1987). Winner of the 1984 National Book Award for Fiction for her collection of short stories, "Victory over Japan."
Fred Graham (b. 1931)
This Little Rock native served as a CBS News law correspondent from 1972-1985 and won three Emmy Awards for coverage of Watergate and the Agnew scandal. Prior to joining CBS, he was the Supreme Court correspondent for The New York Times since 1965. He also received a George Foster Peabody Award for his writing.
Author of two books "The Self-Inflicted Wound," a study of the Supreme Court and "The Alias Program," an expose of the Justice Department. This Little Rock native graduated from Yale and earned law degrees from Vanderbilt and Oxford. He currently serves as Senior Editor for Court TV Network.
John Grisham (b. 1955)
Lawyer and best-selling author from Arkansas, who wrote such books as "A Time to Kill," "The Rainmaker," "The Firm," "The Pelican Brief," "The Client" and "The Chamber," all of which have been successfully translated into movies. His book "A Painted House," was made into a Hallmark television movie and filmed on location in Lepanto.
Grisham was born in Jonesboro and lived in various towns throughout Northeast Arkansas. There are currently over 225 million John Grisham books in print worldwide, which have been translated into 29 languages.
Member of the Arkansas Entertainers Hall of Fame.
Donald Harington (1935-2009)
Noted American author born in Little Rock, who most closely associated with writings on the Arkansas Ozark Mountains. Harington loosely based his fictional town, Stay More, on the community of Drakes Creek where he spent his childhood summers.
His background was art and art history and he taught in New York, New England and South Dakota before returning to his alma mater, the University of Arkansas in Fayetteville. He taught at the U of A for 22 years before retiring in 2008. Entertainment Weekly called Harington "America's greatest unknown writer." The novelist and critic Fred Chappell said "Donald Harington isn't an unknown writer. He's an undiscovered continent."
Novelist James Sallis, writing in the Boston Globe: "Harington's books are of a piece -- the quirkiest, most original body of work in contemporary U.S. letters."
Charlaine Harris (b. 1951)
A New York Times bestselling author, Charlaine Harris' most popular novels include "The Southern Vampire Mysteries" and the "Harper Connelly" series. "The Southern Vampire Mysteries" feature Sookie Stackhouse, a telepathic waitress from Louisiana, and are the basis for HBO's "True Blood."
A former resident of Magnolia, Arkansas, Harris is a member of the Mystery Writers of America and the American Crime Writers League and is a member of the board of Sisters in Crime. She also alternates as president of the Arkansas Mystery Writers Alliance.
Joan Hess (b. 1949)
This best-selling Fayetteville mystery writer has been on the covers of Mystery Scene Magazine and The American Armchair Detective. At one time, CBS offered her a contract to base a television series on her novel Malice in Maggody.
Kenny Johnson (b. 1942)
Science fiction icon and Pine Bluff native was born October 26 and is a writer, producer and director of such cult classics as the NBC miniseries "V," Alien Nation television show and movies, and the original Bionic Woman and Incredible Hulk television series.
He began his career on The Mike Douglas Show and worked on several game shows such as The Joker's Wild while learning his craft. Other projects run the gamut from Adam 12, Short Circuit 2 and JAG. He currently teaches directing seminars at UCLA and USC.
Mary Myrtle Medearis (1915-2012) 
Born in North Little Rock to a doctor and musician. Though she always considered herself a musician, Medearis was best known as the author of Big Doc's Girl (1942), a novel that has the distinction of having stayed in print longer than any other work of fiction by an Arkansan.
Upon its publication in September 1942, Big Doc's Girl was praised in the New York Times Book Review, the Los Angeles Times, and scores of other publications. It was on the New York Times Bestseller List, and the Times also named it one of the 10 best books published that year. During a 1962 visit home to Arkansas, she discovered historic Washington and returned each summer until 1975 to visit and record stories told by locals.
She moved to Washington permanently to write a book about the town. In 1976, she published Washington, Arkansas: History of the Southwest Trail. During this time, she also embarked on another career as a co-founding director of the Southwest Arkansas Regional Archives, located in the former Washington Elementary School adjacent to Historic Washington State Park. She held this position for 13 years.
From 1993 to 1996, Medearis was the writer in residence for Ouachita Baptist University in Arkadelphia before moving to Saratoga Springs, New York, in the fall of 1996 to live in a retirement community for writers and artists.
Charles Portis (b. 1933)
A native of El Dorado, Portis graduated from the University of Arkansas at Fayetteville. He wrote for several major newspapers before becoming a novelist. He is perhaps best known for his 1968 novel True Grit, a portrayal of Arkansas culture in the late 1870s. The novel sold to Paramount for $300,000. In the 1969 movie version, John Wayne won an Oscar for his performance in the role of Rooster Cogburn.
Vance Randolph (1892-1980)
Kansas-born, folklorist Randolph led the way in preserving the traditions and lore of the Ozarks. Starting in 1927, Randolph authored his first "Journal of American Folklore" article and launched a lifelong study of mountain folk life.
Throughout much of his life, Randolph supported himself with articles on timely subjects because his beloved folklore books did not pay well. During the 1950s Randolph authored a series of folk books, starting with "We Always Lie to Strangers," which finally brought recognition to the writer and assured him a place in history.
He was awarded an honorary doctorate in 1951 from the University of Arkansas at Fayetteville and was the second president of the Arkansas Folklore Society when it was established in 1950.
Miller Williams (1930-2015)
Born April 8, in the north central Arkansas town of Hoxie, Williams was not well known to the general public until he read his original "Of History and Hope" to a world-wide audience during the January 1997 inauguration of fellow Arkansas Bill Clinton as the 42nd annual president of the United States.
Williams, now retired as University Professor of English and Foreign Languages from the University of Arkansas at Fayetteville, has written 33 books. These tomes range from a history of American railroads, translations from the works of Nicanor Parra and Guiseppe Gioachino Belli, critical works on John Crowe Ransom and John Ciardi to several on poetry.
He is the recipient of numerous awards and honors from such institutions as Harvard University, American Academy of Arts and Letters, International Poetry Forum, and New York Arts. He and his daughter, singer-song writer Lucinda Williams, frequently perform a tandem gig entitled Poetry Said/Poetry Sung, during which he reads a poem and she sings one of her songs.
Interested in learning more? Check out these other famous Arkansans!