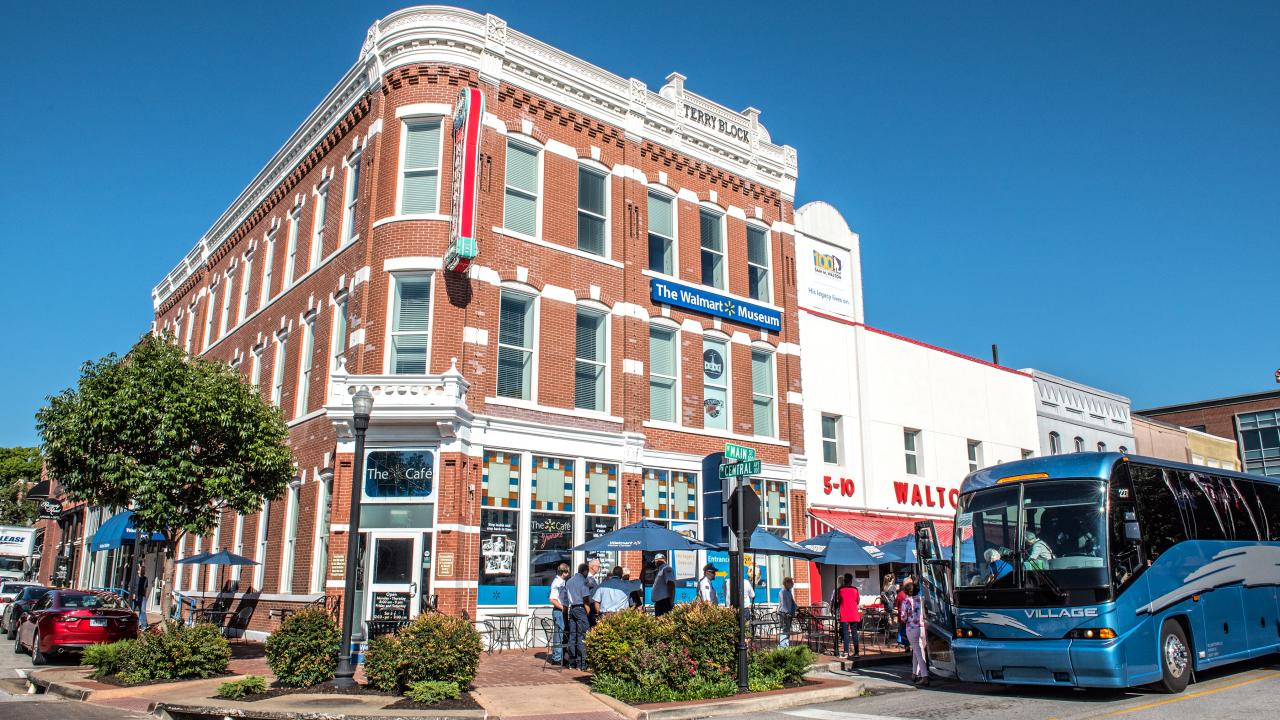 You may not think of Arkansas as a center of business, but there are many companies and industries that got their start in our state. Sam Walton founded Walmart in Northwest Arkansas, which is still where the company (and it's sister company, Sam's) is headquarter today.
If you are eating chicken for dinner, chances are your protein was sourced in Arkansas through Tyson headquarters, founded by Don Tyson in Springdale, Arkansas. Dillards, J.B. Hunt, Stephens Financial, and the American Taekwondo Association (ATA) all got their start in Arkansas. Learn more about the business tycoons below. 
Famous Business Leaders
William T. Dillard (1914-2002)
The founder of one of the nation's most successful retail chains, Dillards Department Stores. He was born in Mineral Springs, the son of a country store owner. After graduating from the University of Arkansas and earning an M.A. from Columbia, Dillard gained experience in retail at Sears before opening his own department store in 1938. In 1960 he began his growth with the purchase of Tulsa's financially troubled Brown-Dunkin.
Today headquartered in Little Rock, Dillards is one of the largest major department store chains in the country.
Carolyn Horchow (1934-2009) 
Founder, along with her husband Roger, of The Horchow Collection, the country's first mail order catalog for luxury items. She was born into a prominent North Little Rock family, the Pfeifers. Her great, great uncle Joseph Pfeifer founded Pfeifer's Department Store in 1865, of one the major stores on Little Rock's Main Street in its shopping heyday.
Her father was owner of Mechanics Lumber in downtown North Little Rock. It is still in business today as One Source and is owned by her bother Eugene.
J. B. Hunt (1927-2006)
Born near Heber Springs, he and his wife founded J.B. Hunt Transport at Lowell in 1961. The company has grown into one of America's largest and most successful transportation logistics companies. Named Arkansan of the Year in 1990, this trucking tycoon was inducted into the American Academy of Achievement in 1983.
John H. Johnson (1918-2005)
Arkansas City native and publisher who founded Negro Digest in 1942, followed by Ebony and Jet magazines. These became the most powerful African-American owned media company in the United States. He also created Fashion Fair Cosmetics.
Johnson was the first African-American to be named to the Forbes list of the 400 Richest Americans. He was awarded the "Medal of Freedom" by President Clinton on September 9, 1996.
Paul Klipsch (1904-2002)
A resident of Hope for his adult life, he was the inventor of Klipsch speakers, which are regarded among the tops in the field by audio buffs. He is considered one of America's most celebrated audio pioneers because he revolutionized the way the world listens to recorded music.
The Klipschorn®, which today is still manufactured and sold worldwide, proved it was possible to reproduce the sound of a live orchestra inside a home. Member of the Audio Hall of Fame, the Engineering and Science Hall of Fame.
H.U. Lee (1936-2000)
Founder of the American Taekwondo Association (ATA) headquartered in Little Rock since 1977. Eternal Grand Master H.U. Lee was born in Manchuria, China on July 20, 1936. Beginning his martial arts training in 1953, he received his first degree black belt in 1954.
In 1969, he founded the American Taekwondo Association (ATA) with Taekwondo schools opening all over the country.
Eternal Grand Master Lee introduced the Songahm style of Taekwondo to the world on August 13, 1983 atop Songahm Mountain in Arkansas. The first group consisted of 300 masters and instructors Songahm #1 (white belt), Songahm #2 (orange belt), and Songahm #3 (yellow belt).
Eternal Grand Master H.U. Lee is now heralded by the world to be the first and only Master in history to acquire the rank and honor of 9th degree Grand Master under public documentation. The H.U. Lee International Gate and Garden in downtown Little Rock honors the founder of the ATA.

Koto Momolu (b. 1974)
Momolu was voted the fan favorite winner and was first runner-up when she participated in the Project Runway television show in 2008. Based in Little Rock, Momolu's rich fabrics and fashion reflect her homeland of Liberia.
Her eye-catching creations fuse colorful lines with delicate designs, forming the core of what she calls her "Afro-chic" style. Momolu also has designer lines of handbags and jewelry. She was invited by the president of Liberia to come back to her native country and design an inaugural gown.

Jack Stephens (1923-2005)
Born on a farm near Prattsville during the Great Depression, he became of the country's major power brokers through Stephens, Inc., the largest trading company outside of Wall Street, located in Little Rock. A quiet, unassuming man, he donated millions of dollars to worthy causes, including the University of Arkansas for Medical Sciences campus, the Delta Project, the U.S. Naval Academy, First Tee of Arkansas, and others.
His personal art collection, of which he donated a portion to the Arkansas Arts Center, has been recognized as one of the most important art collections in the country. He served as chairman of the Augusta National Golf Club, overseeing The Masters golf tournament. Member Arkansas Sports Hall of Fame.
Don Tyson (1930-2011)
Former chairman of the board of Tyson Foods, Inc., based in Springdale, the largest poultry processing company in the country. Don Tyson also served as CEO for Eagle Distributing Inc. and several other businesses.
Sam Walton (1918-1992) 
Newport native and Walmart founder. Once listed as the richest man in America by Forbes Magazine, Walton opened his first Wal-Mart in 1962 in Rogers. When he died in April 1992, the chain of stores numbered more than 1,600 in 32 states and annual sales surpassed $44 billion.
The Wal-Mart chain is the fastest growing retailer in the country. The Walmart founder's original "Five and Dime" store in Bentonville is now a museum and visitor center.
Kemmons Wilson (1913-2003)
This Osceola native founded and opened the first Holiday Inn in 1952 in Memphis. In 1953 he formed Holiday Inns of America and served as chairman and chief executive officer until 1979.
After retiring, he developed the world's largest time-share establishment, Orange Lake Country Club, which is located near Disney World. He is credited with revolutionizing the lodging industry by bringing affordable and comfortable lodging to millions.
Ed Wilson (unknown)
Born and reared in Rison, is president of Chicago-based Tribune Broadcasting, which owns and operates 23 television stations and WGN radio in Chicago. He began with Fox Broadcasting Company in 2004 as president of the Fox Television Network. He left Fox in February 2008 to join Tribune. Wilson, who began his broadcasting career as sales manager at KATV, Channel 7, in Little Rock, served as president of NBC Enterprises from 2000 to 2004.
Before NBC Enterprises, Wilson was president and CEO of CBS Enterprises and Eyemark Entertainment, overseeing syndication of shows "Everybody Loves Raymond," "Touched By An Angel" and "Martha Stewart Living" among others. In 1994 Wilson founded MaXaM Entertainment in partnership with A.H. Belo Corp. The company was sold in January 1996 to CBS. Wilson holds a bachelor's degree in finance from the University of Arkansas where he was named an Outstanding Alumni in 1007.
Member of the Arkansas Entertainers Hall of Fame.
Forrest Wood (b. 1933)
Born and raised in Flippin, he founded Wood Manufacturing Company and designed the Ranger Boat, America's No. 1 bass boat. He produced his first custom-built boat in 1968. Among his many accomplishments in the bass-boat manufacturing industry are the use of steel conduit to encase electrical wiring, level flotation -- now required in all small outboard boats by the Coast Guard -- aerated live wells to allow catch and release without harming fish and the use of powerful engines. The bass tournament arm of Wood Manufacturing -- the FLW Tour -- is named after him.
Member of the International Game Fish Association (IGFA) Hall of Fame. The below photos is from his induction into the Arkansas Business Hall of Fame.
​
Interested in learning more? Check out these other famous Arkansans!