Famous Historical Figures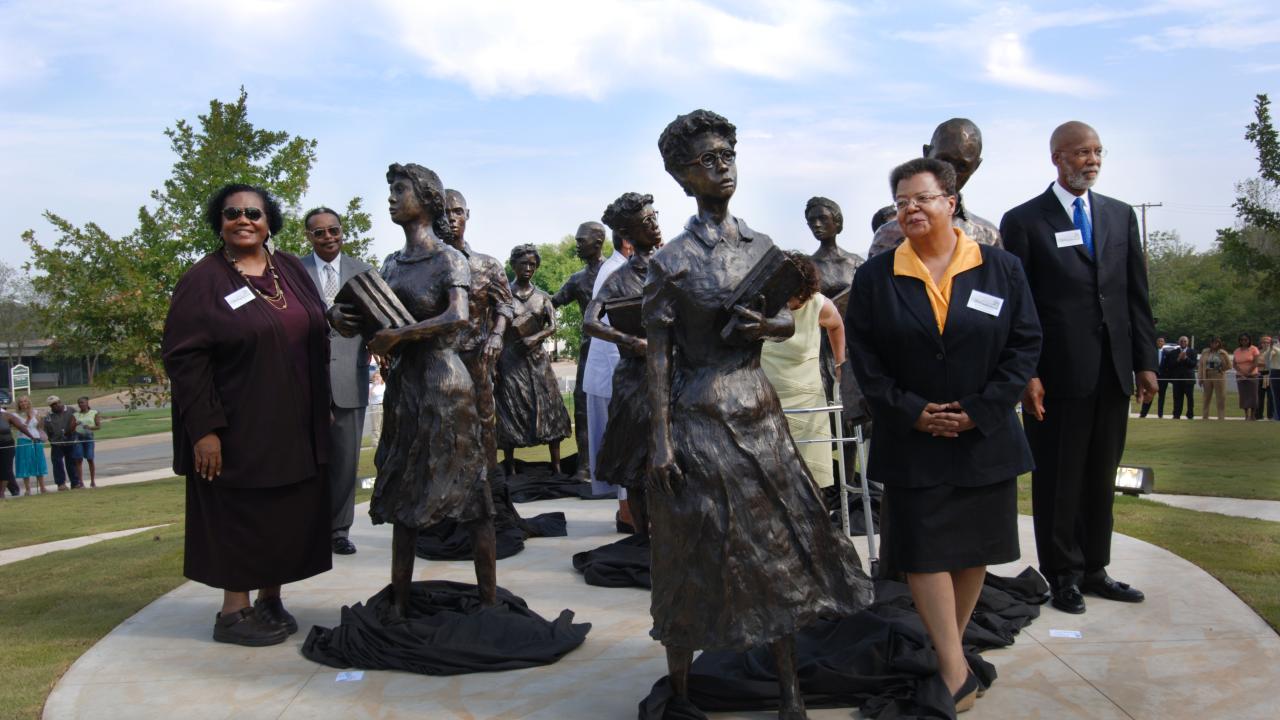 Arkansas has a foothold in American history, with many famous figures hailing from the state. The Little Rock Nine were thrust into country-wide and global fame during the integration of Little Rock High School in 1957. Another behemoth in Black history is Bass Reeves, the first black-commissioned United States deputy marshal west of the Mississippi River.
Discover more of Arkansas' historical figures, from activists to artisans. 
Famous Historical Figures
John Hanks Alexander (1864-1894)
The second African-American to graduate from West Point and the first African-American officer with a regular command position in the United States Army. In 1894 he was selected to serve as professor of military science and tactics at Wilberforce University, an African American college in Ohio.
Daisy Gaston Bates (1914-1999)
Born in Huttig, this African-American activist is known for her role as mentor to the Little Rock Nine during the 1957 Little Rock Central High School Desegregation crisis. During this time her home, which is now designated a National Historic Landmark, became the official pick-up and drop-off site for the students trips to and from school. Daisy continued to press for civil rights for African-Americans and later, along with her husband L.C. Bates, published an African-American oriented Little Rock newspaper, the Arkansas State Press.
James Black (1800-1872)
A New Jersey-born and expertly trained silversmith, Black made his way to Washington, Arkansas during territorial days. He developed a unique process for knife blades and among his customers was James Bowie who reportedly carried a Black-made knife during the fall of the Alamo in 1836. Black was blinded while in his forties and never revealed his secret for tempering metal. He died at Washington, where a state park has recreated the Black blacksmith shop on the exact site of the original.
Maurice "Footsie" Britt (1919-1995)
Professional football player, World War II hero and notable Arkansas politician who was born in Carlisle and raised in Lonoke. Nicknamed "Footsie" as a boy, Britt starred with the Detroit Lions until World War II. In the Army, he was the first soldier to win the four top medals for valor, including the Congressional Medal of Honor. Britt also received the Military Cross of the British Empire and the Al Valore Militare Merit from the Italian government.
Wounded in four different battles, he lost his right arm and severely injured a foot. From 1967 to 1970, he served as the Arkansas Lieutenant Governor under Governor Winthrop Rockefeller. He later served as District Director of the Small Business Administration from 1971-1985. He is buried in the Little Rock National Cemetery.
General William Orlando Darby (1911-1945)
Darby grew up at Fort Smith, attended West Point graduating in 1933. He became the leader of the unit that would gain fame as Darby's Rangers in the spirit of Rogers Rangers whose operations were successful during the Revolutionary War. The men of Lieutenant Colonel William O. Darby's 1st Ranger Battalion were all volunteers whose applications had been carefully screened when they were organized at Fort Smith in the summer of 1942.
Darby's organization and leadership catapulted the Rangers toward the front where they distinguished themselves in combat from North Africa to Europe. He led the Rangers through four landings in the Mediterranean War -- North Africa, Sicily, Salerno and Anzio. He also led legendary campaigns in the mountains of Tunisia and Italy. Darby was killed by an artillery round on 30 April 30, 1945. He died at age 34 just a few days before VE Day. He is buried in the Fort Smith National Cemetery.
Sonora Louise Smart Dodd (1882-1978)
This Jenny Lind native is credited with creating Father's Day, which was first observed in Spokane, Washington, in 1910 where she and her family then lived. Dodd wanted a special day to honor her father, William Smart, an Arkansas farmer and widower, who raised six children by himself. He also was a member of The First Arkansas Light Artillery which was organized at Fort Smith and fought in the battle of Pea Ridge in 1862.
It wasn't until 1966 when President Lyndon Johnson signed a presidential proclamation declaring the third Sunday of June as Father's Day. In 1972 President Nixon established the permanent national observance of the holiday.
David Owen Dodd (1846-1864)
On Christmas Eve 1863, David Owen Dodd traveled from Camden to Little Rock on family business, with his birth certificate and a pass to cross Union lines. Dodd left Little Rock on Dec. 29, and since he was headed back to Camden, he surrendered his pass to a Union soldier. He lost his way and ended up back behind Union lines.
Officers detained him and discovered a small notebook containing a Morse-coded message with information on Union troops. He was tried and found guilty as a Confederate spy. When offered freedom for the name of an informant, he reportedly replied:
"I can give my life for my country but I cannot betray a friend."
On Jan. 8, 1864 at age 17, David O. Dodd was hanged. He would become known as the "boy hero of Arkansas" and the "boy martyr of the Confederacy."
Bill Doolin (1858-1896)
Founder of the Wild Bunch, which specialized in robbing banks, trains and stagecoaches in Arkansas, Oklahoma, and Kansas in the 1890s. Bill Doolin was born in 1858 on a farm in Johnson County north of Clarksville. Originally a member of the Dalton Gang, he formed his own gang around 1893 and the Wild Bunch became the premier terrorizers of the West until Doolin was captured in a Eureka Springs bathhouse by Deputy U.S. Marshall Bill Tilghman in January 1896.
He later escaped federal custody and was shot and killed by U.S. Deputy Marshal Heck Thomas's posse near Lawson in Oklahoma Territory on August 24, 1896.
Lawrence Brooks Hays (1898-1981)
London, Arkansas native who served as a United States Congressman (1943-1958). He later became special advisor to President John F. Kennedy, as well as a professor at Rutgers and Duke. A legendary storyteller, he was known for his gentle, self-mocking humor. Hays was one of the first laypeople to be elected as president of the Southern Baptist Convention in 1957.
The most trying time of Hays' political career was during the Little Rock Central High School desegregation crisis of 1957–58. At the height of the conflict, Hays arranged a conference between President Dwight Eisenhower and Arkansas Governor Orval Faubus at Newport, RI. The meeting ultimately failed, however, after Faubus refused to remove the Arkansas National Guard and allow the famous "Little Rock Nine" to enroll at the school.
His efforts to play peacemaker between state and federal officials cost him his seat in Congress. He is buried in Russellville's Oakland Cemetery.
Jimmy Lile (1933-1991) 
Known as The Arkansas Knifemaker, this famed Russellville craftsman was known worldwide for the quality of his work. Lile was the creator of the original "Rambo First Blood" and "Rambo II the Mission" knives that were actually used in the first two "Rambo" movies.
Lile is the inventor and craftsman of the patented "Lile Lock" folding knife, which is proudly on display at the Smithsonian Institute. Other famous owners of his work include John Wayne, Peter Fonda, Fess Parker; actress Bo Derek; and singer-songwriter Johnny Cash.
General Douglas MacArthur (1880-1964) 
He was born in the Tower Building of the Little Rock Arsenal while his father was its commandant. He rose to become a five-star general in the U.S. Army and Supreme Commander of Allied Forces in the Pacific during World War II. He accepted the Japanese surrender in 1945. His accomplishments include: first in class at West Point; Superintendent of West Point; Army Chief of Staff; U.S. Far East Commander; Congressional Medal of Honor recipient; Supreme Commander for the Allied Powers; and first UN Commander.
The building where the general was born, the Officer's Quarters, is located in downtown Little Rock's MacArthur Park and now serves as home to the Arkansas Museum of Military History. He was the first Arkansas to appear on a U.S. postage stamp (January 26, 1971).
Carrie A. Nation (1846-1911)
Carrie, also known as Carry Amelia Nation, became the most famous member of the Women's Christian Temperance Union founded in 1874. Her dislike of alcohol probably came from a brief marriage to an alcoholic in the late 1800s. She was nearly six feet tall and weighing 180 pounds and became a formidable force while wielding her hatchet.
Kiowa, Kansas was where Nation went to work with the hatchet in the name of temperance in 1900. She was arrested 30 times between 1900 and 1920 while leading her ladies on their crusade. According to some sources, prize fighter John L. Sullivan was reported to have run and hid when Nation burst into his New York City saloon.
Later in life she moved to Eureka Springs where the home she lived in became known as "Hatchet Hall." Across the street from the structure is a spring named for her. Nation collapsed during a speech in an Eureka Springs park and was transported to a Leavenworth, Kansas hospital where she passed away on June 9, 1911.
Little Rock Nine
In September 1957, nine African American students – Melba Pattillo, Elizabeth Eckford, Ernest Green, Gloria Ray, Carlotta Walls, Terrence Roberts, Jefferson Thomas (1942-2010), Minnijean Brown and Thelma Mothershed -- made history by braving a hostile crowd to reach the front door of Little Rock Central High School, the site of the first important test of the groundbreaking Brown v. Board of Education of Topeka decision.
The violence that ensued forced the police to remove the students for their own safety. On Sept. 25, they returned to Central under the presidential-ordered escort of the U.S. Army 101st Airborne Division and became a part of Civil Rights history. Little Rock Central High School is now a National Historic Site as well as a working school. The Little Rock Central High Museum is located across the street from the school and a life-size memorial to the Little Rock Nine is located on the north end of the Arkansas State Capitol grounds.
Judge Isaac C. Parker (1838-1896)
He was an attorney, a congressman and later appointed a U.S. Judge by President Grant in 1875. He earned the moniker "Hanging Judge" during his 21 years on the bench in the Western District, which included Arkansas and Indian Territory (now Oklahoma).
In his Fort Smith courtroom, he heard more than 13,000 cases. More than 9,000 defendants pleaded guilty or were convicted. Of these, 344 were tried for capital offenses and 160 were sentenced to hang. Only 79 were actually hanged. Parker in later years said, "It was not I who hung them. I never hung a man. It was the law." He is buried in the Fort Smith National Cemetery.
Albert Pike (1809-1892)
Soldier, teacher, lawyer, explorer, newspaperman, and poet. Pike was born in Boston, Massachusetts and later moved to Arkansas in 1831. Pike served as a member of the territorial legislature and captain of the cavalry squadron in the Mexican War in 1846.
He also served as Indian Commissioner for the Confederacy and led a brigade of Cherokee Indians at the Battle of Pea Ridge in 1862. The major work of his career was writing the philosophy of Freemasonry. He lived on the Little Missouri River and later in Little Rock.
Bass Reeves (1838-1910)
The first black commissioned United States deputy marshal west of the Mississippi River, Reeves was born to slave parents in July 1824 in Paris, Texas. Freed by the Emancipation Proclamation, the six-foot-two, 190-pound former slave left the Indian country and bought land near Van Buren.
Isaac C. Parker was appointed judge for the Federal Western District Court at Fort Smith on May 10, 1875, to bring law to the Indian Territory. One of his first official acts was to swear in a United States marshal and appoint 200 deputies to curb the lawlessness in the area.
Reeves was recruited because he knew the tribal languages and country well. Dependability and devotion to duty were the benchmarks of Reeves's service to the government. Many of the district courts asked for Reeves because of his reliability in serving warrants. The deputy's respect for the law was legendary. In 1992, Bass Reeves was inducted to the National Cowboy Hall of Fame, located in Oklahoma City.
John Smith Thach (1905-1981)
John Smith Thach was one of the most influential naval aviators of the mid-twentieth century and is credited with the creation of the Thach Weave, one of the most significant tactical advances in the history of aerial combat. He was awarded the Navy Cross and Distinguished Service Medal for developing this tactical maneuver, which remains a standard of military aviation.
Thach was born in Pine Bluff and graduated from the US Naval Academy. The guided missile frigate USS Thach was commissioned in his honor in 1984. Rising to full Admiral over the next decade, Admiral Thach was Commander in Chief, U.S. Naval Forces, Europe, from March 1965 until shortly before his retirement in May 1967.
C. Vann Woodward (1908-1999)
Born in Vanndale, this eminent historian of the American South was one of the first to recognize what has come to be called the Southern Literary Renaissance. Woodward won the 1982 Pulitzer Prize for "Mary Chesnut's Civil War," an annotated interpretation of a diary by one of the Confederacy's leading women.
His first major work was "Tom Watson: Agrarian Rebel," a 1938 biography of an agrarian reformer who became a race-baiting demagogue, a conversion that as Woodward saw it helped doom Populism as a political movement.
Woodward was perhaps best known for his 1955 book, "The Strange Career of Jim Crow," which Martin Luther King called "the Bible of the civil rights movement." Modern Library in 1999 ranked the book No. 70 on its list of the century's 100 best English-language works of nonfiction. The book evolved from research Woodward did in 1953 for the NAACP's brief in its case, Brown vs. Board of Education, in which the U.S. Supreme Court later overturned legal racial segregation. Woodward demonstrated that blacks and whites in the South had lived on relatively equal terms until the late 19th century, and that so-called Jim Crow segregation laws were products of only one generation.
In October 1998 Woodward was prominent among the more than 400 historians who issued a statement that the impeachment proceedings against President Clinton had no historical precedent and could dangerously undermine of the U.S. Constitution's principle of separation of powers.
Interested in learning more? Check out these other famous Arkansans!