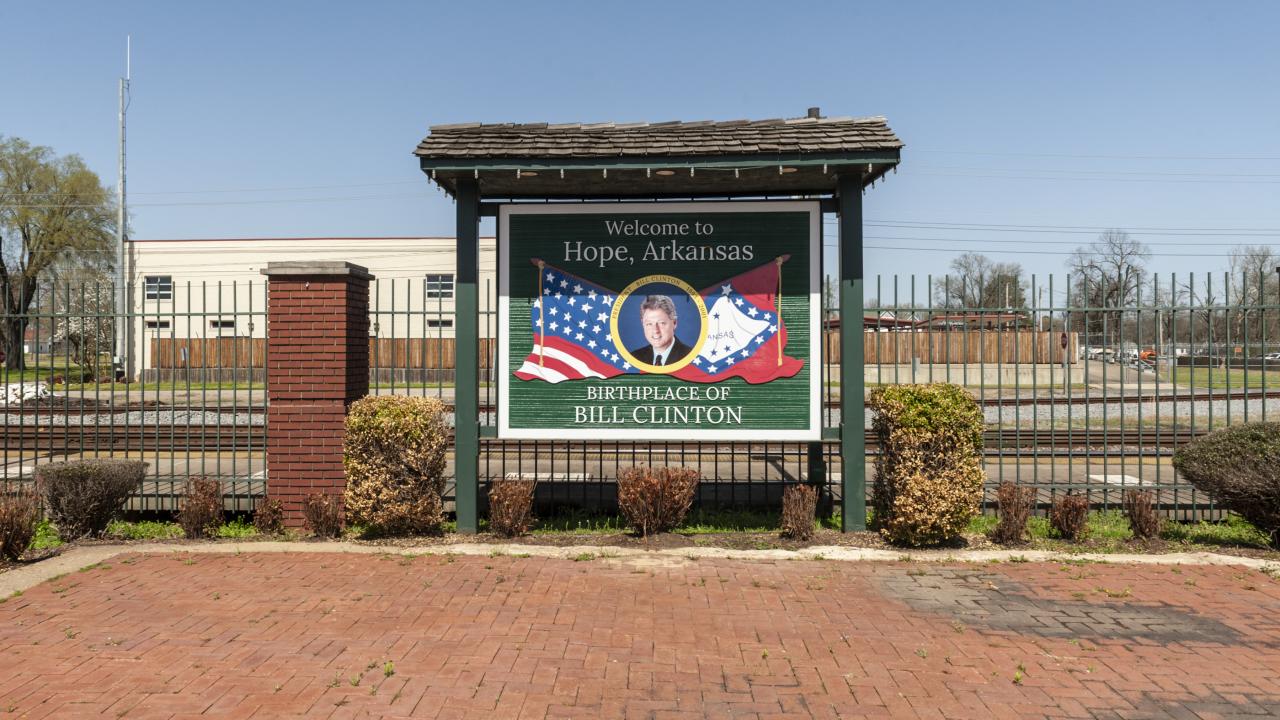 Most people are familiar with Bill Clinton – Arkansas' first and, to date, only president. In fact, there are many politicians from Arkansas who have made incredible contributions to the state and to the country. 
Learn more about Hattie Caraway, the first woman to be elected to a full term in the U.S. Senate. You can also discover the background of Joseph Robinson, who served as a congressman, governor, and U.S. Senator.
Famous Politicians
Dale Bumpers (1925-2016)
This Charleston lawyer rose from obscurity to defeat Orval Faubus in the 1970 Democratic primary for governor, then won out over the popular Republican incumbent, Winthrop Rockefeller. After two terms in office, the ex-marine defeated the formidable J. William Fulbright, then chairman of the Senate Foreign Relations Committee. In 1983, the liberal Senator declined to enter the Presidential race but was frequently mentioned as a possibility for the vice-presidency. He retired from the U.S. Senate at the end of 1998.
Hattie Caraway (1878-1950)
She moved to Jonesboro with her husband, Thad, in 1902. She was appointed to the U.S. Senate in 1931 to succeed her husband who died in office. When that term ended, she became the first woman ever elected to the U.S. Senate and served until 1945.
Caraway was the first woman to preside over the Senate, first woman Senate Committee chairman, first woman senior Senator, and first woman to conduct a Senate Committee hearing.
She continued to make history when on February 21, 2001 she became the first female Arkansan to ever appear on a postage stamp. She is buried in Jonesboro and her gravesite was listed on the National Register of Historic Places in 2007.
Eldridge Cleaver (1935-1998)
This Wabbaseka native was a well-known political activist in the 1960s. He wrote Soul on Ice (1968), an autobiographical work that explored the black psyche, and Soul on Fire(1978). He was one of the original members of the Black Panthers along with Huey P. Newton and Bobby Seale and became their chief spokesman.
William Jefferson Clinton (b. 1946)
42nd President of the United States who was elected to two terms (1992 and 1996). Clinton was born in Hope and grew up in Hot Springs. He was a Rhodes Scholar at Oxford University in England and graduated from Yale Law School.
He taught law at the University of Arkansas in Fayetteville before being elected as the state's attorney general (1976-78). He was then elected Governor of Arkansas, an office in which he emphasized education reform and economic development (1978-80, 1982-93).
Orval Faubus (1910-1994)
This six-term governor who was born in Combs served longer than any man in Arkansas history (1954-67). He defied the 1957 court order to desegregate public schools when he called in the National Guard to keep African-American students from entering Little Rock Central High School. In response, President Dwight Eisenhower federalized the Arkansas National Guard and sent in U.S. Army paratroopers.
After six consecutive two-year terms, he tried unsuccessful comebacks in 1970, 1974 and 1986. After retirement, he built a million-dollar mansion overlooking Huntsville, which was designed by Fayetteville architect, E. Fay Jones.
J. William Fulbright (1905-1995)
He moved to Fayetteville in 1906 when he was one year old; graduated from the University of Arkansas. He was appointed president of the university in 1939, making him the youngest university president in the country. He held the post until 1941.
First elected to Congress in 1943, served as a U.S. Senator from 1945 to 1974. As Senator, he established the prestigious Fulbright Fellowship program, which provided for the exchange of students and teachers between the United States and foreign countries. He also introduced the Fulbright Resolution which laid the groundwork for support for the formation of the United Nations.
As longtime chairman of the Senate Foreign Relations Committee, he became the first prominent congressional critic of the Vietnam War in 1966. He is interred in the Fulbright family plot at Evergreen Cemetery in Fayetteville. A bronze statue on the University of Arkansas main campus pays homage to him.
John L. McClellan (1896-1977)
This Sheridan native was a U.S. Senator from 1943 until his death in 1977. He was responsible, along with Senator Robert Kerr of Oklahoma, for the Arkansas River Navigation Project. This $1.2 billion project made the river navigable to oceangoing vessels as far up-stream as Tulsa.
The 1950s televised Senate subcommittee hearings on labor racketeering drew the attention of millions of Americans and earned him the reputation as a crime fighter (Robert Kennedy served as Chief Counsel). Before his death, he helped draft, with Senator Edward Kennedy, a comprehensive revision of the U.S. Criminal Code.
Wilbur Mills (1909-1992)
Born in Kensett, this Congressman served from 1939 to 1977 in the U.S. House of Representatives. As chairman of the House Ways and Means Committee (1958-1974), he was influential in determining taxation, Social Security, tariff, and welfare policies. In the early 1970s he was considered one of the most powerful members of Congress.
Martha Mitchell (1918-1976)
Born and raised in Pine Bluff, she was married to John Mitchell, attorney general for President Richard Nixon and a principal in the Watergate scandal. Her relentless insistence that there had been a cover-up kept the controversy going.
Nixon has said that "without Martha, there would have been no Watergate."
After her death, the city of Pine Bluff renamed a thoroughfare in her honor and declared her childhood home a landmark. She is buried in Pine Bluff's Bellwood Cemetery.
David Hampton Pryor (b. 1934)
Pryor served in the Arkansas House of Representatives (1961-67) and the U.S. House of Representatives (1967-73). He also served two terms as governor (1975-79) and 18 years as a U.S. Senator, retiring in 1996.
Pryor was born in Camden. In late 2003 he became the first dean of the University of Arkansas's Clinton School of Public Service on the campus of the Clinton Presidential Center and Park in Little Rock.
Joseph T. Robinson (1872-1937)
Born near Lonoke, Robinson became one of Congress' great leaders and the first Arkansan on a national ticket. Robinson served as Congressman (1902-12), Governor (1913), U.S. Senator (1918-37), Senate minority leader (1923), Democratic nominee for Vice-President (1928) and Senate majority leader (1933-37).
He is buried in Roselawn Memorial Park in Little Rock.
Winthrop Rockefeller (1912-1973)
Though born in New York City, Rockefeller adopted Petit Jean Mountain as his home following World War II. Rockefeller became the first Republican elected governor of Arkansas since the Civil War. A member of one of the nation's wealthiest and most prominent families, he served as governor of Arkansas from 1967-1971.
During his tenure, he obtained approval of the first statewide minimum wage law and helped outlaw casino gambling in the state.
Interested in learning more? Check out these other famous Arkansans!