Hiking
& Backpacking Trails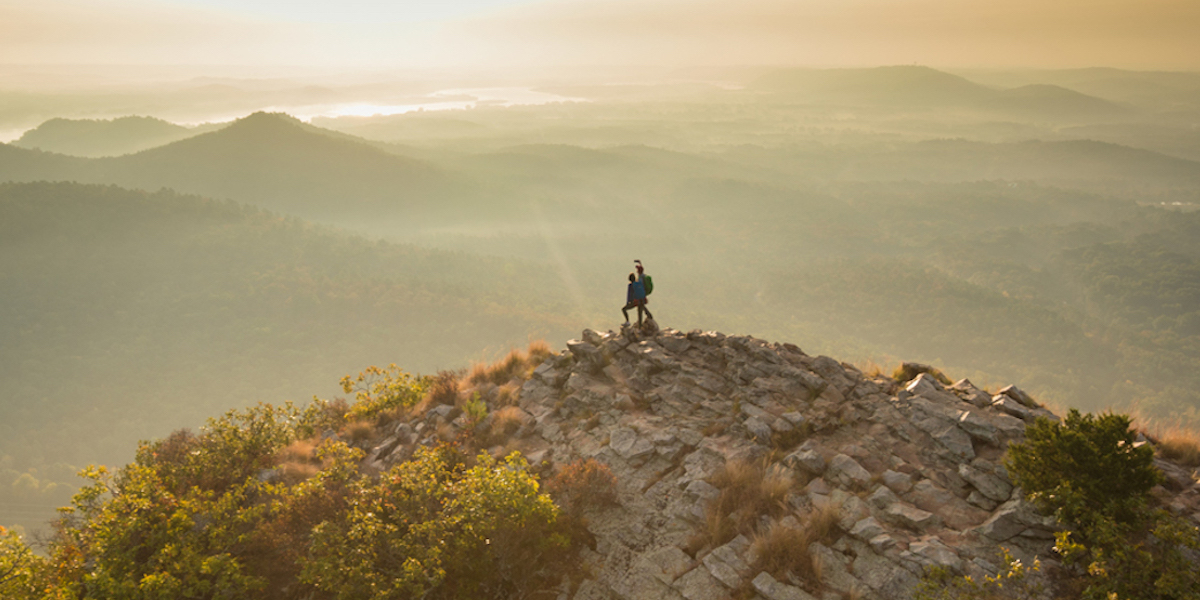 Take a hike
Getting back to nature is a popular pastime, and hiking in Arkansas is a great way to experience the beauty and majesty of The Natural State. With several long-distance hiking trails and dozens of shorter hikes that are enjoyable in any season, Arkansas is easily one of the best states for hiking in America.
Outdoor enthusiasts will find hundreds of miles of amazing Arkansas trails designed for day hiking, backpacking, horseback riding, off-roading and kayaking.
You can venture into the woods for a night (or week) with trails that range from less than 10 miles long to more than 200 miles. From national parks and state parks to community spaces, Arkansas has a hike for everyone.
Need some examples to get your adventure brain juices flowing? The 2.3-mile trail system at Arkansas Post National Memorial, the 1.3-mile Peak Trail at Hot Springs National Park and the 2.7-mile Williams Hollow Trail at Pea Ridge National Military Park are great jumping-off points into the world of Arkansas's best hiking.
The Natural State is home to two nationally recognized long-distance backpacking trails if you're looking to cross some long hauls off your bucket list. These are ideal for those that are prepared for a breathtaking challenge. You'll be hiking across towering mountains, building your own campfires and being one with nature in a whole new light.
The Ouachita National Recreational Trail stretches 223 miles west to east across the rugged Ouachita Mountain range and is known for its solitude. Farther north, the Ozark Highlands Trail passes through the Ozark Mountains on its grand 218-mile journey from Lake Fort Smith State Park east to the Buffalo National River area — some of the most treasured and scenic lands in the state. You'll feel it all — the soul-cleansing sigh of relief as you reach a pinnacle of beauty and the shocking thrill of spotting your first doe.
Whatever voyage you decide to embark on, our trails offer a model way to relax. Being a hiker isn't about crossing something off a list — it's about getting outdoors with friends and family to explore nature and take in the fresh air and beauty that surrounds you. And once you're done, head to a local restaurant for some classic southern barbecue.
5 Best Hiking Trails in Arkansas
Lace up your boots, throw snacks (and water) into your backpack — along with a compass, paper map, plus whatever else you need — and get out on one of these day hikes. We guarantee you'll experience natural wonders like no other when you step foot on one of our paths.
Lost Valley Trail
Accessible year-round, Lost Valley (located in Buffalo National River) comes complete with a gushing waterfall. In winter, the glistening rocks create a cave-like atmosphere where the icicles look like stalagmites, and in the warmer months, little tufts of green peek out from behind massive geologic formations. Pick up picnic supplies in nearby Ponca for your expedition on the 2.3-mile hike. Sit under the cavernous rocks and just listen to the water like it's your own personal white noise machine.
Falls Branch Trail
Not far from the town of Hot Springs, this 2-mile hike in southwest Arkansas is a moderate journey through Lake Catherine State Park. During summer, you can catch the seasonal waterfall surging out of the rock face into a pool that you'll be desperate to dive into. Hike over rocks and across the suspension bridge on this dog-friendly trail. Just don't forget to keep Fido leashed at all times!
At 3 miles, this hike in northwest Arkansas, inside Buffalo National River, leads you to a rock jutting out from a verdant hillside. Step out onto the overlook and experience the glory of the natural world — below the watercourse meanders through dense tree coverings, and above, a bluebird sky is graced with a hawk soaring in the distance.
Centerpoint to Goat Trail
When your teacher talked about sedimentary rock formations, they were talking about this Ponca hike. Snap a photo of the intricately layered, yellowish rocks that kind of look like plates stacked together to form a marvel as you make your way up the 5.9-mile-long Buffalo-National-River trail. You'll arrive at Big Bluff, the highest overlook along the winding waterway at 500 feet. It's perfect at sunset or on a chilly day when the trees are coated in frost.
Hemmed in Hollow Trail
For experienced hikers, Hemmed in Hollow (5.7 miles) is just outside Compton and reaches the tallest waterfall in America between the Rocky and the Appalachian mountains. While you can hike it during any season, summer treats you to a bridal-veil moment at the falls. Spot kayakers down on the Buffalo National River along one of the great trails of Arkansas — we dare you to experience it for yourself.
Getting Around
Check out these maps of the national forests in Arkansas or go to the U.S. Army Corps of Engineers sites for more.