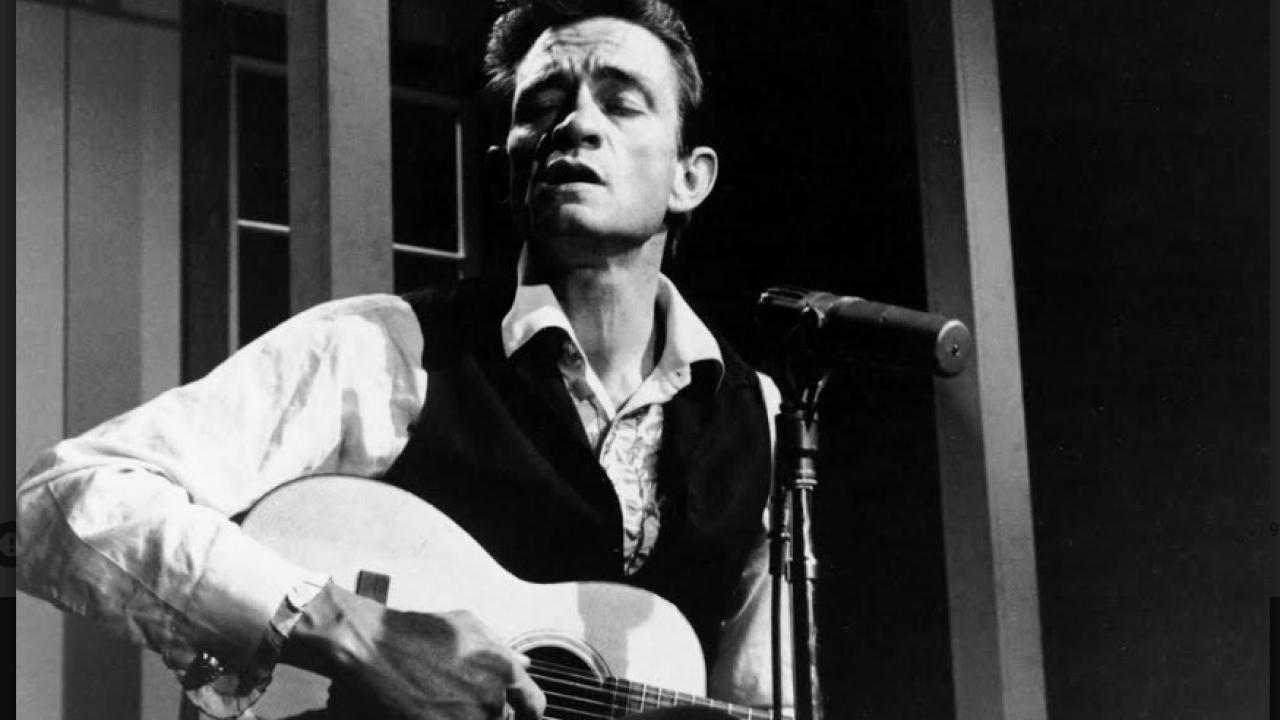 The list of famous Arkansans never ceases to surprise people. Arkansans, whether native or adopted, have played and continue to play profound roles in arts and entertainment, sports, business, writing, politics, architecture, and history.
From Bill Clinton to Mary Steenburgen, several famous and well-known people have roots in Arkansas. The following list highlights some of the country's most prominent people who were either born in the state or lived here at some time in their lives. Follow the links on the left to find famous Arkansans categorized by the area in which they are known and listed alphabetically.
Selected Arkansans that have made a name for themselves in the entertainment world are enshrined in the Arkansas Entertainers Hall of Fame in Pine Bluff. Inductees run the gamut from Billy Bob Thornton and Johnny Cash to John Grisham and Louis Jordan.
Famous Architects
E. Fay Jones (1921-2004) - Born in Pine Bluff and raised in El Dorado, this University of Arkansas architecture professor and Frank Lloyd Wright disciple designed artisan-built houses that incorporated organic design and native materials. He was designated by the American Institute of Architects in 1989 as one of the world's greatest contemporary architects and in 2000, he was named by the AIA as "one of the 10 most influential architects of the 20th century." Fay Jones architecture projects in Arkansas include Thorncrown Chapel near Eureka Springs, The Faubus House in Huntsville, and the Cooper Memorial Chapel in Bella Vista. He was awarded the Rome Prize Fellowship in Architecture for 1980-81 and the American Institute of Architects Gold Medal by President Bush in 1991. In 2000, the AIA recognized Thorncrown as the fourth most significant structure of the 20th century and in 2006, this exquisite example of Fay Jones architecture was named to the AIA's exclusive list of Twenty-five Year Award buildings. The University of Arkansas School of Architecture was renamed in his honor in 2009. The below photo is care of the Encyclopedia of Arkansas History & Culture.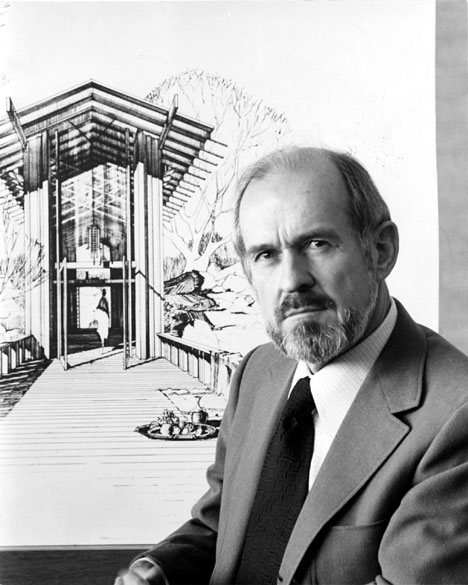 Reese Rowland (b. 1966) - Reese Rowland (FAIA) is a design principal with Polk Stanley Wilcox Architects. In 2014, Reese was named a Fellow in the American Institute of Architects, an honor bestowed on only 3 percent of architects nationally. Reese was one of just 35 recognized for the category of Design. His Heifer International World Headquarters design received the nation's highest honor for architecture, the 2008 AIA National Institute Honor Award. Since joining the firm he has designed some of Little Rock's most recognized buildings, including Acxiom's River Market Tower, the Arkansas Studies Institute, Heifer's Education Center, Bank of the Ozarks' Headquarters and the Little Rock Regional Chamber of Commerce. Reese Rowland is a 1984 graduate of Paris High School and has a degree in architecture from the University of Arkansas. 

Edward Durell Stone (1902-1978) - Born in Fayetteville and schooled at the University of Arkansas and Harvard, this internationally known architect designed the Museum of Modern Art and Radio City Music Hall both in New York, the U.S. Embassy in New Delhi, the Kennedy Center in Washington, DC and the General Motors Building in New York. Closer to home, Stone also designed Busch Memorial Stadium in St. Louis and the Pine Bluff Convention Center. A large body of his work was presented to the University of Arkansas at Fayetteville by Stone in 1975. His widow donated a substantial number of the professional papers in 1979. His ashes are interred in Fayetteville's Evergreen Cemetery, beside the graves of his parents and his brother. 

Cyrus A. Sutherland (1920-2008) - Professor emeritus of the College of Architecture at the University of Arkansas, which is ranked in the Top 10 schools of architecture in the country. Other early faculty members, along with Sutherland, included such outstanding designers as John Williams, E. Fay Jones, Herbert Fowler, Ernest Jacks and Keith McPheeters. Sutherland introduced historic preservation as a part of the curriculum in 1976 and he also pioneered the study of vernacular architecture in the state. He was a member of the American Institute of Architects and the Society of Architectural Historians. 

Charles L. Thompson (1868-1959) - One of the state's more prolific and successful architects. His firm designed more than 2,000 buildings, hundreds of which are still standing today. According to the Encyclopedia of Arkansas, "Some of the best examples of his work in varied styles are the W. E. Hemingway House in Little Rock, constructed in 1895 in the Queen Anne style; the Temple B'nai Israel in Little Rock built in 1897 in the Romanesque style; the J. D. Back House built in 1905 in Little Rock, which is one of the many examples of the Colonial Revival style." Thompson is buried at Roselawn Memorial Park in Little Rock. 
Famous Entertainers
Julie Adams (1926 - 2019) - Actress raised in Blytheville and attended high school and college in Little Rock who had a recurring role in the "Murder, She Wrote" television series. She also appeared in numerous movies, including "Bright Victory," "Bend in the River" and "The Creature from the Black Lagoon," "The Dalton Gang," "Red Hot and Blue," and "Tickle Me" with Elvis Presley. Her other famous leading men include Jimmy Stewart, Charlton Heston, Rock Hudson, Jeff Chandler, Tyrone Power and John Wayne. On television, she guest-starred in the only episode of Perry Mason where he lost a case. Member of the Arkansas Entertainers Hall of Fame.
Kris Allen (b. 1985) - Kris Allen, raised in Jacksonville and makes his home in Conway, became a household name when he rose to the top of competing contestants on "American Idol" in 2009. In May of that year, Allen made it to the finals of the top-rated competition, and, after the viewing public cast nearly 100 million votes, he won the title of American Idol. The artist's self-titled debut album has sold over one million copies to date. Member of the Arkansas Entertainers Hall of Fame.

Catherine Tharp Altvater (1907 - 1984) - Watercolorist who was born in Little Rock. Her work hangs in numerous museums, including the Museum of Modern Art. She was the first woman to hold an office in the American Watercolor Society. Altvater painted in both watercolor and oils and, from 1947 through 1967, won more than fifty awards, including first prize in watercolors at the National Arts Club in New York for 1969. After retiring she returned to Scott where she lived for 10 years. 

Gilbert Maxwell "Bronco Billy" Anderson (1880 -1971) - Born in Little Rock, Max Aronson grew up in Pine Bluff before moving to New York to appear in the first western movie production, "The Great Train Robbery" in 1903. He changed his professional name before starring in over 400 "Bronco Billy" movies. Later, Anderson directed and produced movies in studios in Chicago and California. He is credited with developing many of the camera techniques that are still used today. He was awarded a special Oscar in 1958 for his contributions to the industry. Member of the Arkansas Entertainers Hall of Fame.

Luenell Baston (1959-) - Luenell, born in Tollette, Arkansas, was raised in Northern California and is a comedian, actor and writer. She began her career by appearing regularly on "Soul Beat TV" on an Oakland, California cable station. Luenell has since been active in the film industry, including appearances in Borat, Think Like A Man, Hotel Transylvania and Taken 2. She can also be seen on television, with roles in The Middle, It's Always Sunny in Philadelphia, and appearances on various stand-up comedy showcases. 

Al Bell (b. 1940) - Born in Brinkley as Alvertis Bell, he has been a disc jockey, a record producer and songwriter executive at Stax Records, the label that made Memphis a major name in pop music circles in the 1960s. From 1965-1976, he was involved in the careers of Otis Redding, Isaac Hayes, Booker T and the MGs, Johnnie Taylor, Sam and Dave, The Bar-Kays, The Emotions, The Dramatics, Richard Pryor, Bill Cosby, Billy Eckstein, Rufus Thomas and his daughter Carla. His career also includes time as the head of MoTown Records and the founding of Bellmark records. Some of his songwriting hits include: "I'll Take You There," a #1 hit in 1972 for The Staple Singers; "Comfort Me" for Carla Thomas, "Hard to Handle" for Otis Redding plus songs for Isaac Hayes, Eddie Floyd and others. Member of the Arkansas Entertainers Hall of Fame.

Lisa Blount (1959-2010) - Born in Fayetteville and raised in Jacksonville, Lisa Blount's early career included films with Jack Nicholson ("Sam's Song") and Dennis Quaid ("9/30/55"). It was 1982's "An Officer and a Gentleman" that blasted Blount into the spotlight. The role of Lynette Pomeroy earned her critical acclaim and a Golden Globe nomination. She has appeared in numerous television shows and films since the mid-80s, including "Moonlighting," "Magnum P.I.," "Murder, She Wrote," and "Great Balls of Fire!" In the late 90s, Blount began producing films with her husband, actor Ray McKinnon. They received the Academy Award for Best Live Action Short Film in 2001 for their film "The Accountant." Member of the Arkansas Entertainers Hall of Fame.

Frank Bonner (b. 1942) - Actor and director who was born in Little Rock and raised in Malvern. He achieved fame as sales manager Herb Tarlek in the television series "WKRP in Cincinnati" which aired from 1978 to 1982. He also appeared in "The New WKRP in Cincinnati" (1991), "Just the Ten of Us" (1988) and "The Facts of Life Goes to Paris" (1982). He also had guest appearances on "Night Court" (1984) and "Newhart" (1982). 

Gretha Boston (b. 1959) - This Crossett native received a Tony Award for her role of Queenie in the 1994 revival of the Broadway musical "Showboat." The mezzo-soprano soloed on several songs in the musical. She made her debut at Carnegie Hall in May 1991. Boston is a member of the Arkansas Black Hall of Fame. 

Beth Brickell (b. 1937) - Actress who played Dennis Weaver's wife in the 1966-68 television series "Gentle Ben." This award-winning film producer was born in Brinkley, raised in Camden and now lives near Paron in Saline County. Ms. Brickell also appeared in "Marcus Welby, M.D." and "Dan August." The film, "Summers End," written, directed and produced by Beth Brickell won numerous awards. It is the story of a young girl in a small Arkansas town during the last days of summer in 1948. Member of the Arkansas Entertainers Hall of Fame.

James Bridges (1936-1993) - Oscar-nominated filmmaker who directed such films as "The Appaloosa" (1966), "The Paper Chase" (1973), "The China Syndrome" (1979), "Urban Cowboy" (1980) and "Perfect" (1985). His movie "September 10, 1955" (1978) explored a college student's reaction to the death of James Dean and was filmed in Conway. Bridges was born in Little Rock, Arkansas and is a member of the Arkansas Entertainers Hall of Fame.

Elton Britt (1913-1972) - Marshall was the home of the first country and western single record million-seller. Britt's single "There's a Star Spangled Banner Waving Somewhere" sold over a million copies in 1942 during WWII. President Franklin Roosevelt even invited Britt -- billed as "the World's Highest Yodeler"--to the White House in 1942 to perform the hit. He recorded over 56 albums for RCA, as well as appearing in several movies. By the time the charts came into existence in 1944, Britt had peaked. He did hit the Country Top Ten 11 times during the last half of the '40s, but never topped the charts. 

Jim "Moose" Brown (b. 1973) - Jim "Moose" Brown left Jonesboro in 1982 for Nashville, TN. He is an award-winning songwriter and a Grammy-nominated musician and producer. One of his most successful songs, "It's Five O'clock Somewhere," earned legendary singer/performer Jimmy Buffett his first-ever music award, as well as a Grammy for Brown as Best Country Song in 2003. He is an acclaimed studio musician, appearing in songs by Hank Williams, Jr.; Brad Paisley; Marty Stuart; Jamey Johnson; and Ricky Skaggs. He toured with Bob Seger as a member of the Silver Bullet Band, playing electric guitar and keyboards. Member of the Arkansas Entertainers Hall of Fame.

Jim Ed Brown & The Browns (b. 1931, 1934, 1937) - Born in Sparkman, Jim Ed's hits include "I Heard From a Memory," "Regular on My Mind," and "Pop-a-Top." He originally performed with his sisters, Maxine and Bonnie, to form The Browns. Some of their hits include "Scarlet Ribbons," "The Old Lamplighter," and "The Three Bells." They were inducted into the Country Music Hall of Fame in 2015. Member of the Arkansas Entertainers Hall of Fame. Jim Ed passed away in 2015. 

Ed Bruce (b. 1939) - Born William Edwin Bruce Jr. in Keiser, Arkansas on December 29, 1939, like so many other artists, this country music singer and song writer got his start as a rockabilly act for Memphis' famed Sun Records. He is best known for penning the song, "Mamas Don't Let Your Babies Grow Up to Be Cowboys." Member of the Arkansas Entertainers Hall of Fame.

Albert Edward Brumley (1905-1977) - Born in Spiro, Oklahoma Albert E. Brumley moved to Hartford, Arkansas in 1926 where he studied with E. M. Bartlett at the Hartford Music Institute. He was one of the most beloved-and prolific-songwriters in Southern Gospel Music history. Among the 700 songs penned by Brumley are the gospel standards "I'll Fly Away," "Jesus, Hold My Hand," "Turn Your Radio On," "If We Never Meet Again," "I'd Rather Be An Old-Time Christian," and "I'll Meet You in the Morning." Brumley was inducted into the Nashville Songwriter's Hall of Fame in 1977. Member of the Arkansas Entertainers Hall of Fame.

Sonny Burgess (1939-2017) - A Newport native, Burgess is best known as one of the original rock and roll recording artists for Sun Records in Memphis, and as one of the pioneers of rock and roll. In the early-to-mid 1950s, he headed-up bands known by several names including the Rocky Road Ramblers, the Moonlighters and later The Pacers. While known as the Moonlighters (for the Silver Moon Club in Newport where they performed regularly), the group shared the circuit club stage with many up-and-coming performers such as Elvis Presley, Carl Perkins, Charlie Rich, Jerry Lee Lewis, and Conway Twitty. The Moonlighters opened for Presley performances four times. Sonny Burgess and The Pacers continued to record for Sun Records until 1959. Burgess was inducted into the Rock and Roll Hall of Fame of Europe in 1999. In 1998, the Smithsonian Institute made a video called "Rockin' on the River" that brought Burgess and the legendary Pacers together again. In 2002, they were inducted into the Rockabilly Hall of Fame in Jackson, TN. Member of the Arkansas Entertainers Hall of Fame.

Michael Burks (1957-2012) - Born in Milwaukee, Burks grew up in Camden, and as an adult, made his home in North Little Rock. Known as "Iron Man" for his long sets, Burks was an award-winning blues guitarist. A popular performer at King Biscuit Blues Festival in Helena, he won the Living Blues Magazine's Critics' Award for Best Guitarist, and the Sonny Payne Award for Blues Excellence. 

Chester Arthur "Howlin' Wolf" Burnett (1910-1975) - A native of Mississippi, Howlin' Wolf became an Arkansan in 1948 when he moved to West Memphis. There he formed a band that included harmonica players James Cotton and Junior Parker and guitarists Pat Hare, Matt "Guitar" Murphy, and Willie Johnson. He also earned a spot on radio station KWEM, playing blues and endorsing farm gear. According to his biography, Burnett has probably had more impact worldwide than the 19th-century American president after whom he was named. With a musical influence that extends from the rockabilly singers of the 1950s and the classic rock stars of the 1960s to the grunge groups of the 1990s, plus a legion of imitators to rival Elvis he was one of the greatest and most influential blues singers ever. Wolf was inducted into the Blues Foundations Hall of Fame in 1980 and the Rock and Roll Hall of Fame in 1991. 

Bob Burns (1890-1956) - Born and originally named Robin Burn in Greenwood, Arkansas, Burns was reared in Van Buren. At age 15, the crafty entertainer made a musical instrument called a "bazooka" and started a comical career that took him to New York nightclubs during the 1920s. After vaudeville declined in the early 1930s, Burns landed a spot on Bing Crosby's radio show on NBC. Soon the comedic musician had his own national radio show and was also landing roles in movies. As in WWI Burns worked in USO shows during WWII. He retired from show business in 1947 and spent his remaining years on a 500 acre farm in California. Member of the Arkansas Entertainers Hall of Fame.

Sarah Caldwell (1924-2006) - A renowned opera conductor who was raised in Fayetteville. Considered a child prodigy in music and mathematics. She was giving violin recitals before age 10 and graduated from Fayetteville High School at the age of 14. She founded the Opera Company of Boston and brought it to national prominence, and in 1976 she became the first woman to conduct at New York's Metropolitan Opera. Member of the Arkansas Entertainers Hall of Fame.

Glen Campbell (1936-2017) - A native of Delight in Pike County, the famous pop/country singer and songwriter hosted his own TV variety shows, "The Glen Campbell Goodtime Hour" (1969) and "The Glen Campbell Music Show" (1982). His hit recordings include: "By the Time I Get to Phoenix," "Wichita Lineman," "Rhinestone Cowboy" and "Gentle on My Mind." He appeared in the movies "True Grit" (1969), "Any Which Way You Can" (1980), "Uphill All The Way" (1985), and "Family Prayers" (1993). After being diagnosed with Alzheimer's, Campbell performed his Farewell Tour in 2014. Member of the Arkansas Entertainers Hall of Fame.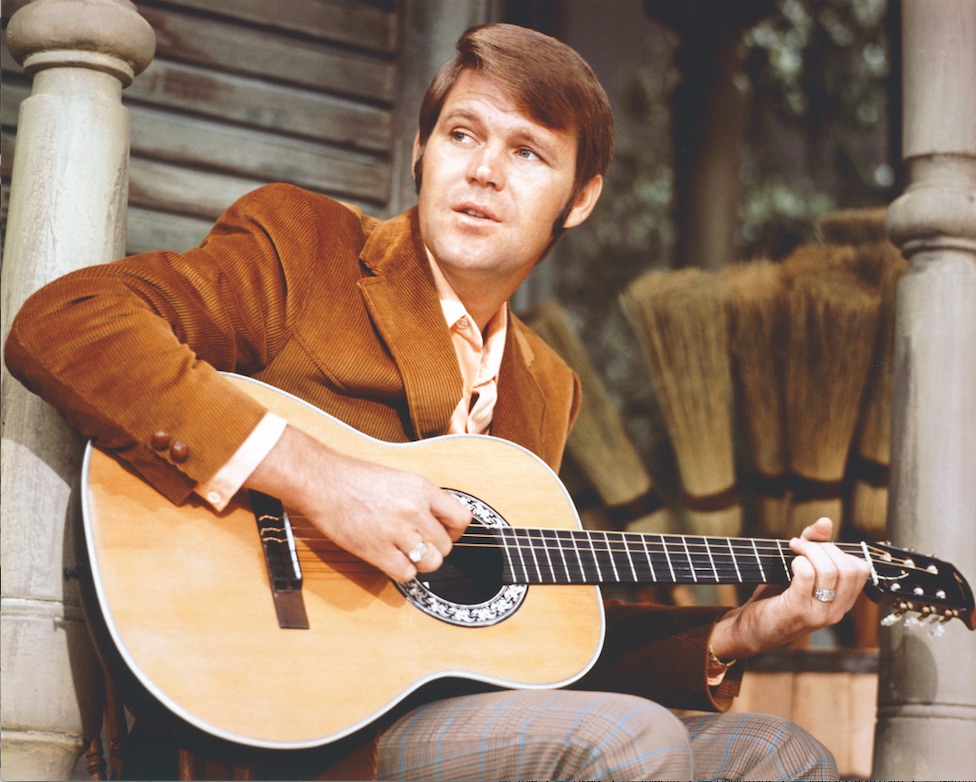 Bill Carter (Unknown) - A legend in the music business, Carter grew up in Rector. After serving in the Air Force, he graduated from Arkansas State University in Jonesboro and obtained a law degree from the University of Arkansas. He worked in politics for a while, then joined the Secret Service and served under Presidents Kennedy and Johnson. After leaving the Secret Service, he opened a law office in Little Rock. Carter was the attorney called when Rolling Stones guitarist Keith Richards needed legal help in Fordyce -- and when the Stones needed help getting back into the U.S. (after being busted for possession in Toronto) to perform their concert tours. His autobiography "Get Carter: Backstage in History from JFK's Assassination to The Rolling Stones" details his colorful life. He is now an attorney and television producer in Tennessee. His latest Arkansas project is working with Arkansas State University to restore Johnny Cash's boyhood home in Dyess and for his role with the annual Johnny Cash Music Festival held annually in Jonesboro. Member of the Arkansas Entertainers Hall of Fame.

Johnny Cash (1932-2003) - This "Man in Black" was born to a Kingsland, Arkansas sharecropper on February 26, 1932. His first big hit was "Folsom Prison Blues" which rose to the Top Five in country singles in 1956. "I Walk the Line" became Cash's first No. 1 hit. In 1957, he made his first appearance at the Grand Ole Opry, and by 1958, he'd published 50 songs, sold more than six million records and moved to Columbia label. Some of his other well-known recordings include "A Boy Named Sue," "Orange Blossom Special," "Ring of Fire" and "Jackson," which he recorded with his wife June Carter Cash. He starred in "The Johnny Cash Show" (ABC, 1969-71) and "Johnny Cash and Friends" (CBS, 1976). He also appeared in the movie "Gunfight" (1970), the television miniseries "North and South" (1985) and made guest appearances on various television shows. His 11 Grammys include a Lifetime Achievement Award and the 1998 Grammy for Country Album of the Year for "Unchained." Cash was inducted into the Country Music Hall of Fame (1980), the Rock and Roll Hall of Fame (1992) and the Arkansas Entertainers Hall of Fame (1996). 

The Cate Brothers (Ernie and Earl) (b. 1942) - This singer-songwriter-musician duo consists of Fayetteville natives and twin brothers Earl and Ernie Cate. With Earl on guitar and Ernie on piano, the Cate Brothers became known for performing their iconic southern soul music throughout the South during the mid-1960s. The duo became associated with fellow Arkansan and member of The Band, Levon Helm, through fellow Fayetteville rock musician Ronnie Hawkins in the 1950s. Helm later introduced the Cates to Asylum Records in Los Angeles, which began their recording career. After releasing four albums and reaching a wide audience from their performance on "Austin City Limits" during the 1970s, the band took a hiatus before resuming recording, reviving their career in the mid-1990s. Member of the Arkansas Entertainers Hall of Fame.

Carroll Cloar (1913–1993) - Carroll Cloar was born on January 18, 1913, on a cotton farm approximately 10 miles north of Earle. He studied various genres of art with most of his paintings being casein tempera or acrylic—on large canvases, depicting images drawn from photographs and his own memories. His style has been described as both primitive and progressively modern. Cloar earned national acclaim as a realist and surrealist artist with the majority of his works based on his memories of growing up in the Arkansas Delta. His paintings are characterized by flattened figures in landscapes formed of decorative patterning. One of his paintings was chosen to be among six paintings by American artists commemorating President Bill Clinton's inauguration in 1993. On April 10, 1993, Cloar died after a long battle with cancer. He was cremated and his ashes scattered across his old home place in Earle. Places where Cloar's works can be viewed include the Arkansas Arts Center in Little Rock, the Hirshorn Museum and Sculpture Garden in Washington D.C., the Brooks Museum of Art in Memphis, the New York Metropolitan Museum of Art, the Crittenden County Museum, the Museum of Modern Art in New York, the Library of Congress, Chase Manhattan Bank, and the Whitney Museum. 

Willie Cobbs (b. 1932) - Born in the small Monroe County of Smale; he began performing at the clubs of the Delta while still a teenager, including Brinkley's legendary White Swan. He wrote and recorded "You Don't Love me" in 1960, now a blues standard that has been covered by The Allman Brothers, Luther Allison, Stephen Stills, Ike and Tina Turner, Albert King and Booker T and the MGs. Member of the Blues Hall of Fame. 

Floyd Cramer (1933-1997) - Reared at Huttig (Union County), Cramer developed a unique "lonesome" piano style that launched him onto the Grand Ole Opry and several hit recordings during the 1960s. "Last Date" and "Alley Cat" were top piano solos for Cramer. He later expanded his range to include light jazz and pop music. Often mentioned alongside such fellow session men as guitarist Chet Atkins and saxophonist Boots Randolph, Cramer became the pianist to use in Nashville from 1955 on. Cramer's influence extended to traditional country and rock and roll, too. His distinctive piano stylings could be heard on recordings by Elvis Presley, Roy Orbison, the Everly Brothers, Patsy Cline, Brenda Lee, and many others. Member of the Arkansas Entertainers Hall of Fame and Rock and Roll Hall of Fame. 

Gail Davis (1925-1997) - Born in Little Rock on October 5, Gail Davis was known to millions as television's Annie Oakley in the 1950s. The series ran on ABC from 1955 through 1958 and was seen in reruns well into the 1960s. It was the first western to star a woman. The show was created for Davis by "singing cowboy" Gene Autry, who she had previously appeared with in several westerns. After the series ended Davis continued to make personal appearances with Autry. She also appeared in TV specials, including "Wide, Wide World: The Western," in 1958, a "Bob Hope Special" in 1959 and "The Andy Griffith Show: The Perfect Female," in 1961. Member of the Arkansas Entertainers Hall of Fame.

Daniel Davis (1945) - Born in Gurdon and raised in Little Rock, Davis is best-known for his role as Niles on the CBS comedy, "The Nanny." His first "professional" work came at the age of 11 when he became a member of the cast of a children's TV series broadcast from Little Rock - "Betty's Little Rascals." His formal acting training came from the Arkansas Arts Center, followed by work with the Oregon Shakespeare Festival, the Stratford Shakespeare Festival, and 6 years with the American Conservatory Theatre, among many others. Davis has also starred in "The Hunt for Red October," "K-9", and "Star Trek: The Next Generation." Davis received an Obie Award in 2003 as part of the cast of Allan Bennett's play, "Talking Heads." Obie Awards honor the best of off-Broadway productions. Nominated for Broadway's 2000 Tony Award as Best Actor for "Wrong Mountain." 

Iris DeMent (b. 1961) - DeMent was born near the town of Paragould. Her family moved from Arkansas to the Los Angeles area in 1964. While growing up, her musical influences were country and gospel music. In 1994, she continued the personal and introspective approach with her album "My Life." It earned DeMent a Grammy Award nomination in the Best Contemporary Folk Album category. After an eight-year lay-off, she released a gospel album "Lifeline" in 2004. Her rendition of "Leaning on the Everlasting Arms" was featured in the closing credits of the Coen brothers' film, "True Grit." She received the Americana Trailblazer Award at the 2017 Americana Music Honors & Awards. 

Jimmy Driftwood (1907-1998) - Noted folk singer and songwriter who was born on a farm near Mountain View. While serving as superintendent at Snowball, he wrote his big hit "The Battle of New Orleans." He is also known for another composition, "The Tennessee Stud." Today, Jimmy Driftwood's Barn in Mountain View is the setting for performances by the Rackensack Folklore Society. Member of the Arkansas Entertainers Hall of Fame.

Ronnie Dunn (b. 1953) - El Dorado native who is a member of the award-winning country music duo Brooks and Dunn. Their recording hits include: "Maria," "Boot Scootin' Boogie" and "Hard Working Man." Brooks and Dunn received the 1996 CMA Entertainers of the Year Award. Dunn began a solo career after the duo split in 2011. Member of the Arkansas Entertainers Hall of Fame.

Jerry Van Dyke (1931-2018) - This comedian starred as Luther in the ABC hit television series "Coach" and also starred in the 60s television series "My Mother the Car." Jerry, who is the brother of actor Dick Van Dyke, at one time owned a home between Benton and Malvern. He restored an old movie theatre in downtown Benton which is now used by the local acting company "The Royal Players." Member of the Arkansas Entertainers Hall of Fame.

Melvin Endsley (1934-2004) - A native of Drasco, Endsley was a prolific country music songwriter. His hits have been recorded by Johnny Cash, Marty Robins, Andy Williams, Paul McCartney and Ricky Skaggs. His most famous song, "Singing the Blues" was a major hit for both Guy Mitchell and Mary Robins, and is credited with making Robins a star. His other hits include "I Just Ain't Fool Enough," I Like Your Kind of Love," and "Why I'm Walking." Member of the Arkansas Entertainers Hall of Fame.

Barbara Fairchild (b. 1950) - Fairchild began entertaining as a five-year-old, in a local talent show. Her family moved from Knobel, Arkansas, to St. Louis when she was 13. Two years later, she recorded her first song, "Brand New Bed of Roses." After finishing high school, Fairchild moved to Nashville, TN. Within months, she was hired by MCA Records as a staff writer. In 1969, she signed with Columbia Records and released her first single for the label, "Love is a Gentle Thing." Her biggest hit would come in 1972 with "Teddy Bear Song," which became a number one country hit and crossed over to the pop charts. The song also garnered her a Grammy nomination. After several Top Ten country singles in the 1970s, Fairchild changed musical genres. A career singing gospel music began in 1989 when she joined the group Heirloom. She released her first solo gospel album in 1991. Fairchild continues to record gospel music and performs regularly at Barbara Fairchild's Diner in Branson, MO. Member of the Arkansas Entertainers Hall of Fame.

Lefty Frizzell (1928-1975) - William Orville "Lefty" Frizzell was born on March 31, 1928 in Corsicana, Texas. His family moved shortly after his birth to El Dorado, Arkansas where they remained until the early 1940s. He was an American country music singer and songwriter of the 1950s and a leading exponent of the "honky-tonk" style of country music. His relaxed style of singing was a major influence on such later stars as Merle Haggard and Willie Nelson. His song "Saginaw, Michigan," which was released in 1964, earned him a Grammy Award nomination. In 1972, Lefty Frizzell was inducted into the Nashville Songwriters Hall of Fame and the Country Music Hall of Fame in 1982. He was also the first country star to have his name enshrined on Hollywood's "Walkway of the Stars." His song "If You've Got the Money, I've Got the Time" earned him a Grammy Hall of Fame Award. Member of the Arkansas Entertainers Hall of Fame.
Gil Gerard (b. 1943) - Little Rock native Gil Gerard rocketed to fame as Buck Rogers in the NBC television series, "Buck Rogers in the 25th Century," from 1979 to 1981. He has also starred in numerous made-for-television movies and feature films. Gil headed to New York in the summer of 1969 where he trained at the American Musical and Dramatic Academy. Shortly thereafter, he won an audition for the movie "Love Story," which was followed by over 400 commercials for various national accounts, including Coca-Cola, Ford Motor Co., and Procter & Gamble. Gerard was also a member of the cast of the Emmy Award winning "The Doctors," daytime drama, playing the part of Dr. Alan Stewart for over three years. During this time, Hollywood called and he guest-starred in an episode of the television series "Baretta" and appeared in the role of Lee Grant's lover in the motion picture "Airport '77." After landing a guest starring role on "Little House on the Prairie," Michael Landon offered him the lead in a new series, "Stone." The show was never aired by NBC, but Gerard was offered the title role in the feature film and television show "Buck Rogers in the 25th Century." Member of the Arkansas Entertainers Hall of Fame.

Norris Goff (1906-1978) - This Cove native created, along with Chester Lauck, the enormously popular 1940s radio show "Lum 'n Abner" and subsequent movies. The setting for the program was mythical Pine Ridge, Arkansas, and its Jot-em-Down general store. Working in his father's store while growing up made his role as grocer "Abner Peabody" a natural. Member of the Arkansas Entertainers Hall of Fame.

Randy Goodrum (b. 1947) - Born in Hot Springs, Arkansas, this Grammy award winner is considered to be one of the best adult contemporary music songwriters and producers. Goodrum has penned hits in all areas of music: Pop, Rock, A/C, R&B and Country. Some of his best-known hits include "You Needed Me," "Foolish Heart," "Oh Sherrie," and "Bluer Than Blue." Member of the Arkansas Entertainers Hall of Fame.

Elizabeth Gracen (b. 1961) - Born Elizabeth Grace Ward in Ozark, Arkansas, Gracen spent her childhood growing up in Booneville and later Russellville. While a junior at Arkansas Tech University she won the title of Miss Arkansas 1981. The following year she was crowned Miss America 1982 and later enrolled in acting classes and relocated to California. Her film credits include Three For The Road with Charlie Sheen, Marked for Death with Steven Seagal, Pass The Ammo with Tim Curry and her most well-known acting role as the Immortal Amanda in Highlander: The Series and Highlander: The Raven. 

Al Green (b. 1946) - This gospel and soul singer is an eight-time Grammy Award winner. A native of Jacknash (Lee County), he's been referred to as "the quintessential soul man." The Right Reverend recorded nine best-selling gospel albums. He returned to the secular world in 1987 with "Everything is Gonna Be Alright." In 1988, he recorded a duet with Annie Lennox, "Put a Little Love in My Heart," which was featured on the "Scrooge" movie soundtrack. His other hits include "Tired of Being Alone" and "Let's Stay Together," "Look What You Have Done For Me," "I'm Still in Love with You," and "You Ought to be with Me." Reverend Green preaches every Sunday morning. Member of the Arkansas Entertainers Hall of Fame and the national Rock & Roll Hall of Fame. 

George Hamilton (b. 1939) - Blytheville-raised actor has appeared in numerous films and television shows, plus penned his memoir, "Don't Mind if I Do," which describes growing up in Blytheville. Though born in Memphis, Hamilton feels closer to Blytheville, where he spent much of his childhood. "It's where I will be buried, and it's where I come from," he said in an interview. "I buried my mother there, my brother there, my grandfather, my grandmother -- it's the very earth where I'm going to be." Hamilton is well-known for his tan, which he describes as "cinnamon brown," and his self-deprecating wit. Some of his motion picture appearances include portraying Hank Williams in the low-budget biopic "Your "Love at First Bite" (1979), and "Zorro, the Gay Blade" (1981). He has also appeared in commercials and television's "Dancing with the Stars." He produced "My One and Only," staring Renee Zellweger, in 2009. Hamilton was also honored with a star on the Hollywood Walk Of Fame that same year. 

Lawrence Hamilton (1954-2014) - Born September 14, 1954, the career of Lawrence Hamilton has been paved with bold and creative achievements worldwide. A native of Foreman, Arkansas, he attended the Foreman Public Schools and received a Bachelor of Music Education Degree from Henderson State University in Arkadelphia, Arkansas. He served as musical director for opera star Jessye Norman, performed at the White House, for Pope Paul II at the Vatican, and in concert with the legendary Lena Horne. At the Arkansas Repertory Theatre he appeared as Whining Boy in "The Piano Lesson," created Souvenir (an evening of song featuring the works of Randy Goodrum) and directed the 2006 production of "Crowns." An inductee into the Arkansas Black Hall of Fame and the Member of the Arkansas Entertainers Hall of Fame.

Tess Harper (b. 1950) - Born in Mammoth Spring; attended Missouri State University in Springfield. She began acting in theater production and appearances in theme parks, dinner theaters and children's theater. Her first feature film was "Tender Mercies," where she played Robert Duvall's younger wife. She earned a Golden Globe nomination for her part. She appeared in the TV mini-series "Chiefs" (1983) and "Celebrity" (1984), as well as many made for TV movies. In 1983 she appeared in Meryl's Streep's hit movie "Silkwood" and in 1986 she was nominated for an Academy Award for Best Supporting Actress for her work as Chick Boyle in "Crimes of the Heart." She also had roles in "Ishtar" (1987), "Far North" (1988), "The Man in the Moon" (1991), "The Jackal" (1997) and "Loggerheads" (2005). Harper had a regular role in the CBS TV series "Christy" from 1994 to 1995. She shared a Screen Actors Guild Award (in the Best Ensemble Cast category) with her fellow cast members in 2007's Best Picture, "No Country for Old Men." Member of the Arkansas Entertainers Hall of Fame.

Dale Hawkins (1936-2010) - Legendary rockabilly performer, began his career as part of The Hawkins Family, which toured throughout Arkansas and Oklahoma during the 30s and 40s. His father, Skipper, was one of the original Sons of the Pioneers who gained fame for performing with Roy Rogers. Hawkins classic recording, Suzy Q, rocketed him to fame in the 1960s. He was the third entertainer to appear on Dick Clark's American Bandstand and the first white performer at the Apollo Theatre in Harlem and the Regal in Chicago. He continued his career into the 1980s and 1990s, writing, recording and entertaining. Hawkins is a member of the Rockabilly Hall of Fame and the Louisiana Music Hall of Fame. Though born in Louisiana, Hawkins called Arkansas home for years. He is buried in St. Paul, Arkansas. 

Ronnie Hawkins (b. 1935) - Born January 10 in Huntsville; a pioneering rock and roll musician and cousin to fellow rockabilly pioneer Dale Hawkins. Known as "Rompin' Ronnie" Hawkins or "The Hawk," he was a key player in the 1960s rock scene and for the next 40 years, performed all over North America, recording more than 25 albums. His best-known hits are "Forty Days" and "Mary Lou," both major hits for him in 1959. At the age of 9, his family moved to nearby Fayetteville. After graduating from high school, he studied at the University of Arkansas where he formed his first band, The Hawks, touring throughout Arkansas, Oklahoma and Missouri. Hawkins also owned and operated the Rockwood Club in Fayetteville where some of rock music's earliest pioneers came to play, including Jerry Lee Lewis, Carl Perkins, Roy Orbison and Conway Twitty. Hawkins moved to Canada in 1959 and made Peterborough, Ontario his permanent home. Gradually the members of the Hawks, except for Levon Helm, were replaced with Canadians Robbie Robertson, Rick Danko, Richard Manuel and Garth Hudson. This was the line-up that was to later become The Band. In 1975 Bob Dylan cast Hawkins as "Bob Dylan" in the movie, "Renaldo and Clara." The following year he was a featured performer at The Band's Thanksgiving Day farewell concert, which was documented in the 1978 Martin Scorsese film "The Last Waltz." Playing with The Band, Hawkins helped tear down the Berlin Wall in 1989 and performed at President Bill Clinton's 1992 inaugural party. Member of the Arkansas Entertainers Hall of Fame.
Lee Hays (1914-1981) - Best known for singing bass with the folk music group The Weavers, Lee Hays was born in Little Rock and lived in several communities across the state as he was growing up. While continuing his education near Mena at Commonwealth College, Hays transformed hymns and black spirituals into songs about unions and the hardships southern sharecroppers endured. His classmates raised enough money for him to travel to New York City to further his music career. He met Pete Seeger in New York, and Hays and Seeger became lifelong friends and collaborators – singing with other notable musicians including Woody Guthrie, Leadbelly and Burl Ives. In 1948 Seeger, Hays, Ronnie Gilbert and Fred Hellerman formed The Weavers, recording for Decca Records and Vanguard. The Weavers are known for bringing folk music into mainstream American music, with hits including "On Top of Old Smoky," "Kisses Sweeter than Wine" and "Goodnight Irene." 

Levon Helm (1940-2012) - This Turkey Scratch native was a drummer, vocalist and original member of the legendary group, The Band, best-known for The Night They Drove Old Dixie Down. He also played supporting roles in films such as Coal Miner's Daughter (1980), The Right Stuff (1983), and End of the Line. Awarded a Lifetime Achievement Grammy Award in 2008 for his work with The Band. Winner of a 2008 Grammy for Best Traditional Folk Album -- "Dirt Farmer." Named by Rolling Stone magazine as one of the "100 greatest singers of all time" in 2003. Member of the Rock and Roll Hall of Fame with fellow members of The Band. Member of the Arkansas Entertainers Hall of Fame.

Barbara Hendricks (b. 1948) - Opera star born in Stephens, she received her musical training and Bachelor of Music at the Juilliard School of Music in New York where she studied with mezzo-soprano Jennie Tourel. She made her American and European operatic debuts in 1974 at the San Francisco Opera and the Glyndebourne Festival and went on to appear at all major opera houses throughout the world, including the Paris Opera, the Metropolitan Opera, Covent Garden and La Scala. Sine her 1974 New York Town Hall debut, Barbara Hendricks has been acclaimed as one of the leading and most active recitalists of her generation. Member of the Arkansas Entertainers Hall of Fame.

Al Hibbler (1915-2001) - Born August 16, in Little Rock, Al was a very popular baritone singer in the 40s and 50s. He rose to fame with the Duke Ellington band. His deep tone, distinctive phrasing and inflections were readily identifiable. Blind since birth, Hibbler studied voice at the Conservatory for the Blind in Little Rock. He sang with local bands in Arkansas and Texas and in 1942 hooked up with Jay McShann's band. His principal period of development was with Ellington from 1943 to 1951. One of the most important singers Ellington ever showcased, Hibbler appeared on a range of Ellington standards including "Do Nothing' Til You Hear From Me," "Ain't Got Nothin' But the Blues," "Don't Be So Mean to My Baby" and "I'm Just A Lucky So-And-So." Hibbler left Ellington for a career as a single artist and in 1955 recorded the hit "Unchained Melody." His other hits include "After the Lights Go Down Low," "He" and "Eleventh Hour Melody." 

Wayland Holyfield (b. 1942) - Holyfield is from Little Rock and has written songs for many Nashville recording artists, such as Don Williams and Waylon Jennings. His first number one hit was "Rednecks, White Socks and Blue Ribbon Beer." Holyfield" You're My Best Friend," recorded by Don Williams, was also a number one song. He wrote the song "Arkansas, You Run Deep in Me" in honor of the state's sesquicentennial in 1986. Member of the Arkansas Entertainers Hall of Fame.
Arthur Lee Hunnicutt (1911–1979) - One of the most popular character actors in Hollywood, both television and motion pictures. Hunnicutt was born February 17 in Gravelly (Yell County). He attended what was, at the time, Arkansas State Teachers College in Conway (now the University of Central Arkansas), before dropping out due to the Depression. His movie career began in 1942, appearing in such films as Lust for Gold (1949), Broken Arrow (1950), Stars in My Crown (1950) and The Red Badge of Courage (1961). He received an Academy Award nomination for his role as Uncle Zeb in 1952's The Big Sky. Other roles included that of Davy Crockett in The Last Command (1955), an elderly Butch Cassidy in Cat Ballou (1965) and as John Wayne's sidekick in El Dorado (1966). Television roles include The Andy Griffith Show, Gunsmoke, The Twilight Zone, The Outer Limits and Perry Mason. He passed away on September 26, 1979 and is buried in Coop Prairie Cemetery in Scott County. 

Wayne Jackson (b. 1941) - Grew up in West Memphis before his life took him across the Mississippi River to Memphis, where he became a legendary backup trumpeter in such groups as the Mar-Keys. Jackson would go on to perform with a "who's who" of artists from around the world on over 300 gold and platinum records. He has played on recordings by Aretha Franklin, Sting, Tanya Tucker, Elvis Presley, U2, Peter Gabriel, Willie Nelson, Billy Joel, Otis Redding, Stephen Stills, Rod Stewart, The Doobie Brothers, Marty Robbins, Joe Cocker, Jimmy Buffett, and Robert Cray and was a founder of the legendary Memphis backing band, The Memphis Horns. Member of the Arkansas Entertainers Hall of Fame.

Buddy Jewell (b. 1961) - Raised mainly in Osceola, his father was a friend of country music legend Johnny Cash who lived at Dyess not far from Osceola. In 1991, he won a talent contest sponsored by super group Alabama and opened for the group alongside Mark Chesnutt and Ricky Van Shelton. The following year, he competed on TV's Star Search, winning male vocalist on several episodes. His success on the show encouraged him to try his luck in Nashville. Jewell was the big winner on Nashville Star cable TV series in 2002, securing a record deal with Columbia, where Clint Black produced his first album. Member of the Arkansas Entertainers Hall of Fame.

Scott Joplin (1868-1917) - Composer from Texarkana who is noted for his ragtime music. Billed as the "King of Ragtime," he wrote "The Entertainer" in 1902 which was later revived in the score of "the Sting" (1973). One of his first pieces, "Maple Leaf Rag," because the genre's first and most influential hit, and has been recognized as the archetypal rag composition. He was posthumously awarded an Pulitzer Prize in 1976.

Louis Jordan (1908-1975) - Born at Brinkley, he studied music with his father and made his first professional appearance at Hot Springs Green Gables Club at age 15. During the 1930s Jordan worked with well-known bands from Philadelphia to New York and toured with Ella Fitzgerald. He was known as "The King of the Jukebox." He penned such favorites as "Choo Choo Boogie," "Is You Is or Is You Ain't My Baby," "Ain't Nobody Here But Us Chickens," and "Saturday Night Fish Fry." Jordan also appeared in several movies that featured his music and toured Europe and Asia during the 1960s. He died in Los Angeles and is buried in St. Louis. Member of the Arkansas Entertainers Hall of Fame.

Albert King (1923-1992) - Born Albert Nelson on April 25, in Indianola, Mississippi, King is nicknamed "The Velvet Bulldozer." One of 13 children, King grew up picking cotton on plantations in Forrest City where the family moved in 1931, and performed near Osceola with a group called the Groove Boys. His first introduction to music was singing in church and listening to his father, Will Nelson, play guitar. Another early influence came from the family's records where he spent hours trying to copy the sounds of Blind Lemon Jefferson and Lonnie Johnson on his homemade cigar box guitars and one string diddley-bows. King obtained his first real guitar in 1942. He was fascinated by the playing of Blues musicians who frequented nearby West Memphis, Arkansas, most notably the works of Robert Nighthawk and Elmore James. He is considered one of the most influential blues guitarists ever and was the first blues guitarist to perform with a symphony (1969). In 1983, he was inducted into both the W.C. Handy International Blues Awards Hall of Fame and the Blues Foundation Hall of Fame. Member of the Arkansas Entertainers Hall of Fame. Inducted into the National Rock and Roll Hall of Fame 2013. 

Alan Ladd (1913-1964) - Born in Hot Springs and raised in California, he worked in variety of jobs before landing bit parts in films and theatrical productions. His big break came when he was cast as the psychotic paid killer, Philip Raven, in "This Gun for Hire" (1942). With a career consisting primarily of westerns and adventure films, he is perhaps best known as the mysterious stranger in "Shane" (1954). He appeared in 150 films. Member of the Arkansas Entertainers Hall of Fame.

Chester Lauck (1902-1980) - Creator, along with Norris Goff, of the radio comedy team of "Lum and Abner." He was born in Alleene but grew up with Goff in Mena. Their cracker barrel humor was popular in the 1930s, 1940s and 1950s in both radio and the movies. Lauck played the character, Lum. Member of the Arkansas Entertainers Hall of Fame.

Tracy Lawrence (b. 1968) - Country music recording artist originally from Foreman. His hits include "Alibis," "Sticks and Stones," "If the Good Die Young", and "Outlaws, Rebels and Rogues" from the movie "Maverick." In 2007 he released his first studio collection in three years featuring the hit singles "Find Out Who Your Friends Are," and "Til I Was A Daddy Too." Member of the Arkansas Entertainers Hall of Fame.

Amy Lee ((b. 1981)) - Lead singer for the group Evanescence of which she is a co-founder along with Ben Moody, Lee is graduated from Pulaski Academy in Little Rock. The band's career began in Arkansas appearing in books stores and coffee houses. American music magazine Blendar named Lee as one of the hottest women in rock (2006) alongside Joan Jett, Courtney Love and Liz Phair. Her "Dark Water" composition was the 2015 winner of the World Beat Song by Independent Music Awards. 

Robert Lockwood Jr. (1915-2006) - Born March 27, 1915 in Turkey Scratch, Arkansas. He first learned music on the family pump organ, then was taught the guitar at age 11 by Robert Johnson, the mysterious delta bluesman. By age 17, Lockwood was performing professionally with the likes of Johnson, Johnny Shines and Rice Miller, who became an institution himself as Sonny Boy Williamson. In 1941, Lockwood and Williamson joined forces in Helena, Arkansas to host the now legendary King Biscuit Hour on KFFA radio. During his lifetime, he received numerous accolades including the very first W.C. Handy Award. He is also a member of the Blues Hall of Fame and the Delta Blues Hall of Fame. The album, Last of the Great Mississippi Delta Bluesmen: Live In Dallas, recorded by Lockwood, Henry James Townsend, Joe Willie "Pinetop" Perkins, and David Honeyboy Edwards, received the 2004 Grammy for Best Traditional Blues Album. He continued to perform on a regular basis at the Arkansas Blues and Heritage Festival (formerly the King Biscuit Blues Festival) in Helena until his death. 

Laurence Luckinbill (b. 1934) - Fort Smith is where actor Laurence Luckinbill was born on Nov. 21, 1934. He studied acting at the University of Arkansas where he appeared in nine student productions. Luckinbill made his professional debut at the Carnegie Playhouse in New York as the Old Shepherd in "Oedipus Rex." His theatrical career includes roles in "Othello," "A Man for All Seasons," "Galileo" and "Death of a Salesman" among others. Luckinbill reprised his role of Hank in the critically acclaimed film version of "The Boys in the Band" in 1970. He went on to appear in "Such Good Friends," the made-for-television movie "Ike," "Cocktail" and "Star Trek." Luckinbill is married to Lucie Arnaz, daughter of Lucille Ball and Desi Arnaz. Member of the Arkansas Entertainers Hall of Fame.

The Martins (unknown) - One of the hottest Southern gospel groups in the country the three siblings -- Joyce Martin-Sanders, Judy Martin Hess, Jonathan Martin -- were born and raised in Hamburg. They were discovered in the mid-1990s by gospel music legend Bill Gaither. They have won eight Dove Awards, the Gospel Music Association's top honor, and have one Grammy nomination. 

Roberta Martin (1907–1969) - An American gospel composer, singer, pianist, arranger and choral organizer, who helped launch the careers of many other gospel artists through her group, The Roberta Martin Singers. Martin was born in Helena but moved with her family to Chicago when she was 10. Contact with Thomas A. Dorsey, known as the Father of Gospel Music led her to form the Martin Frye Quartet in 1933. In 1936 the named changed to the Roberta Martin Singers, which set the standard for gospel choir and mixed group performers. Their extremely successful recording career featured such hits as "Only A Look," and "Grace." She composed about 70 songs, arranged and published 280 gospel songs. Her compositions include "He Knows Just How Much We Can Bear," and "God Is Still on the Throne", "Let It Be," and "Just Jesus and Me." Martin earned six gold records. Her great contribution to the history of gospel music was her development of a distinctive gospel-piano style and the special sound of her group. With her singers, men and women were integrated for the first time into the gospel chorus. A 1998 U.S. Postal Service commemorative stamp was released in her honor. It was one of four honoring gospel women. The other women honored were Mahalia Jackson, Clara Ward, and Sister Rosetta Tharpe, also an Arkansas native. 

W. Francis McBeth (1933-2012) - Known primarily for his works for wind band, William Francis McBeth was a Texas-born composer who taught at Ouachita Baptist University in Arkadelphia from 1957 until his retirement in 1996. His most frequently performed compositions include "Symphony No. 3," "Kaddish," "Beowulf," "Of Sailors and Whales," and "Through Countless Halls of Air." Also known for conducting, he led fellow Arkansan and musician former President Bill Clinton in the 1962 Arkansas All-State Band and served as the third conductor of the Arkansas Symphony Orchestra from 1970 to 1973. McBeth was appointed Composer Laureate of the State of Arkansas in 1975 and received several awards including the Howard Hanson Prize at the Eastman School of Music for his Third Symphony and the American Society of Composers, Authors and Publishers Special Award each consecutive year from 1965 until his death in 2012. Member of the Arkansas Entertainers Hall of Fame.

Skeets McDonald (1915-1968) - Born on a farm in Greenway (near Rector), McDonald was a noted singer-songwriter. Best-known for his self-penned chart-topper "Don't Let the Stars Get in Your Eyes," McDonald was a honky-tonk singer and songwriter whose work helped serve to bridge the gap between country and rock and roll. Member of the Arkansas Entertainers Hall of Fame.

Robert McFerrin Sr. (1921-2006) - Born in Marianna on March 19, 1921, McFerrin was the first African-American male to sing at the Metropolitan Opera in New York City. Los Angeles Times critic Albert Goldberg described his voice as ""a baritone of beautiful quality, even in all registers, and with a top that partakes of something of a tenor's ringing brilliance." Father of Grammy Award-winning singer/musician Bobby McFerrin, he made his New York City Opera debut as Popaloi in the premier of William Grant Still's Haitian opera, Troubled Island. Still is also an Arkansas native. 

James Henry "Jimmy" McKissic (1940-2013) - Born in Little Rock and raised Pine Bluff, McKissic was playing hymns by ear by age 3. His mother served as his teacher until age 13 when it was decided he needed professional instruction. McKissic received a B.S. in Music from Arkansas AM&N (now UAPB) followed by study with Marjorie Petray of Berkeley, CA. He furthered his training in Europe, where he became one of the most popular entertainers. During his lifetime, he spent 49 years abroad. McKissic played for three U.S. presidents and performed 28 times at Carnegie Hall in New York City, fulfilling a childhood dream. A PBS documentary entitled "How do you get to Carnegie Hall" chronicled his path from Pine Bluff to the Big Apple. 

Jack Mitchell (1923-2011) - Though not a native Arkansan, Mitchell now chooses to call Arkansas home. The self-taught drummer had his first professional gig when he was hired at age 17 by Harry Barry to be the featured boy drummer in an otherwise all-girl orchestra. His first introduction to The Natural State came during the 1940s when stationed at Eaker Air Force Base in Blytheville. He continued his military and musical career when he was transferred to a base in Sebring, FL, then Smyrna, TN. After the war, Mitchell worked as an exporter for 30 years and continued to play in various bands. When not overseas, he worked with bands in Chicago and appeared with such entertainers as Eddie Fisher, Steve and Edie Gorme, The McGuire Sisters, Joey Bishop, Bob Newhart, Isaac Stern, Gregory Hines, Regis Philbin and Tony Bennett. Member Arkansas Entertainers Hall of Fame. Mitchell retired from business and moved to Bella Vista in 1988. He joined the Bella Vista Big Band, becoming leader in 1990. Under his tutelage, the band performed for both of former President Bill Clinton's inaugural balls in 1993 and 1997 in Washington, DC. He continues to reside in Northwest AR and leads several bands, ranging from small combos to his big band and the Praise gospel band. 

Patsy Montana (1914-1996) - This Hot Springs native who grew up in Hope as Rubye Blevins was known as the "Queen of Country Western Music." She was one of the first country singers to successfully cultivate a cowgirl image. Her 1935 recording "I Want To Be a Cowboy's Sweetheart," which included a virtuoso yodeling piece, was the first big hit by a female country singer, making her the first female country singer to have a single sell more than one million copies. She wrote over 200 songs during her career. She was inducted into the Country Music Hall of Fame in 1996, shortly following her death. Member of the Arkansas Entertainers Hall of Fame.

Jason Moore (b. 1970) - Award-winning director of film, theatre and television, Moore was born and raised in Fayetteville. His Broadway credits include Shrek: The Musical (Outer Critics Circle and Drama Desk Award nominations for Best Director), Avenue Q (Tony nomination for Best Director), and Steel Magnolias. Other credits include Armistead Maupin's Tales of the City (American Conservatory Theater), Jerry Springer: The Opera at Carnegie Hall; Avenue Q and Shrek: The Musical in London's West End; and, off Broadway, Speech and Debate (Roundabout Theatre Company), Avenue Q (The Vineyard Theatre), Guardians (Culture Project), and The Crumple Zone (Rattlestick Playwrights Theater). Associate directing credits include Les Misérables (Broadway; national tour) and Ragtime (Vancouver). Writing credits include The Floatplane Notebooks (Charlotte Repertory Theatre), and television credits include directing episodes of Dawson's Creek, Everwood, One Tree Hill, and Brothers & Sisters. 

George Newbern (b. 1964) - This Little Rock native began his career in his hometown of Little Rock, in a performance of "Life with Father" at the Arkansas Arts Center. His first lead role was in the television show "Double Switch" in 1987. Newbern then landed the role of Dixie Carter's son, Payne, in the classic Southern sitcom, "Designing Women." Newbern became a fan favorite with his portrayal of Steve Martin's son-in-law, Bryan MacKenzie, in "Father of the Bride" and its subsequent sequel. Newbern continues to act and is a member of the Arkansas Entertainers Hall of Fame.

Joe Nichols (b. 1976) - Native of Rogers, Nichols secured his first record deal at age 19 with Intersound records. In 1999, he met studio guitarist Brent Rowan, who ultimately produced Nichols' 2002 album "Man With a Memory," the first project from the Universal South imprint. Alan Jackson invited Nichols to open selected shows on his 2003 tour and that same year he won the Country Music Association Horizon award. Also in 2003 The Academy of Country Music named Nichols its Top New Male Vocalist and Country Music Television (CMT) named "Brokenheartsville" the year's Breakthrough Video. He was voted Best New Artist of 2003 by the readers of Radio & Records. Billboard Magazine tapped him as Top New Country Artist of 2002, with "The Impossible" certified as the number 10 most played song of the year. Music Row magazine bestowed upon him its prestigious Critics' Pick award and he was nominated for three Grammy Awards: Best Country Album, Best Country Male Vocal Performance and Best Country Song for "The Impossible." His fourth album, 2005's gold-certified "III," produced his biggest hit to date in the Number One single "Tequila Makes Her Clothes Fall Off." In 2007, Nichols released the album "Real Things," which produced the Top 20 hits "Another Side of You" and "It Ain't No Crime." Member of the Arkansas Entertainers Hall of Fame.

Walter Norris (1931-2011) - Little Rock native who began classical piano studies at the age of four and a half. Norris worked professionally (1944-1950) with Howard Williams's 19 piece band in Little Rock, and in 1949 he also worked with Bitsy Mullins. His trio had a nine month stay at the El Morocco in Las Vegas before moving on to Los Angeles where he worked in the quartets of Stan Getz, Dexter Gordon, Johnny Griffin, Teddy Edwards, Zoot Sims, Buddy DeFranco, Herb Geller and Charlie Ventura. In addition to becoming a Steinway Artist in '95, he was selected for the Arkansas Jazz Hall of Fame by the Jazz Heritage Foundation. In August '98 he formed Sunburst Recordings, Inc. Member of the Arkansas Entertainers Hall of Fame.

K.T. Oslin (b. 1942) - Born in Crossett as Kay Toinette Oslin. In 1988, K.T. won a Grammy, an Academy of country Music (ACM) award, and A Country Music Association (CMA) award for "80s Ladies." K.T. was the first female artist to win "Songwriter of the Year." She also won the CMA's "Female Vocalist of the Year" beating out Reba McEntire, who had won it the previous four years. Later in 1988, K.T. released her second album "This Woman" which went platinum. She had another major hit off it entitled, "Hold Me." She won a Grammy and CMA award for that song also. "This Woman" won the ACM Album of the year. K.T. is currently writing songs and taking it easy at home in Nashville. Member of the Arkansas Entertainers Hall of Fame.

Freeman Harrison Owens (1890-1979) - Born in Pine Bluff, Freeman Owens served in World War I as a combat cameraman. He changed the movie making business forever when he perfected the process of putting sound on film and later advanced cinematography technology when he designed and developed cameras and lenses used by Eastman-Kodak Company. He is also credited with inventing slow motion and 3-D technology. Owens was 89 years old when he passed away in Pine Bluff. Member of the Arkansas Entertainers Hall of Fame.

Twila Paris (b. 1958) - Award-winning gospel singer, composer and author, Paris' roots go deep into Arkansas soil where her great grandparents served as ministers. She later lived in Fayetteville. She is known as today's "modern-day hymn writer" and has had 22 number one hits. Some of her hits include "Where I Stand," "A Heart That Knows You," "God is in Control," and "The Time is Now." Member of the Arkansas Entertainers Hall of Fame.

Lloyd Perryman (1917-1977) - Born in Ruth, Arkansas, on January 29, Perryman is known for being an actor and a member of the singing group Songs of the Pioneers. He was a member of the group from 1936 to 1977. The group was well-known in their own right and for their work with Roy Rogers. He appeared in 30 Minutes at Gunsight (1963), Wagonmaster (1950) and Rio Grande (1950), both starring John Wayne and directed by John Ford, Sons of the Pioneers (1942), and Call of the Rockies (1938). The group was also a part of Rex Allan's 1950 radio show. Perryman was inducted (as a member of the Sons of the Pioneers) into the Hall of Great Western Performers of the National Cowboy and Western Heritage Museum in 1995. He was also elected to the Country Music Hall of Fame in 1980 as a member of the Sons of the Pioneers. The Sons of the Pioneers were awarded a star on the Hollywood Walk of Fame for Recording at 6843 Hollywood Boulevard in Hollywood, California. 

Charles B. Pierce (1938-2010) - Though born in Indiana, Pierce grew up in Hampton, Arkansas and lived in Texarkana as an adult. He gained fame with his directorial debut film, The Legend of Boggy Creek, based on the legendary south Arkansas monster. Other productions include Bootleggers (1974), The Town That Dreaded Sundown (1977), Winterhawk (1975), The Winds of Autumn (1976), Grayeagle (1977), The Norseman (1978), The Evictors (1979) and The Barbaric Beast of Boggy Creek II (1985), among others. Member of the Arkansas Entertainers Hall of Fame.

Don Pirl (1946-) - Don Pirl is an actor from Benton, Arkansas. He has performed many roles. He has been in movies, television and performed live theater. Don starred as Cole Younger in 2010's True Grit. He was also in A Place For Raymond, Barbers Crossing, Forty Shades of Blue, Serving Sara, The Crown, Five Time Champion and Twinkletown. He played Mr. Watson in John Grisham's A Painted House. Don acted in a few Walker, Texas Ranger episodes as well. Some of his theater productions include Moon Over Buffalo, Bus Stop and Who's Happy Now Horse just to name a few.

Oscar Polk (1899-1949) - This Marianna native is best known for his role as the servant Pork in Gone With the Wind. Polk was also a fixture on the Broadway stage, appearing in a variety of dramatic and musicals roles, including the Pulitzer Prize-winning You Can't Take it With You. He was killed when struck by a taxi in Times Square at the age of 49. At the time of his death, he was to have had a major role in the play Leading Lady. He was replaced by Ossie Davis. 

Jim Porter (1932-2015) - Jim Porter was born in Little Rock in 1932. He graduated from the University of Arkansas in 1954 and entered the family businesses of warehousing, moving and storage, food and appliance distribution. But it was the music business that called Porter, not as a performer, but as an agent and manager and as a promoter of famous jazz artists. Porter presented such artists as Ray Charles, Count Basie, Lionel Hampton, Dizzy Gillespie, Erroll Garner, Louis Armstrong, Ramsey Lewis, Pete Fountain, Al Hirt, Stan Kenton, Harry James, Four Freshmen, George Shearing, Tommy Dorsey, Glenn Miller, Woody Herman, Dave Brubeck, Buddy Rich, and Maynard Ferguson. Porter's long and outstanding career with promoting jazz in Arkansas is the reason he was inducted into the Arkansas Jazz Hall of Fame. Member of the Arkansas Entertainers Hall of Fame.

Art Porter, Jr. (1961-1996) - Legendary saxophonist born and raised in Little Rock. Although Art is best known for his saxophone playing, he originally played the drums in his father's jazz trio at age 9. Growing up in the Porter household in Little Rock, he was exposed to the sounds of Coltrane, Bird, and Gene Ammons. After receiving his degree in music education, Art began his journey as a professional musician, playing with Jack McDuff, Pharoah Sanders, Gene Chandler, and serving as musical director for the vocal R 7 B group, After 7. Member of the Arkansas Entertainers Hall of Fame.

Art Porter, Sr. (1934-1993) - Legendary jazz pianist born in Little Rock; Porter, the Arkansas jazz statesman, never officially worked as a touring musician, choosing instead to perform, teach, contribute to his church as well as to other charitable causes in his hometown and state. There were two exceptions: In 1977 at FESTAC 77 (the World Black and African Festival of Arts and Culture) and at jazz festivals in Belgium, Germany, and The Netherlands during a 1991 European Tour with his son, saxophonist Art Porter, Jr. Porter has appeared on stage with Pharoah Sanders, Steve Allen, O.C. Smith, James Leary, Al Hibbler and many others. Member of the Arkansas Entertainers Hall of Fame.
Dick Powell (1904-1963) -  Actor, director and producer was born in Mountain View. A former band vocalist and emcee, he played the male lead in a number of musicals in the 1930s, often opposite Ruby Keeler and Joan Blondell. He then made a successful transition from the boyish crooner to more serious roles as the hardboiled detective in thrillers of the 1940s. In the early 1950s, he became president of the successful Four Star television production company. Movies included: 42nd Street, (1933) A Midsummer Night's Dream, (1935) Murder My Sweet (1944) and The Bad and Beautiful (1952). His television series include Four Star Playhouse (1952) and The Dick Powell Show (1961). Member of the Arkansas Entertainers Hall of Fame.

Luther G. Presley (1887- 1974) - Born March 6 on Beckett Mountain in Faulkner County, five miles west of Rose Bud, Presley was raised in White County and is best-known for writing the memorable lyrics to "When the Saints Go Marching In." Virgil O. Stamps composed the famous melody in Dallas one day in 1937 and Presley penned the immortal words at his rural Arkansas home in White County. Neither one had the slightest notion that their rousing religious tune would become a Dixieland standard – and over 70 years later -- the theme song of the New Orleans Saints football team. Other famous Presley hits include "I Know the Lord is With Me," "He Wills It so," "I'd Rather Have Jesus" and "I'll Have A New Life." A 1944 Arkansas Democrat newspaper article described him as the state's most prolific songwriter. He composed the music or wrote the lyrics to hundreds of gospel songs - 1,500 or more, according to the article. According to Presley's son, his father also edited the gospel hit "The Great Speckled Bird," made famous by Roy Acuff at the Grand Ole Opry. Luther Presley is buried in St. Mary's Cemetery at Rose Bud, near Beckett Mountain where he was born. Member of the Southern Gospel Hall of Fame. 

Florence Beatrice Price (1888-1953) - This Little Rock native is considered to be the first African American woman symphonic composer in the United States. By the age of 11, her compositions were being published. Her parents, both artistic, carefully guided her early musical training, and at age fourteen, she enrolled in the New England Conservatory of Music with a major in piano and organ. The Chicago Symphony Orchestra, conducted by Frederick Stock, premiered her Symphony In E Minor on June 15, 1933. Price wrote other extended works for orchestra, chamber works, art songs, works for violin, organ anthems, piano pieces, and spiritual arrangements. Some of her more popular works are: "Three Little Negro Dances," "Songs to a Dark Virgin," "My Soul's Been Anchored in de Lord," and "Moon Bridge." 

Lee Purcell (1947) - Born in Cherry Point NC, her father died when she was an infant. Her mother remarried Dr. Donald Purcell and she was raised and graduated from high school in Paragould. She has appeared in many movies and television shows, including multiple episodes of Murder, She Wrote. Purcell has been nominated for two Emmys: one for outstanding supporting actress in 1994's Secret Sins of the Father and one for outstanding lead actress for 1991's Long Road Home. Some of her movies include My Wicked, Wicked Ways…the Legend of Errol Flynn (1985), Mr. Majestyk (1974), Almost Summer (1977), The Amazing Howard Hughes (1977), Big Wednesday (1978), and The Gambler with Kenny Rogers (1980). 

Colin Raye (b. 1960) - Birth name Floyd Collin Wray, this country music singer was born in DeQueen. His hits include "Love Me" and "Little Rock." Member of the Arkansas Entertainers Hall of Fame.

Scott Reeves (b. 1966) - Born in Delight, the same small Arkansas town as Country Music Hall of Fame member Glen Campbell who was a close personal friend of the family, Reeves was raised in Los Angeles. He began his career acting, including stints on Days of Our Lives and The Young and the Restless. He also starred in such feature films as the 1989 horror movie Friday the 13th Part VIII: Jason Takes Manhattan and in the 1993 comedy Hot Shots! Part Deux. Now pursuing his music full time, he is, along with partner Aaron Benward, one half of the duo Blue Country which has been nominated for Country Music Academy and Academy of Country Music Awards. 

Judge Reinhold (b. 1957) - Born Edward Ernest Reinhold, Jr., in Wilmington, Delaware, the son of a trial lawyer; his father is responsible for his nickname "Judge." Raised in Fredericksburg, Va. and West Palm Beach, Fla., he attended Mary Washington College and the North Carolina School of the Arts. Reinhold began his career in regional theatres, included Burt Reynolds' Dinner Theater in Jupiter. Fla. Reinhold's first major film was Fast Times at Ridgemont High along with then such unknowns as Sean Penn, Forest Whitaker, Jennifer Jason Leigh and Nicolas Cage. He also was in Beverly Hills Cop I, II and III, Ruthless People, The Santa Clause and its sequels, Swing Vote and Arrested Development. He was nominated for an Emmy for the "close talker" role on Seinfeld. He is now appearing in the television series Easy Money. Reinhold and his wife Amy Miller (a Little Rock native) have homes in Little Rock and Santa Fe. 

Charlie Rich (1932-1995) - Born in the Colt community between Wynne and Forrest City, Rich got his start at Sun Records in Memphis and penned many songs for other artists before recording his first hit "Behind Closed Doors" in 1973. Other hits like "The Most Beautiful Girl" followed and Rich was named the CMA Entertainer of the Year in 1974. His nickname was "the Silver Fox." Member of the Arkansas Entertainers Hall of Fame.

Bob Robbins (1944) - Robbins began his radio career in Little Rock in 1972 on KAAY-AM and joined KSSN 1979. He helped to build the KSSN brand as a dominant station in the market and has been a champion for the local community - he helped to start "The Toy Hill Weekend," one of the largest toy drives the in the U.S. that benefits the Marine Corps Reserves Toys For Tots campaign. Robbins has also been recognized by the radio industry including a Country Music Association Award for radio personality of the year and a Marconi Award as well as being inducted into the Country Music DJ Hall of Fame. Robbins, with his co-anchor, won a 2013 Country Music Association Award for best media market radio station of the year at the Country Music Association Awards in Nashville. 

Jay Russell (b. 1960) - Born in North Little Rock, Russell is a film director, writer and producer. He graduated from Columbia University in 1984 with an MFA in screenwriting. Some of his better-known films include: Ladder 49 (2004); Tuck Everlasting (2002); My Dog Skip (2000); and End of the Line (1988) with fellow Arkansan, Mary Steenburgen. 

Mark Sallings (1952-2009) - Born in Searcy and raised in McCrory, Sallings began playing harmonica at a young age and was playing professionally by 14 (he later added sax, keyboard, clarinet and flute to his repertoire). After graduating from high school, Sallings was recruited across the Mississippi River to Memphis, where he worked at Stax Records as a session musician. During the 1980s, he performed with the Coon Elder Band and country musician David Lynn Jones. He later formed the band The Famous Unknowns, which became the first house band at B.B. King's Blues Club in Memphis. Sallings and the band were a favorite at the Arkansas Blues and Heritage Festival (formerly known as the King Biscuit Blues Festival) in Helena-West Helena. He was on the way to a performance when he was killed in an automobile accident on Feb. 25, 2009. Member of the Arkansas Entertainers Hall of Fame. 

B. J. Sams (b. 1935) - Longtime Central Arkansas news anchor, Sams is one of the most recognizable faces in the state. B.J. has worked in broadcasting for more than 50 years, 32 of them in the Little Rock market. He graduated from the University of Tennessee with a Business and Administration degree. After graduation, he entered the U.S. Army where he took basic training at Fort Hood, Texas with Elvis Presley. He began his broadcasting career in 1964 at KTVE in Monroe, Louisiana. He then came to Little Rock to work for KATV as an anchor in 1966. In 1973, he moved to Honolulu, Hawaii where he worked for nine years. Sams returned to Arkansas in 1982 to work for KTHV until his retirement in 2009. For the past 10 years, he has worked the top morning show in the state along with former co-host Robyn Richardson and Tom Brannon. He continued those duties with Brannon and Alyson Courtney until retiring. The Associated Press presented Sams their Broadcaster of the Year award in 2000. On his 50th anniversary in broadcasting, KTHV renamed the studio in his honor. Member of the Arkansas Entertainers Hall of Fame. 

Pharoah Sanders (b. 1940) - Pharoah Sanders, originally Farrell Sanders, was born and raised in Little Rock. He became well-known in the local jazz scene in Oakland, California in the early 1960s. In the middle of the decade, he moved to New York, where he worked with Sun Ra and other luminaries of the new jazz avant-garde. He was asked by John Coltrane to join his group in 1965, and so became a part of Coltrane's most experimental unit. After Coltrane's death in 1967, he continued in musical collaboration with Coltrane's second wife, Alice. Sanders is known for a distinctive sound, including a split reed technique. While primarily playing the tenor sax, he has also recorded playing the soprano sax, flutes and percussion. His most well-known work is "The Creator Has a Master Plan." Member of the Arkansas Entertainers Hall of Fame. 

Louie Shelton (b. 1941) - A North Little Rock native, Shelton is a well-known studio musician, providing guitar riffs for such hits at The Monkee's "Last Train to Clarksville," "I Want You Back," by the Jackson Five, and the long guitar solo on "Hello" by Lionel Richie. In addition to playing, he has also produced for recording artists such as Seals and Crofts, Art Garfunkel, Dan Seals, and Corey Wells. Albums by Barbara Streisand, Neil Diamond, Whitney Houston, Glen Campbell and John Lennon have featured his playing. Shelton currently lives in Australia but makes frequent trips home to the U.S. for performances. Member of the Arkansas Entertainers Hall of Fame. 

Willie "Big Eyes" Smith (b. 1936) - Born in Helena, Smith is one of the many Blues legends who were influenced by Helena's KFFA King Biscuit radio show. Considered one of the world's greatest blues drummers, the multi-award winning musician is also a harmonica player. He joined the Muddy Waters Band in 1961 and toured with them until 1964. He rejoined Waters in 1968 and stayed with him until 1980. Smith is a member of The Legendary Blues Band, which appeared in The Blues Brothers movie and has also toured with Bob Dylan, the Rolling Stones and Eric Clapton. 

P. Allen Smith (unknown) - The award-winning garden designer is based in Little Rock. He is the star of public television's P. Allen Smith's Garden Home and the syndicated 30-minute show P. Allen Smith Gardens. He has emerged as America's most recognized and respected garden design expert, providing ideas and inspiration through multiple media venues. He also makes regular appearances on NBC's Today Show and The Weather Channel. In addition Smith has written a number of books about lifestyles, home and gardening and is a popular speaker around the country. He is a fourth-generation nurseryman who studied garden history and design at the University of Manchester in England. 

Mary Steenburgen (b. 1953) - This Academy Award-winning actress from North Little Rock was discovered by Jack Nicholson. She has starred in "Ragtime" (1981), Woody Allen's "A Midsummer Night's Sex Comedy" (1982), "Parenthood" (1989), "Back to the Future III" (1990), "The Butcher's Wife" (1991) and many other movies. She won an Academy Award for Best Supporting Actress in "Melvin and Howard" in 1981. She produced and starred in "The End of the Line" (1987), a movie filmed in Arkansas. Steenburgen also starred, along with her husband, actor Ted Danson, in the television miniseries "Gulliver's Travels" (1996) and the television series "Ink" (1997). She also appeared in the television show "Joan of Arcadia." Member of the Arkansas Entertainers Hall of Fame. 
Steve Stephens (b. 1932) - Stephens began his television career at the dawn of the rock-and-roll era, appearing on Little Rock television station Channel 11 in various shows. His dance party, called "Steve's Show" was an instant success and helped launch the careers of such performers as Conway Twitty, Charlie Rich, Johnny Cash, songwriter Melvin Endsley, Brenda Lee, Fabian, Tommy Sands and Carl Perkins. Member of the Arkansas Entertainers Hall of Fame.

William Grant Still (1895-1978) - This Little Rock native was a violinist and composer of ballets, symphonies, operas, and other musical works. He began his musical career with W.C. Handy at Memphis, then later worked with Earl Carroll, Artie Shaw, and Paul Whiteman. His compositions were the first works by an African-American composer to be performed by major orchestras, earning him the title, "Dean of Afro-American Composers." Still would continue to add to his list of firsts, being the first African American to conduct a major symphony orchestra (the Los Angeles Philharmonic at the Hollywood Bowl), the first African American to have an opera (Troubled Island) performed by a major opera company (1949), and the first to have an opera (A Bayou Legend) performed on national television (1981). He is still regarded as America's greatest African-American composer. Member of the Arkansas Entertainers Hall of Fame. 

Sarah Tackett (b. 1958) - The owner and founder of The Agency, Inc., Sarah was born in 1958 in Conway. Her involvement with the entertainment industry began as a self-employed freelance make-up artist for film and video production. Recognizing a production void for a consolidated source of models and actors to efficiently cast projects, Tackett began to enlist local talent while looking for new faces to provide a well-rounded pool for client casting needs. "The Agency, Incorporated" was introduced to area production companies, advertising agencies, and photographers as Arkansas' first full-service professional talent, modeling, and casting agency in 1984. She has since provided location casting for over 20 films throughout the south including over 350 principle roles and extras in excess of 20,000. She has worked for award-winning directors including Billy Bob Thornton, "Slingblade;" Mike Nichols, "Biloxi Blues;" and Ray McKinnon, "Chrystal." Member of the Arkansas Entertainers Hall of Fame. 

John Michael Talbot (b. 1954) - Former rock star in the late 1960s with Mason Proffit who pioneered the Country Rock that became the mainstay of modern Country Music. Now a moving force in Christian music, Talbot leads the monastic-style Little Portion, a Roman Catholic community a few miles east of Eureka Springs. Catholic music's number one recording artist with sales of around four million records worldwide. John Michael's numerous awards include nine Dove award nominations, a Dove Award for the album "Light Eternal," and the National Academy of Recording Arts and Sciences (NARAS) President's Merit Award for "Song of the Poor." Member of the Arkansas Entertainers Hall of Fame. 

Johnnie Taylor (1934-2000) - Taylor, known as the "Philosopher of Soul," was a popular gospel and R&B singer with a recording career over four decades long. Born in Crawfordsville, he was raised by his grandmother in West Memphis who encouraged his church attendance which then spurred his love of singing. He sung with several gospel groups before starting his solo career, including The Soul Stirrers, where Taylor and a young Sam Cooke became friends. Cooke later signed him on his own SAR label, and it was there he began singing secular music. Hits include "A Whole Lotta Woman," "Who's Making Love," and "I Believe in You (You Believe in Me)." His single, "Disco Lady," was the first single to rank platinum. Taylor was awarded a Pioneer Award by the Rhythm and Blues Foundation in 1999. 

Clark Terry (1920-2015) - World-class trumpeter, flugelhornist, composer, and NEA Jazz Master, Terry is one of the most recorded musicians in the history of jazz, with more than nine-hundred recordings. Clark's discography reads like a "Who's Who In Jazz," with personnel that includes greats such as Quincy Jones, Ella Fitzgerald, Oscar Peterson, Dizzy Gillespie, Dinah Washington, Ben Webster, Aretha Franklin, Charlie Barnet, Doc Severinsen, Ray Charles, Billy Strayhorn, Dexter Gordon, Thelonious Monk, Billie Holiday, Gerry Mulligan, Sarah Vaughan, Coleman Hawkins, Zoot Sims, Milt Jackson, Bob Brookmeyer, and Dianne Reeves. Among his numerous recordings, he has been featured with the Duke Ellington Orchestra, Count Basie Orchestra, Dutch Metropole Orchestra, Chicago Jazz Orchestra, Woody Herman Orchestra, Herbie Mann Orchestra, Donald Byrd Orchestra, and many other large ensembles - high school and college ensembles, his own duos, trios, quartets, quintets, sextets, octets, and two big bands – Clark Terry's Big Bad Band and Clark Terry's Young Titans of Jazz. His Grammy and NARAS Awards include: 2010 Grammy Lifetime Achievement Award, NARAS President's Merit Award, three Grammy nominations, and two Grammy certificates. Terry was a resident of Pine Bluff where he lived with his wife. 

Sister Rosetta Tharpe (1915-1973) - Born Rosetta Nubin in Cotton Plant around 1915, Rosetta's early training was in religious music. Her mother, Kate Bell "Mother Bell" Nubin was a traveling missionary and "gospel shouter". Rosetta developed a unique vocal and guitar style that caught the attention of Decca Records who signed her in 1938. She was an overnight sensation and is considered by many to be gospel music's first superstar. Also a crossover performer, she influenced numerous rock musicians such as Bob Dylan, Little Richard, Elvis Presley and fellow Arkansan Johnny Cash. She appeared with such legendary performers as Cab Calloway, Benny Goodman, Louis Jordan and took the stage at the Cotton Club and Café Society. Her biography, by George Washington University scholar Gayle Wald, is entitled "Shout, Sister, Shout: The Untold Story of Rock-and-Roll Trailblazer Sister Rosetta Tharpe. The documentary entitled "The Godmother of Rock & Roll" was shown on PBS as part of the American Masters series. Member of the Arkansas Entertainers Hall of Fame.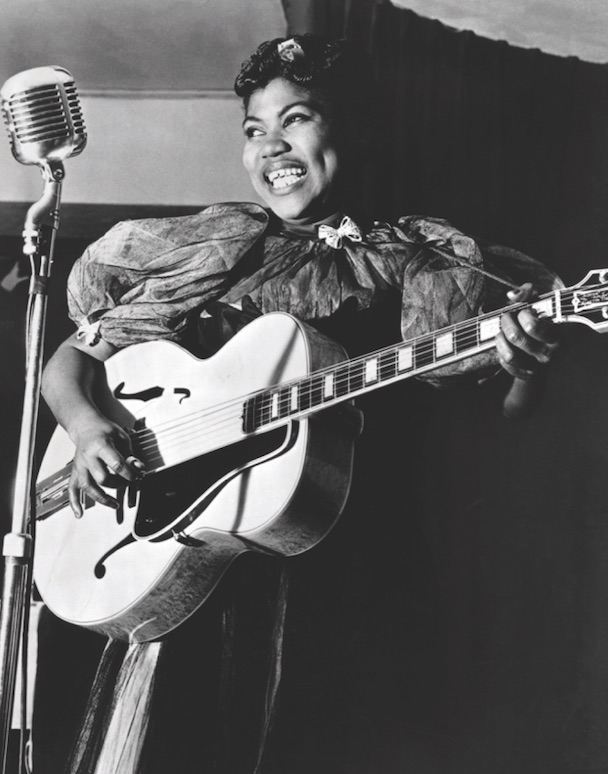 Harry Thomason (b. 1955) - Former Little Rock high school speech teacher and football coach who is now one of the hottest producers in Hollywood. His hits include "The Blue & The Gray" mini-series, "Designing Women," "Evening Shade," and "Hearts Afire." He was born and raised in Hampton. Member of the Arkansas Entertainers Hall of Fame.
Billy Bob Thornton (b. 1955) - A native of Hot Springs, Thornton was featured on the television series "Hearts Afire." He directed and starred in "Slingblade" a movie he filmed in Benton. He received two Oscar nominations for the film, one for Best Actor and one for Best Screenplay, which he won. He was also nominated for Best Supporting Actor in 1999 for "A Simple Plan." Member of the Arkansas Entertainers Hall of Fame.

Conway Twitty (1933-1993) - Known as the "High Priest of Country Music," this Country Music Hall of Famer was raised in Helena. He was born as Harold Jenkins and later chose his stage name from Conway, Arkansas and Twitty, Texas. He also considered "Bald Knob" as a stage name. Twitty's No. 1 hits include: "Hello, Darling," "It's Only Make Believe" and "Tight Fitting Jeans." Member of the Arkansas Entertainers Hall of Fame.

T. Texas Tyler (1916-1972) - Born David Luke Myrick near Mena, Tyler initiated a style of country/western music that set a pattern for singers throughout three decades. His first recording hit was "Deck of Cards" in 1948 and Tyler had his own Los Angeles television show in 1950. He appeared often on the "Grand Ole Opry," "Louisiana Hayride" and also performed in Carnegie Hall. 

Mike Utley (b. 1947) - Musician Mike Utley was born in Blytheville and graduated from the University of Arkansas with a zoology degree. Early in his career he worked with the house band for Atlantic Records, backing performers such as Aretha Franklin, Jerry Jeff Walker and the Allman Brothers. In February 1973, after Jimmy Buffett had moved to Key West from Nashville, he heard Utley playing keyboards on one of Jerry Jeff Walker's albums. He liked what he heard and asked Utley to play on his first major label album, "A White Sport Coat and a Pink Crustacean." Utley continued to work with other performers in the mid-1970s while continuing to work with Buffett until the latter's 1977 breakout "Changes in Latitudes, Changes in Attitudes." He then joined the Coral Reefer Band full-time, making him the longest active member of the band. He now serves as its musical director. Utley has recorded with an impressive list of artists over his career, including Aretha Franklin, Ronnie Hawkins, Buddy Guy, Junior Wells, Jimmy Cliff, Sam The Sham, Jackson Browne, Booker T. Jones, and John Kay of Steppenwolf. He's also produced many albums with Buffett. Member of the Arkansas Entertainers Hall of Fame. 

Junior Walker (1931-1995) - Walker was born in Blytheville, Arkansas and was raised in South Bend, Indiana. Upon picking up the saxophone in high school, he began playing in local jazz and R&B clubs soon after. In the 1950s, Junior Walker relocated to Battle Creek, Michigan and formed the band Junior Walker & the All-Stars. Singer Johnny Bristol saw the group perform and recommended them to his friend, Harvey Fuqua, who signed the All-Stars and produced their first recordings in 1962. The next year Motown absorbed Fuqua's artists and Walker & the All-Stars debuted for Soul in 1964. Their first big hit was the dance tune "Shotgun," in 1965, and it also marked Walker's vocal debut. "Shotgun" topped the R&B charts and hit the pop Top 5 charts. The All-Stars had success with a stream of instrumental R&B hits until the disco era, when Walker resurfaced as a solo artist. He continued to tour through the 1980s and 1990s, until his death in 1995. 

William Warfield (1920-2002) - A native of West Helena, Warfield is a Grammy-award winning baritone. He is known for such career-making roles as Joe in the film "Showboat" where he sings the memorable "Ol' Man River," and the role of Porgy in "Porgy and Bess." Member of the Arkansas Entertainers Hall of Fame. 

Gary Weir (Unknown) - A native of Russellville and now a North Little Rock resident, Weir became a television icon in Arkansas when, in 1966, he began appearing on KATV, Channel 7 (later on KARK, Channel 4 and KLRT, Fox 16), as Bozo the Clown. It aired every afternoon for 25 years showcasing cartoons and games, but mostly, Bozo and the kids. Weir also has a love of Thoroughbred racing and for 18 years was host of the Oaklawn Report, which was featured on various TV channels recapping the day's races. He is now producer and co-host of the TV dance show, "The Good Ole Daze", a one hour weekly dance show that he co-hosts with his wife Linda. Member of the Arkansas Entertainers Hall of Fame. 

John Weston (1927-2005) - A Lee County native, Weston was born on December 12, 1927. The singer/songwriter combined fine songwriting with a deep Delta Blues style. John began performing in 1970 and by 1977 had built a local audience in Marianna where he was living. His lyrics, which grew from his personal experience, reflect the humor and irony of daily life. He became a popular festival performer in the Delta and all over the world. He performed solo for many years although he occasionally played with a band. John won the Lucille Award (named after blues singer B.B. King's infamous guitar) at the Handy Awards in Memphis. In 1995 he began performing as a duo with Little Rock slide guitarist Mark Simpson. His CD "Got To Deal With The Blues" contains several cuts featuring the two. Member of the Arkansas Entertainers Hall of Fame. 

Doyle & Teddy Wilburn (1930-1982; 1931-2003) - Known as The Wilburn Brothers, the duo was born in Hardy and were child performers in an act called The Wilburn Family that was brought to the Grand Ole Opry by Roy Acuff in the 1940s. Due to the child labor laws the Wilburns were forced to leave the Grand Ole Opry after only six months. They continued to travel and were regulars on the Louisiana Hayride from 1948-51. After the family act disbanded, and the brothers served stints in the Army during the Korean War, they continued on in country music as The Wilburn Brothers and had their first hit record in 1954 titled "Sparkling Brown Eyes." Their other hits include "Go Away With Me" (1956), "Which One Is to Blame" (1959), "Trouble's Back in Town" (1962), "It's Another World" (1965), and "Hurt Her Once for Me" (1967). They were Opry members from 1953 until the time of Doyle's death in 1982 (at the age of 52) and Teddy continued on at the Opry as a solo artist until his own death in 2003 (six days before he would have turned 72). The Wilburn Brothers had a long-running syndicated television show, "The Wilburn Brothers Show," that ran from 1963 to 1974 and produced 354 half hour episodes. Member of the Arkansas Entertainers Hall of Fame. 

Elizabeth Williams (Unknown) - A producer on Broadway and around the world since 1989, Williams received the Tony Award for Best Musical for her production of "Crazy for You" (1992) plus the Best Revival Tony for both "The Real Thing" (1999) and for "One Flew Over the Cuckoo's Nest" (2000). Together, with partner Anita Waxman, Waxman Williams Entertainment has garnered 71 Tony nominations and 16 Tony Awards, more than any female producing team in history. Ms. Williams' and Ms. Waxman's recent Broadway productions include "Bombay Dreams," "Gypsy," "Flower Drum Song," "Topdog/Underdog" and "Noises Off," along with London West End productions of "By the Bog of Cats," "Ragtime" and "Hitchcock Blonde." In addition, her Four Corners Productions company is responsible for "Crazy for You," "Into the Woods," "the Secret Garden" and "Moon Over Buffalo." From 1984-1989, she served as vice president of Mutual Benefit Productions and Fifth Avenue Productions, which created art and theatre investment funds. The company also served as the American financiers for Cameron Mackintosh by syndicating theatrical partnerships and helping finance the West End, Broadway, Australian and U.S. national touring companies of "Les Miserables," "Phantom of the Opera" and "Miss Saigon." Williams has served on the board of directors of the 52nd Street Project and is a past chair of the board of directors of the New York Theatre Workshop. Member of the Arkansas Entertainers Hall of Fame. 

Lucinda Williams (b. 1953 ) - American singer/songwriter who spent her formative years in Fayetteville where her father, Miller Williams, was a professor at the University of Arkansas for 33 years. Her dad is an Arkansas native who is considered one of the most foremost American poets of the post-World War II era. She received a Grammy Award in 1993 for Best Country Song for writing "Passionate Kisses," recorded by Mary Chapin Carpenter. She also received a Grammy in 1999 for Best Contemporary Folk Album, and Best Female Rock Vocal Performance in 2002. Her 2012 album "Blessed" was nominated for Best Americana Album. 

Sonny Boy Williamson (1908-1965) - Born on the Sara Jones Plantation near Glendora, Miss., the date and year of his birth a matter of some uncertainty. Beginning in the 1930s, he traveled around Mississippi and Arkansas and encountered Big Joe Williams, Elmore James and Robert Junior Lockwood. He was also associated with Robert Johnson during this period. Williamson lived in Twist, Ark., for a time with Howlin' Wolf's sister Mary Burnett and taught Wolf to play harmonica. In 1941 he was hired to play the "King Biscuit Time" show on radio station KFFA in Helena with Lockwood. Williamson had begun developing a following in Chicago beginning in 1953, when he appeared there as a member of Elmore James' band. During his years with Chess Records he enjoyed his greatest success and acclaim, recording about 70 songs for Chess subsidiary Checker Records from 1955 to 1964. In the 1960s he toured Europe during the height of the British blues craze, recording with The Yardbirds and The Animals. Some of his better known songs include "Don't Start Me to Talkin,'" "Fattenin' Frogs for Snakes," "Keep It to Yourself," "Your Funeral and My Trial," "Bye Bye Bird," "Nine Below Zero" and "Help Me." His song "Eyesight to the Blind" was performed by The Who as a key song in their rock opera "Tommy" (the only song in that opus not written by a band member) and it was later covered on the Aerosmith album "Honkin' on Bobo." His "One Way Out" became popularized by The Allman Brothers Band in the early 1970s. He returned to Helena, and died there a few hours prior to a scheduled radio performance on May 25, 1965. He is buried in Tutwiler, Mississippi. Member of the Arkansas Entertainers Hall of Fame. 

Mark Wright (b. 1975) - A Fayetteville native, he started his career by leaving a lucrative job singing jingles to take a $150-a-week songwriting gig. RCA made the 25-year-old Belmont graduate the then-youngest executive at a major label. That confidence saw Wright co-produce Clint Black's "Killin' Time," the 1989 record that spawned five number ones. Wright now has to his credit more than 26 million units in sales and over 40 number one singles that he's written, published or produced. As songwriter, he's had 12 BMI Awards - seven of them Million-Airs - including Mark Chesnutt's "Goin' Through The Big D," Oak Ridge Boys' "Lucky Moon," and "Today My World Slipped Away," cut by both George Strait and Vern Gosdin. His latest accomplishment is an Album of the Year Grammy for Lee Ann Womack's dazzling "I Hope You Dance," which has already earned him 2000 CMA Single of the Year honors. Member of the Arkansas Entertainers Hall of Fame. 

Alberto Zoppe (1922-2009) - Born in north Italy, Alberto was one of 17 children, 11 of which died in World War II. The family business began in 1842, when a French street clown and Hungarian equestrian ballerina, ran away to Venice. Zoppe's trademark stunt, which he performed in Cecil B. DeMille's 1952 Academy Award-winning motion picture "The Greatest Show on Earth," was standing on a moving horse, then doing a somersault back flip to a trailing horse. His career included appearances with the Barnum & Bailey Circus, and on the Bob Hope, Red Skelton and Ed Sullivan television shows. He was a member of the circus world's "Ring of Fame." Zoppe lived moved to Arkansas after his retirement. He was living in Greenbrier at the time of his death. 
Famous Authors & Journalists
Maya Angelou (1928-2014) - African-American poet, actress, and singer who was raised in Stamps. She was a National Book Award nominee for her autobiographical "I Know Why the Caged Bird Sings" (1970), a Pulitzer Prize nominee for "Just Give Me a Drink of Water Fore I Diiie" (1972) and a Tony Award winner for her performance in "Look Away." She also received an Emmy nomination for her role in the television miniseries "Roots" (1977). She was the second poet in the country to be selected to present an inaugural poem reading "On the Pulse of Morning" at President Clinton's inauguration in 1993. 

Harry Scott Ashmore (1916-1998) - Editor and author from Arkansas who won a 1958 Pulitzer Prize for his editorial coverage in the Arkansas Gazette of the 1957 Little Rock Central High desegregation crisis. He also wrote several books including "Hearts & Minds." 

Douglas A. Blackmon (b. 1964) - Born in Stuttgart, Arkansas, Blackmon's family moved to Mississippi, then back to Monticello, Arkansas, where he graduated from high school. He earned his college degree at Hendrix College in Conway. After college, he was first an intern then reporter for the Arkansas Democrat. In 1987, he became managing editor and part-owner of the Daily Record in Little Rock. Blackmon then moved to the Atlanta Journal-Constitution in 1989 before joining the Atlanta office of the Wall Street Journal in October 1995. He was awarded the 93rd Annual Pulitzer Price in General Non-fiction for his book Slavery by Another Name: The Re-Enslavement of Black Americans from the Civil War to World War II (Doubleday) in April 2009. It is described as "a precise and eloquent work that examines a deliberate system of racial suppression and that rescues a multitude of atrocities from virtual obscurity." 

Dee Alexander Brown (1908-2002) - Historian and author of the million seller book "Bury My Heart at Wounded Knee" (1971) which has been translated into more than 20 languages. Brown moved from Louisiana to Stephens, in Ouachita County, at age 5. He graduated from Arkansas State Teachers College in Conway and was, for many years, a librarian and full professor at the University of Illinois. Among his score of books is "American Spa," a history of Hot Springs. Since retiring in 1972, Brown again called Arkansas home until his death. 

Helen Gurley Brown (1922-2012) - Born in Green Forest and raised in Little Rock, this former ad copywriter hit it big in 1962 with her bestselling book "Sex and the Single Girl." After becoming editor-in-chief of Cosmopolitan Magazine in 1966, she transformed the failing publication into the sleek, successful "bible of the unmarried woman" who became known as the "Cosmo Girl." Other books include "Having It All" (1982) and her memoir "I'm Wild Again" (2000). She was married to David Brown who co-produced of "Jaws." 

Ernie Deane (1911-1991) - A 1934 graduate of the University of Arkansas, Deane is considered by many to be the father of journalism in the state. He served as the information officer for General George S. Patton during World War II. He was also the head of public relations with the Office of Chief Counsel for War Crimes at Nuremberg, Germany. Deane was a journalist with the Arkansas Gazette for many years and, in 1956, created the very popular Arkansas Traveler column. He then taught journalism at the University for 10 years. 

Michael Disfarmer (1884-1959) - Born as Mike Meyer in 1884, the sixth of seven children in a German immigrant farming family in Cleburne County. He rejected farm life and his family by legally changing his name to "Dis – Farmer." The eccentric Arkansas artist taught himself photography perhaps also as a way to escape farm life. After a tornado in the 1930s destroyed his family home where he had worked, he built a studio on Heber Springs' Main Street and became a professional photographer. Using glass plates, Disfarmer shot his subjects in direct north light creating a unique and compelling intimacy. He captured the lives and emotions of the people of rural America from 1939 to 1945, a defining time in history in which the Great Depression yielded to World War II. Critics have hailed Disfarmer's remarkable black and white portraits as "a work of artistic genius" and "a classical episode in the history of American photography." His unique works are included in the permanent collections of the New York Museum of Modern Art, The Metropolitan Museum of Art, The Arkansas Arts Center Museum and the International Center of Photography in New York City. Disfarmer's photography has also been exhibited in museums and galleries throughout Europe and the United States. He is buried in a Heber Springs cemetery. 
John Gould Fletcher (1886-1950) - Born in Little Rock, he was the first Southern poet to be awarded the Pulitzer Prize in Poetry in 1939 for "Selected Poems." In the 1930s he was considered a literary peer of Pound and Eliot. He was also a respected critic and prose writer. 

Ellen Gilchrist (b. 1935) - Noted author from Fayetteville, Gilchrist did her postgraduate work at the University of Arkansas. She worked as a freelance writer, journalist and commentator. Her books include "The Land Surveyor's Daughter" (1979), "In the Land of Dreamy Dreams" (1981) and "Falling Through Space" (1987). Winner of the 1984 National Book Award for Fiction for her collection of short stories, "Victory over Japan." 

Fred Graham (b. 1931) - This Little Rock native served as a CBS News law correspondent from 1972-1985 and won three Emmy Awards for coverage of Watergate and the Agnew scandal. Prior to joining CBS, he was the Supreme Court correspondent for The New York Times since 1965. He also received a George Foster Peabody Award for his writing. Author of two books "The Self-Inflicted Wound," a study of the Supreme Court and "The Alias Program," an expose of the Justice Department. This Little Rock native graduated from Yale and earned law degrees from Vanderbilt and Oxford. He currently serves as Senior Editor for Court TV Network. 

John Grisham (b. 1955) - Lawyer and best-selling author from Arkansas, who wrote such books as "A Time to Kill," "The Rainmaker," "The Firm," "The Pelican Brief," "The Client" and "The Chamber," all of which have been successfully translated into movies. His book "A Painted House," was made into a Hallmark television movie and filmed on location in Lepanto. Grisham was born in Jonesboro and lived in various towns throughout Northeast Arkansas. There are currently over 225 million John Grisham books in print worldwide, which have been translated into 29 languages. Member of the Arkansas Entertainers Hall of Fame.
Donald Harington (1935-2009) - Noted American author born in Little Rock, who most closely associated with writings on the Arkansas Ozark Mountains. Harington loosely based his fictional town, Stay More, on the community of Drakes Creek where he spent his childhood summers. His background was art and art history and he taught in New York, New England and South Dakota before returning to his alma mater, the University of Arkansas in Fayetteville. He taught at the U of A for 22 years before retiring in 2008. Entertainment Weekly called Harington "America's greatest unknown writer." The novelist and critic Fred Chappell said "Donald Harington isn't an unknown writer. He's an undiscovered continent." Novelist James Sallis, writing in the Boston Globe: "Harington's books are of a piece -- the quirkiest, most original body of work in contemporary U.S. letters." 

Charlaine Harris (b. 1951) - A New York Times bestselling author, Charlaine Harris' most popular novels include "The Southern Vampire Mysteries" and the "Harper Connelly" series. "The Southern Vampire Mysteries" feature Sookie Stackhouse, a telepathic waitress from Louisiana, and are the basis for HBO's "True Blood." A former resident of Magnolia, Arkansas, Harris is a member of the Mystery Writers of America and the American Crime Writers League and is a member of the board of Sisters in Crime. She also alternates as president of the Arkansas Mystery Writers Alliance. Member Arkansas Entertainers Hall of Fame. 

Joan Hess (b. 1949) - This best-selling Fayetteville mystery writer has been on the covers of Mystery Scene Magazine and The American Armchair Detective. At one time, CBS offered her a contract to base a television series on her novel Malice in Maggody. 

Kenny Johnson (b. 1942) - Science fiction icon and Pine Bluff native was born October 26 and is a writer, producer and director of such cult classics as the NBC miniseries "V," Alien Nation television show and movies, and the original Bionic Woman and Incredible Hulk television series. He began his career on The Mike Douglas Show and worked on several game shows such as The Joker's Wild while learning his craft. Other projects run the gamut from Adam 12, Short Circuit 2 and JAG. He currently teaches directing seminars at UCLA and USC. 

Mary Myrtle Medearis (1915-2012) - Born in North Little Rock to a doctor and musician. Though she always considered herself a musician, Medearis was best known as the author of Big Doc's Girl (1942), a novel that has the distinction of having stayed in print longer than any other work of fiction by an Arkansan. Upon its publication in September 1942, Big Doc's Girl was praised in the New York Times Book Review, the Los Angeles Times, and scores of other publications. It was on the New York Times Bestseller List, and the Times also named it one of the 10 best books published that year. During a 1962 visit home to Arkansas, she discovered historic Washington and returned each summer until 1975 to visit and record stories told by locals. She moved to Washington permanently to write a book about the town. In 1976, she published Washington, Arkansas: History of the Southwest Trail. During this time, she also embarked on another career as a co-founding director of the Southwest Arkansas Regional Archives, located in the former Washington Elementary School adjacent to Historic Washington State Park. She held this position for 13 years. From 1993 to 1996, Medearis was the writer in residence for Ouachita Baptist University in Arkadelphia before moving to Saratoga Springs, New York, in the fall of 1996 to live in a retirement community for writers and artists. 

Charles Portis (b. 1933) - A native of El Dorado, Portis graduated from the University of Arkansas at Fayetteville. He wrote for several major newspapers before becoming a novelist. He is perhaps best known for his 1968 novel True Grit, a portrayal of Arkansas culture in the late 1870s. The novel sold to Paramount for $300,000. In the 1969 movie version, John Wayne won an Oscar for his performance in the role of Rooster Cogburn. 

Vance Randolph (1892-1980) - Kansas-born, folklorist Randolph led the way in preserving the traditions and lore of the Ozarks. Starting in 1927, Randolph authored his first "Journal of American Folklore" article and launched a lifelong study of mountain folk life. Throughout much of his life, Randolph supported himself with articles on timely subjects because his beloved folklore books did not pay well. During the 1950s Randolph authored a series of folk books, starting with "We Always Lie to Strangers," which finally brought recognition to the writer and assured him a place in history. He was awarded an honorary doctorate in 1951 from the University of Arkansas at Fayetteville and was the second president of the Arkansas Folklore Society when it was established in 1950. 

Miller Williams (1930-2015) - Born April 8, in the north central Arkansas town of Hoxie, Williams was not well known to the general public until he read his original "Of History and Hope" to a world-wide audience during the January 1997 inauguration of fellow Arkansas Bill Clinton as the 42nd annual president of the United States. Williams, now retired as University Professor of English and Foreign Languages from the University of Arkansas at Fayetteville, has written 33 books. These tomes range from a history of American railroads, translations from the works of Nicanor Parra and Guiseppe Gioachino Belli, critical works on John Crowe Ransom and John Ciardi to several on poetry. He is the recipient of numerous awards and honors from such institutions as Harvard University, American Academy of Arts and Letters, International Poetry Forum, and New York Arts. He and his daughter, singer-song writer Lucinda Williams, frequently perform a tandem gig entitled Poetry Said/Poetry Sung, during which he reads a poem and she sings one of her songs.
Famous Business Leaders
William T. Dillard (1914-2002) - The founder of one of the nation's most successful retail chains, Dillards Department Stores. He was born in Mineral Springs, the son of a country store owner. After graduating from the University of Arkansas and earning an M.A. from Columbia, Dillard gained experience in retail at Sears before opening his own department store in 1938. In 1960 he began his growth with the purchase of Tulsa's financially troubled Brown-Dunkin. Today headquartered in Little Rock, Dillards is one of the largest major department store chains in the country. 

Carolyn Horchow (1934-2009) - Founder, along with her husband Roger, of The Horchow Collection, the country's first mail order catalog for luxury items. She was born into a prominent North Little Rock family, the Pfeifers. Her great, great uncle Joseph Pfeifer founded Pfeifer's Department Store in 1865, of one the major stores on Little Rock's Main Street in its shopping heyday. Her father was owner of Mechanics Lumber in downtown North Little Rock. It is still in business today as One Source and is owned by her bother Eugene. 

J. B. Hunt (1927-2006) - J. B. Hunt (1927-2006) - Born near Heber Springs, he and his wife founded J.B. Hunt Transport at Lowell in 1961. The company has grown into one of America's largest and most successful transportation logistics companies. Named Arkansan of the Year in 1990, this trucking tycoon was inducted into the American Academy of Achievement in 1983. 

John H. Johnson (1918-2005) - Arkansas City native and publisher who founded Negro Digest in 1942, followed by Ebony and Jet magazines. These became the most powerful African-American owned media company in the United States. He also created Fashion Fair Cosmetics. Johnson was the first African-American to be named to the Forbes list of the 400 Richest Americans. He was awarded the "Medal of Freedom" by President Clinton on September 9, 1996. 

Paul Klipsch (1904-2002) - A resident of Hope for his adult life, he was the inventor of Klipsch speakers, which are regarded among the tops in the field by audio buffs. He is considered one of America's most celebrated audio pioneers because he revolutionized the way the world listens to recorded music. The Klipschorn®, which today is still manufactured and sold worldwide, proved it was possible to reproduce the sound of a live orchestra inside a home. Member of the Audio Hall of Fame, the Engineering and Science Hall of Fame. 

H.U. Lee (1936-2000) - Founder of the American Taekwondo Association (ATA) headquartered in Little Rock since 1977. Eternal Grand Master H.U. Lee was born in Manchuria, China on July 20, 1936. Beginning his martial arts training in 1953, he received his first degree black belt in 1954. In 1969, he founded the American Taekwondo Association (ATA) with Taekwondo schools opening all over the country. Eternal Grand Master Lee introduced the Songahm style of Taekwondo to the world on August 13, 1983 atop Songahm Mountain in Arkansas. The first group consisted of 300 masters and instructors Songahm #1 (white belt), Songahm #2 (orange belt), and Songahm #3 (yellow belt). Eternal Grand Master H.U. Lee is now heralded by the world to be the first and only Master in history to acquire the rank and honor of 9th degree Grand Master under public documentation. The H.U. Lee International Gate and Garden in downtown Little Rock honors the founder of the ATA. 



Koto Momolu (b. 1974) - Momolu was voted the fan favorite winner and was first runner-up when she participated in the Project Runway television show in 2008. Based in Little Rock, Momolu's rich fabrics and fashion reflect her homeland of Liberia. Her eye-catching creations fuse colorful lines with delicate designs, forming the core of what she calls her "Afro-chic" style. Momolu also has designer lines of handbags and jewelry. She was invited by the president of Liberia to come back to her native country and design an inaugural gown. 

Jack Stephens (1923-2005) - Born on a farm near Prattsville during the Great Depression, he became of the country's major power brokers through Stephens, Inc., the largest trading company outside of Wall Street, located in Little Rock. A quiet, unassuming man, he donated millions of dollars to worthy causes, including the University of Arkansas for Medical Sciences campus, the Delta Project, the U.S. Naval Academy, First Tee of Arkansas, and others. His personal art collection, of which he donated a portion of to the Arkansas Arts Center, has been recognized as one of the most important art collections in the country. He served as chairman of the Augusta National Golf Club, overseeing The Masters golf tournament. Member Arkansas Sports Hall of Fame. 

Don Tyson (1930-2011) - Former chairman of the board of Tyson Foods, Inc., based in Springdale, the largest poultry processing company in the country. Don Tyson also served as CEO for Eagle Distributing Inc. and several other businesses. 

Sam Walton (1918-1992) - Newport native and Walmart founder. Once listed as the richest man in America by Forbes Magazine, Walton opened his first Wal-Mart in 1962 in Rogers. When he died in April 1992, the chain of stores numbered more than 1,600 in 32 states and annual sales surpassed $44 billion. The Wal-Mart chain is the fastest growing retailer in the country. The Walmart founder's original "Five and Dime" store in Bentonville is now a museum and visitor center. 

Kemmons Wilson (1913-2003) - This Osceola native founded and opened the first Holiday Inn in 1952 in Memphis. In 1953 he formed Holiday Inns of America and served as chairman and chief executive officer until 1979. After retiring, he developed the world's largest time-share establishment, Orange Lake Country Club, which is located near Disney World. He is credited with revolutionizing the lodging industry by bringing affordable and comfortable lodging to millions. 

Ed Wilson (unknown) - Born and reared in Rison, is president of Chicago-based Tribune Broadcasting, which owns and operates 23 television stations and WGN radio in Chicago. He began with Fox Broadcasting Company in 2004 as president of the Fox Television Network. He left Fox in February 2008 to join Tribune. Wilson, who began his broadcasting career as sales manager at KATV, Channel 7, in Little Rock, served as president of NBC Enterprises from 2000 to 2004. Before NBC Enterprises, Wilson was president and CEO of CBS Enterprises and Eyemark Entertainment, overseeing syndication of shows "Everybody Loves Raymond," "Touched By An Angel" and "Martha Stewart Living" among others. In 1994 Wilson founded MaXaM Entertainment in partnership with A.H. Belo Corp. The company was sold in January 1996 to CBS. Wilson holds a bachelor's degree in finance from the University of Arkansas where he was named an Outstanding Alumni in 1007. Member of the Arkansas Entertainers Hall of Fame. 

Forrest Wood (b. 1933) - Born and raised in Flippin, he founded Wood Manufacturing Company and designed the Ranger Boat, America's No. 1 bass boat. He produced his first custom-built boat in 1968. Among his many accomplishments in the bass-boat manufacturing industry are the use of steel conduit to encase electrical wiring, level flotation -- now required in all small outboard boats by the Coast Guard -- aerated live wells to allow catch and release without harming fish and the use of powerful engines. The bass tournament arm of Wood Manufacturing -- the FLW Tour -- is named after him. Member of the International Game Fish Association (IGFA) Hall of Fame. The below photos is from his induction into the Arkansas Business Hall of Fame. 
Famous Historical Figures
John Hanks Alexander (1864-1894) - The second African-American to graduate from West Point and the first African-American officer with a regular command position in the United States Army. In 1894 he was selected to serve as professor of military science and tactics at Wilberforce University, an African American college in Ohio. 

Daisy Gaston Bates (1914-1999) - Born in Huttig, this African-American activist is known for her role as mentor to the Little Rock Nine during the 1957 Little Rock Central High School Desegregation crisis. During this time her home, which is now designated a National Historic Landmark, became the official pick-up and drop-off site for the students trips to and from school. Daisy continued to press for civil rights for African-Americans and later, along with her husband L.C. Bates, published an African-American oriented Little Rock newspaper, the Arkansas State Press. 

James Black (1800-1872) - A New Jersey-born and expertly trained silversmith, Black made his way to Washington, Arkansas during territorial days. He developed a unique process for knife blades and among his customers was James Bowie who reportedly carried a Black-made knife during the fall of the Alamo in 1836. Black was blinded while in his forties and never revealed his secret for tempering metal. He died at Washington, where a state park has recreated the Black blacksmith shop on the exact site of the original. 

Maurice "Footsie" Britt (1919-1995) - Professional football player, World War II hero and notable Arkansas politician who was born in Carlisle and raised in Lonoke. Nicknamed "Footsie" as a boy, Britt starred with the Detroit Lions until World War II. In the Army, he was the first soldier to win the four top medals for valor, including the Congressional Medal of Honor. Britt also received the Military Cross of the British Empire and the Al Valore Militare Merit from the Italian government. Wounded in four different battles, he lost his right arm and severely injured a foot. From 1967 to 1970, he served as the Arkansas Lieutenant Governor under Governor Winthrop Rockefeller. He later served as District Director of the Small Business Administration from 1971-1985. He is buried in the Little Rock National Cemetery. 

General William Orlando Darby (1911-1945) - Darby grew up at Fort Smith, attended West Point graduating in 1933. He became the leader of the unit that would gain fame as Darby's Rangers in the spirit of Rogers Rangers whose operations were successful during the Revolutionary War. The men of Lieutenant Colonel William O. Darby's 1st Ranger Battalion were all volunteers whose applications had been carefully screened when they were organized at Fort Smith in the summer of 1942. Darby's organization and leadership catapulted the Rangers toward the front where they distinguished themselves in combat from North Africa to Europe. He led the Rangers through four landings in the Mediterranean War -- North Africa, Sicily, Salerno and Anzio. He also led legendary campaigns in the mountains of Tunisia and Italy. Darby was killed by an artillery round on 30 April 30, 1945. He died at age 34 just a few days before VE Day. He is buried in the Fort Smith National Cemetery. 

Sonora Louise Smart Dodd (1882-1978) - This Jenny Lind native is credited with creating Father's Day, which was first observed in Spokane, Washington, in 1910 where she and her family then lived. Dodd wanted a special day to honor her father, William Smart, an Arkansas farmer and widower, who raised six children by himself. (He also was a member of The First Arkansas Light Artillery which was organized at Fort Smith and fought in the battle of Pea Ridge in 1862.) It wasn't until 1966 when President Lyndon Johnson signed a presidential proclamation declaring the third Sunday of June as Father's Day. In 1972 President Nixon established the permanent national observance of the holiday. 

David Owen Dodd (1846-1864) - On Christmas Eve 1863, David Owen Dodd traveled from Camden to Little Rock on family business, with his birth certificate and a pass to cross Union lines. Dodd left Little Rock on Dec. 29, and since he was headed back to Camden, he surrendered his pass to a Union soldier. He lost his way and ended up back behind Union lines. Officers detained him and discovered a small notebook containing a Morse-coded message with information on Union troops. He was tried and found guilty as a Confederate spy. When offered freedom for the name of an informant, he reportedly replied," I can give my life for my country but I cannot betray a friend." On Jan. 8, 1864 at age 17, David O. Dodd was hanged. He would become known as the "boy hero of Arkansas" and the "boy martyr of the Confederacy." 

Bill Doolin (1858-1896) - Founder of the Wild Bunch, which specialized in robbing banks, trains and stagecoaches in Arkansas, Oklahoma, and Kansas in the 1890s. Bill Doolin was born in 1858 on a farm in Johnson County north of Clarksville. Originally a member of the Dalton Gang, he formed his own gang around 1893 and the Wild Bunch became the premier terrorizers of the West until Doolin was captured in a Eureka Springs bathhouse by Deputy U.S. Marshall Bill Tilghman in January 1896. He later escaped federal custody and was shot and killed by U.S. Deputy Marshal Heck Thomas's posse near Lawson in Oklahoma Territory on August 24, 1896. 

Lawrence Brooks Hays (1898-1981) - London, Arkansas native who served as a United States Congressman (1943-1958). He later became special advisor to President John F. Kennedy, as well as a professor at Rutgers and Duke. A legendary storyteller, he was known for his gentle, self-mocking humor. Hays was one of the first laypeople to be elected as president of the Southern Baptist Convention in 1957. The most trying time of Hays' political career was during the Little Rock Central High School desegregation crisis of 1957–58. At the height of the conflict, Hays arranged a conference between President Dwight Eisenhower and Arkansas Governor Orval Faubus at Newport, RI. The meeting ultimately failed, however, after Faubus refused to remove the Arkansas National Guard and allow the famous "Little Rock Nine" to enroll at the school. His efforts to play peacemaker between state and federal officials cost him his seat in Congress. He is buried in Russellville's Oakland Cemetery. 

Jimmy Lile (1933-1991) - Known as The Arkansas Knifemaker, this famed Russellville craftsman was known worldwide for the quality of his work. Lile was the creator of the original "Rambo First Blood" and "Rambo II the Mission" knives that were actually used in the first two "Rambo" movies. Lile is the inventor and craftsman of the patented "Lile Lock" folding knife, which is proudly on display at the Smithsonian Institute. Other famous owners of his work include John Wayne, Peter Fonda, Fess Parker; actress Bo Derek; and singer-songwriter Johnny Cash. 

General Douglas MacArthur (1880-1964) - He was born in the Tower Building of the Little Rock Arsenal while his father was its commandant. He rose to become a five-star general in the U.S. Army and Supreme Commander of Allied Forces in the Pacific during World War II. He accepted the Japanese surrender in 1945. His accomplishments include: first in class at West Point; Superintendent of West Point; Army Chief of Staff; U.S. Far East Commander; Congressional Medal of Honor recipient; Supreme Commander for the Allied Powers; and first UN Commander. The building where the general was born, the Officer's Quarters, is located in downtown Little Rock's MacArthur Park and now serves as home to the Arkansas Museum of Military History. He was the first Arkansas to appear on a U.S. postage stamp (January 26, 1971). 

Carrie A. Nation (1846-1911) - Carrie, also known as Carry Amelia Nation, became the most famous member of the Women's Christian Temperance Union founded in 1874. Her dislike of alcohol probably came from a brief marriage to an alcoholic in the late 1800s. She was nearly six feet tall and weighing 180 pounds and became a formidable force while wielding her hatchet. Kiowa, Kansas was where Nation went to work with the hatchet in the name of temperance in 1900. She was arrested 30 times between 1900 and 1920 while leading her ladies on their crusade. According to some sources, prize fighter John L. Sullivan was reported to have run and hid when Nation burst into his New York City saloon. Later in life she moved to Eureka Springs where the home she lived in became known as "Hatchet Hall." Across the street from the structure is a spring named for her. Nation collapsed during a speech in an Eureka Springs park and was transported to a Leavenworth, Kansas hospital where she passed away on June 9, 1911. 

Little Rock Nine (Various) - In September 1957, nine African American students – Melba Pattillo, Elizabeth Eckford, Ernest Green, Gloria Ray, Carlotta Walls, Terrence Roberts, Jefferson Thomas (1942-2010), Minnijean Brown and Thelma Mothershed -- made history by braving a hostile crowd to reach the front door of Little Rock Central High School, the site of the first important test of the groundbreaking Brown v. Board of Education of Topeka decision. The violence that ensued forced the police to remove the students for their own safety. On Sept. 25, they returned to Central under the presidential-ordered escort of the U.S. Army 101st Airborne Division and became a part of Civil Rights history. Little Rock Central High School is now a National Historic Site as well as a working school. The Little Rock Central High Museum is located across the street from the school and a life-size memorial to the Little Rock Nine is located on the north end of the Arkansas State Capitol grounds. 

Judge Isaac C. Parker (1838-1896) - He was an attorney, a congressman and later appointed a U.S. Judge by President Grant in 1875. He earned the moniker "Hanging Judge" during his 21 years on the bench in the Western District, which included Arkansas and Indian Territory (now Oklahoma). In his Fort Smith courtroom, he heard more than 13,000 cases. More than 9,000 defendants pleaded guilty or were convicted. Of these, 344 were tried for capital offenses and 160 were sentenced to hang. Only 79 were actually hanged. Parker in later years said, "It was not I who hung them. I never hung a man. It was the law." He is buried in the Fort Smith National Cemetery. 

Albert Pike (1809-1892) - Soldier, teacher, lawyer, explorer, newspaperman, and poet. Pike was born in Boston, Massachusetts and later moved to Arkansas in 1831. Pike served as a member of the territorial legislature and captain of the cavalry squadron in the Mexican War in 1846. He also served as Indian Commissioner for the Confederacy and led a brigade of Cherokee Indians at the Battle of Pea Ridge in 1862. The major work of his career was writing the philosophy of Freemasonry. He lived on the Little Missouri River and later in Little Rock. 

Bass Reeves (1838-1910) - The first black commissioned United States deputy marshal west of the Mississippi River, Reeves was born to slave parents in July 1824 in Paris, Texas. Freed by the Emancipation Proclamation, the six-foot-two, 190-pound former slave left the Indian country and bought land near Van Buren. Isaac C. Parker was appointed judge for the Federal Western District Court at Fort Smith on May 10, 1875, to bring law to the Indian Territory. One of his first official acts was to swear in a United States marshal and appoint 200 deputies to curb the lawlessness in the area. Reeves was recruited because he knew the tribal languages and country well. Dependability and devotion to duty were the benchmarks of Reeves's service to the government. Many of the district courts asked for Reeves because of his reliability in serving warrants. The deputy's respect for the law was legendary. In 1992, Bass Reeves was inducted to the National Cowboy Hall of Fame, located in Oklahoma City. 

John Smith Thach (1905-1981) - John Smith Thach was one of the most influential naval aviators of the mid-twentieth century and is credited with the creation of the Thach Weave, one of the most significant tactical advances in the history of aerial combat. He was awarded the Navy Cross and Distinguished Service Medal for developing this tactical maneuver, which remains a standard of military aviation. Thach was born in Pine Bluff and graduated from the US Naval Academy. The guided missile frigate USS Thach was commissioned in his honor in 1984. Rising to full Admiral over the next decade, Admiral Thach was Commander in Chief, U.S. Naval Forces, Europe, from March 1965 until shortly before his retirement in May 1967. 

C. Vann Woodward (1908-1999) - Born in Vanndale, this eminent historian of the American South was one of the first to recognize what has come to be called the Southern Literary Renaissance. Woodward won the 1982 Pulitzer Prize for "Mary Chesnut's Civil War," an annotated interpretation of a diary by one of the Confederacy's leading women. His first major work was "Tom Watson: Agrarian Rebel," a 1938 biography of an agrarian reformer who became a race-baiting demagogue, a conversion that as Woodward saw it helped doom Populism as a political movement. Woodward was perhaps best known for his 1955 book, "The Strange Career of Jim Crow," which Martin Luther King called "the Bible of the civil rights movement." Modern Library in 1999 ranked the book No. 70 on its list of the century's 100 best English-language works of nonfiction. The book evolved from research Woodward did in 1953 for the NAACP's brief in its case, Brown vs. Board of Education, in which the U.S. Supreme Court later overturned legal racial segregation. Woodward demonstrated that blacks and whites in the South had lived on relatively equal terms until the late 19th century, and that so-called Jim Crow segregation laws were products of only one generation. In October 1998 Woodward was prominent among the more than 400 historians who issued a statement that the impeachment proceedings against President Clinton had no historical precedent and could dangerously undermine of the U.S. Constitution's principle of separation of powers. 
Famous Politicians 
Dale Bumpers (1925-2016) - This Charleston lawyer rose from obscurity to defeat Orval Faubus in the 1970 Democratic primary for governor, then won out over the popular Republican incumbent, Winthrop Rockefeller. After two terms in office, the ex-marine defeated the formidable J. William Fulbright, then chairman of the Senate Foreign Relations Committee. In 1983, the liberal Senator declined to enter the Presidential race but was frequently mentioned as a possibility for the vice-presidency. He retired from the U.S. Senate at the end of 1998. 

Hattie Caraway (1878-1950) - She moved to Jonesboro with her husband, Thad, in 1902. She was appointed to the U.S. Senate in 1931 to succeed her husband who died in office. When that term ended, she became the first woman ever elected to the U.S. Senate and served until 1945. She was the first woman to preside over the Senate, first woman Senate Committee chairman, first woman senior Senator, and first woman to conduct a Senate Committee hearing. She continued to make history when on February 21, 2001 she became the first female Arkansan to ever appear on a postage stamp. She is buried in Jonesboro and her gravesite was listed on the National Register of Historic Places in 2007. 

Eldridge Cleaver (1935-1998) - This Wabbaseka native was a well-known political activist in the 1960s. He wrote Soul on Ice (1968), an autobiographical work that explored the black psyche, and Soul on Fire(1978). He was one of the original members of the Black Panthers along with Huey P. Newton and Bobby Seale and became their chief spokesman. 

William Jefferson Clinton (b. 1946) - 42nd President of the United States who was elected to two terms (1992 and 1996). Clinton was born in Hope and grew up in Hot Springs. He was a Rhodes Scholar at Oxford University in England and graduated from Yale Law School. He taught law at the University of Arkansas in Fayetteville before being elected as the state's attorney general (1976-78). He was then elected Governor of Arkansas, an office in which he emphasized education reform and economic development (1978-80, 1982-93). 

Orval Faubus (1910-1994) - This six-term governor who was born in Combs served longer than any man in Arkansas history (1954-67). He defied the 1957 court order to desegregate public schools when he called in the National Guard to keep African-American students from entering Little Rock Central High School. In response, President Dwight Eisenhower federalized the Arkansas National Guard and sent in U.S. Army paratroopers. After six consecutive two-year terms, he tried unsuccessful comebacks in 1970, 1974 and 1986. After retirement, he built a million-dollar mansion overlooking Huntsville, which was designed by Fayetteville architect, E. Fay Jones. 

J. William Fulbright (1905-1995) - He moved to Fayetteville in 1906 when he was one year old; graduated from the University of Arkansas. He was appointed president of the university in 1939, making him the youngest university president in the country. He held the post until 1941. First elected to Congress in 1943, served as a U.S. Senator from 1945 to 1974. As Senator, he established the prestigious Fulbright Fellowship program, which provided for the exchange of students and teachers between the United States and foreign countries. He also introduced the Fulbright Resolution which laid the groundwork for support for the formation of the United Nations. As longtime chairman of the Senate Foreign Relations Committee, he became the first prominent congressional critic of the Vietnam War in 1966. He is interred in the Fulbright family plot at Evergreen Cemetery in Fayetteville. A bronze statue on the University of Arkansas main campus pays homage to him. 

John L. McClellan (1896-1977) - This Sheridan native was a U.S. Senator from 1943 until his death in 1977. He was responsible, along with Senator Robert Kerr of Oklahoma, for the Arkansas River Navigation Project. This $1.2 billion project made the river navigable to oceangoing vessels as far up-stream as Tulsa. The 1950s televised Senate subcommittee hearings on labor racketeering drew the attention of millions of Americans and earned him the reputation as a crime fighter (Robert Kennedy served as Chief Counsel). Before his death, he helped draft, with Senator Edward Kennedy, a comprehensive revision of the U.S. Criminal Code. 

Wilbur Mills (1909-1992) - Born in Kensett, this Congressman served from 1939 to 1977 in the U.S. House of Representatives. As chairman of the House Ways and Means Committee (1958-1974), he was influential in determining taxation, Social Security, tariff, and welfare policies. In the early 1970s he was considered one of the most powerful members of Congress. 

Martha Mitchell (1918-1976) - Born and raised in Pine Bluff, she was married to John Mitchell, attorney general for President Richard Nixon and a principal in the Watergate scandal. Her relentless insistence that there had been a cover-up kept the controversy going. Nixon has said that "without Martha, there would have been no Watergate." After her death, the city of Pine Bluff renamed a thoroughfare in her honor and declared her childhood home a landmark. She is buried in Pine Bluff's Bellwood Cemetery. 

David Hampton Pryor (b. 1934) - Pryor served in the Arkansas House of Representatives (1961-67) and the U.S. House of Representatives (1967-73). He also served two terms as governor (1975-79) and 18 years as a U.S. Senator, retiring in 1996. Pryor was born in Camden. In late 2003 he became the first dean of the University of Arkansas's Clinton School of Public Service on the campus of the Clinton Presidential Center and Park in Little Rock. 

Joseph T. Robinson (1872-1937) - Born near Lonoke, Robinson became one of Congress' great leaders and the first Arkansan on a national ticket. Robinson served as Congressman (1902-12), Governor (1913), U.S. Senator (1918-37), Senate minority leader (1923), Democratic nominee for Vice-President (1928) and Senate majority leader (1933-37). He is buried in Roselawn Memorial Park in Little Rock. 

Winthrop Rockefeller (1912-1973) - Though born in New York City, Rockefeller adopted Petit Jean Mountain as his home following World War II. Rockefeller became the first Republican elected governor of Arkansas since the Civil War. A member of one of the nation's wealthiest and most prominent families, he served as governor of Arkansas from 1967-1971. During his tenure, he obtained approval of the first statewide minimum wage law and helped outlaw casino gambling in the state. 
Famous Athletes
Hubert Eugene "Geese" Ausbie (b. 1938) - He played college basketball at Philander Smith College in Little Rock where he earned All-Conference and All-American honors. He later gained fame as a member of the world-famous Harlem Globetrotters. During his 24 years with the Globetrotters, he earned the moniker "Clown Prince of Basketball" for his dazzling playing and his irrepressible pranks on the court. He received a Globetrotters Legends ring, a recognition given to only a few elite former players. He retired from the team in 1985, but returned in 1995 to become the head coach/manager of basketball operations for the Globetrotters. He makes his home in Little Rock. 

Lou Brock (b. 1939) - This El Dorado native is considered the greatest base stealer of his era. After three seasons with the Chicago Cubs, Brock joined the St. Louis Cardinals in 1964 and fueled their World Series victory. During his 19-year career, the outfielder stole an unprecedented 938 bases, a record that stood until 1991. Brock earned the Roberto Clemente and the Jackie Robinson Awards, among others. He was inducted into the Baseball Hall of Fame on the first ballot in 1985. 

Paul "Bear" Bryant (1913-1983) - Born in Moro Bottom and raised in Fordyce, Bryant picked up his nickname when, as a youth, he wrestled a bear at the Fordyce Theater. He was the head coach of the University of Alabama's Crimson Tide from 1958-1983 and is the second-most winningest college football coach with 323 victories and six national championships. Five weeks after retiring as head coach, he died of a heart attack. 

William "Bill" Carr (1909-1966) - Bill Carr ran only three open 400-meter races in his life. He beat the world record holder and bettered the listed record each time. He won the gold medal in the 400 meters and ran the anchor leg on the 1,600-meter relay team that set a new world record and won the gold medal at the 1932 Olympic Games in Los Angeles. The Pine Bluff native achieved all of this during his only full season of varsity competition while at the University of Pennsylvania. 

Mike Conley (b. 1962) - Noted triple-jumper whose best is 59-7, when he won the Olympic golf medal in 1992 in Barcelona, Spain. He attended the University of Arkansas where he was a nine-time NCAA champion and served as an assistant coach to head coach John McDonnell. 

John Daly (b. 1966) - Professional golfer from Dardanelle who became an overnight celebrity by winning the 1991 PGA Championship. He played golf at Dardanelle High School and the University of Arkansas in Fayetteville before joining the professional circuit. In 1995, he won the British Open along with other PGA championships including the 2004 Buick Invitational. He is best known for being one of the tour's longest hitters. 

Jay Hanna "Dizzy" Dean (1911-1974) - Born in Lucas, this Baseball Hall of Fame pitcher (aka Jerome Herman Dean) won 150 games, mostly for the St. Louis Cardinals as part of the Gas House Gang. In 1934 he won 30 games, a record that went unbroken for 34 years. He was a hero and role model for many poor, rural Arkansas youngsters during the Depression. He later became a popular sportscaster and was elected to the National Baseball Hall of Fame in 1953. His number 17 was retired by the Cardinals in 1974. More info: www.dizzydean.com/

William Malcolm "Bill" Dickey (1907-1993) - This Baseball Hall of Fame member was a catcher for the New York Yankees from 1928-1946. In 1936 Dickey set a major league record which still stands for batting average by a catcher when he hit .362. He drove in 133 runs in 1937, a mark that still has not been surpassed by an American League catcher. He later served as the Yankees manager, coach and scout. He was inducted into the National Baseball Hall of Fame in 1954. 

Dave "Hawg" Hanner (1930-2008) - Born in Parkin, Dave "Hawg" Hanner was an American football player, coach and scout for the Green Bay Packers. He began his football career with the Arkansas Razorbacks. Hanner, who played defensive tackle from 1952 to 1964 for Green Bay, won two NFL championships and two Super Bowls. He was also selected for two Pro Bowls. On September 27, 1959 he has a recorded safety that helped the Packers beat Chicago 9-6. He was honored by Green Bay with "Hawg Hanner Day" on November 18, 1962. Following his playing career, Hanner became the defensive line coordinator for Green Bay. Once Dan Devine took over as head coach, he promoted Hanner to defensive coordinator. In 1975, Hanner became the assistant head coach and defensive coordinator. In 1982, he became Green Bay's quality control assistant. He transferred into a scout role until he retired in 1996. Hanner suffered a heart attack and passed away on September 11, 2008. 

Torii Hunter (b. 1975) - A native of Pine Bluff, Hunter is an outfielder for the Detroit Tigers. Known for his acrobatic "climbing the fence" defense where he has robbed many hitters of a home run. He has won nine consecutive Golden Glove Awards signifying the best outfielder in the game. Hunter is involved in many charities, including the Torii Hunter Project Education Initiative, which provides college scholarships to students in Arkansas, California, Minnesota and Nevada, and the funding of the Torii Hunter Baseball, Softball and Little League Complex, located next to the University of Arkansas at Pine Bluff campus. Because of his philanthropic work, he was awarded the 2009 Branch Rickey Award. 

Charlie Jones (1930-2008) - Born in Fort Smith, Arkansas, Charlie began his career at ABC in 1960 broadcasting American Football League games. He moved to NBC in 1965 continuing to broadcast AFL games, later moving over to the National Football League. He worked NFL games until 1997 when NBC lost NFL broadcasting rights. Jones was also involved, while at NBC, with the 1988 Summer Olympics, 1986 FIFA World Cup, 1992 Summer Olympics and 1996 Summer Olympics as well as golf and Wimbledon. He was also a play-by-play announcer for the Cincinnati Reds and Colorado Rockies. In 1997, Jones was awarded the Pro Football Hall of Fame's Pete Rozelle Radio-Television Award. He also received an Emmy Award in 1973 for his part as writer, producer and host of the documentary, "Is Winning the Name of the Game?" Jones earned an undergraduate degree at the University of Southern California and a law degree at the University of Arkansas. Jones died at age 77 in San Diego, California of a massive heart attack. 

Jerry Jones (b. 1942) - Millionaire owner of the Dallas Cowboys football team hails from the Rose City community in North Little Rock. He attended the University of Arkansas where he played as an offensive lineman for the 1964 NCAA National Championship Razorbacks. He is also a successful businessman in the oil and gas industry. 

George Kell (1922-2009) - This Hall of Fame third baseman, who was born in Swifton, played for the Detroit Tigers (1943 - 1957) and won the American League batting title in 1949. He later became a sportscaster for Detroit ball games. A long-time resident of Swifton, he was inducted into the National Baseball Hall of Fame in 1983. Kell passed away on March 24, 2009. 

Cliff Lee (b. 1978) - This Benton native is a former University of Arkansas Razorback baseball player. He was a fourth-round draft pick in 2000 by the Montreal Expos. Lee fought his way back after injuries relegated him to the minor leagues in 2007. In 2008 he posted a 22-win, three-loss season and was named the American League Cy Young Award winner in a landslide vote by the Baseball Writers' Association of America with 24 of 28 first-place votes and a total 132 points. Lee and his family make their home in Benton. 

Charles "Sonny" Liston (1932-1970) - Nicknamed "the Bear" for his massive physique, Liston was born in the small St. Francis County community of Sand Slough; he won the world heavyweight boxing championship by knocking out Floyd Patterson in the first round on September 25, 1962; Liston held the title until February 25, 1964 when he lost the title to Cassius Clay who later became Muhammed Ali. Inducted into the International Boxing Hall of Fame in 1991 

Mark Martin (b. 1959) - Racecar driver on the NASCAR Circuit who was born and raised in Batesville. He cut his teeth on the many dirt tracks around The Natural State before making it big on the Winston Cup (now Sprint Cup) series. Martin was inducted into the Motorsports Hall of Fame of America in June 2015. 

Jerry McKinnis (b. 1937) - This nationally renowned fishing expert had aspirations of playing major league baseball growing up. As a minor league player in the 50s, McKinnis saved enough money to pay for a trip to the world-famous White River in the Arkansas Ozarks. He had the great fortune to draw Forrest Wood as his fishing guide. "By the end of the trip, he had me ready to pack my stuff and move to Arkansas." (Wood went on to found Ranger Boats.) McKinnis began his television career by doing short fishing reports for KATV-Channel 7 in Little Rock. The show blossomed into popular syndicated program and in 1979, McKinnis convinced then fledging ESPN to air his show. The Fishin' Hole aired on the network from 1980 to 2007, second only to Sports Center in longevity. He currently owns JM Associates production company in Little Rock. Member Arkansas Entertainers Hall of Fame. 

Sidney Moncrief (b. 1957) - Born in Little Rock on September 21 1957, "Super Sid" Moncrief's impact on Arkansas basketball cannot be measured. Moncrief led the University of Arkansas's trio known as "The Triplets" along with Head Coach Eddie Sutton to the 1978 Final Four, which ended in a win in the NCAA Consolation Game versus #6 Notre Dame. The All-American Razorback became one of Arkansas's greatest and most popular basketball players. Moncrief went on to play 11 seasons in the NBA, and was one of the most highly regarded NBA players of the 1980's. While playing with the Milwaukee Bucks, he was named Two-time NBA Defensive Player of the Year (1983 and 1984), Four-time All-NBA First Team, Five-time NBA All-Defensive Team, and Five-time All-Star. 

Wallace "Wally" Wade Moon (b. 1930) - Born in Bay (Craighead County), Moon was signed by the St. Louis Cardinals as an amateur free agent in 1950. In 1954, Moon homered in his first major league at-bat en route to batting .304 and winning the Rookie of the Year award over Hank Aaron. He peaked with 24 home runs in 1957, but was traded to the Los Angeles Dodgers after a .238 showing in 1958. "Moon shots" were what the home runs were called that left-handed-batting Moon sent over the 42-foot wall, a mere 250 feet down the Los Angeles Coliseum's left-field line with his inside-out swing. Though he didn't hit many of them, the newly arrived Moon hit them early in 1959, and his resourcefulness seemed to capture the spirit of the ragtag bunch that took the Dodgers from seventh place to the World Championship. Appropriately, he scored the last run ever in the Coliseum. In 1959, baseball writers gave Moon more Most Valuable Player votes than Willie Mays. A fine defensive outfielder, he won a Gold Glove in 1960. 

Chris Mortensen (b. 1951) - Chris Mortensen, an award-winning journalist and reporter that covers the National Football League, joined ESPN in 1991. He appears on ESPN's Sunday NFL Countdown, Monday Night Countdown, SportsCenter and annual NFL Draft coverage. He has also contributed to Outside the Lines. He and his wife Micki live in Bella Vista. 

Ben Pearson (1898-1971) - Industrialist - Tournament Archer - Bowhunter - Exhibition Shooter: Ben Pearson was born in a log cabin near Paron. In 1926, while working for Harvey Couch as a rural electrification specialist, Pearson developed an interest in archery after reading a Boy Scouts magazine. In 1933 or '34, Pearson left AP&L in 1931 to pursue a career in archery. With the financial backing of Carl Haun in 1937, Ben was able to utilize his knowledge of electricity and mechanics to become the first to industrialize and mass-produce archery equipment. The Ben Pearson Company would become the world's largest manufacturer of archery equipment from the late 1930s thru the late 1960s. In the 1950s, the company also became the third-largest producer of mechanical cotton pickers. Pearson is widely known for his famous bow hunts and shooting exhibitions, which he performed across the state and country. He is one of the founding members of The National Archery Hall of Fame (1972), Arkansas Bowhunters Hall of Fame and The Arkansas Outdoor Sportsman's Hall of Fame. Pearson is also a member of the National Bowhunters Hall of Fame, The National Sporting Goods Industry Hall of Fame and The Arkansas Sports Hall of Fame (1999). In 1967, Pearson received the Compton Medal of Honor, which is the National Archery Association's highest award. 

Scottie Pippen (b. 1965) - Scottie Maurice Pippen was born September 25, 1965 in Hamburg. He graduated from the University of Central Arkansas, and is a former professional basketball player who played in the National Basketball Association (NBA). Pippen is most remembered for leading the Chicago Bulls, together with Michael Jordan, to six championships and for being one of the best all-around players of all time. He played briefly with the Houston Rockets and the Portland Trail Blazers before returning to the Chicago Bulls where he retired in 2004. The Chicago Bulls retired Pippen's jersey number "33" on December 9, 2005. Inducted into the Naismith Memorial Basketball Hall of Fame in 2010. Member Arkansas Sports Hall of Fame.

Brooks Robinson (b. 1937) - Known for his fielding, Robinson is considered by many as the best third baseman to ever play baseball. He played his entire career for the Baltimore Orioles (1955-77). Robinson, a native of Little Rock, won 16 Gold Glove Awards, more than anyone else in the sport. He was named the American League's MVP in 1964. He was inducted into the Arkansas Sports Hall of Fame in 1978 and the National Baseball Hall of Fame in 1983. 

Elwin Charles "Preacher" Roe (1915-2008) - Professional baseball player, born in Ash Flat; one of the famed Brooklyn Dodgers "Boys of Summer" during the 1940s and 50s along with Jackie Robinson, Duke Snider and Gil Hodges; known for his hardball and his questionable spitball. He came by his unusual nickname at age three when an uncle returning from WWI, seeing his nephew for the first time, asked him, "What's your name, young man?" He replied "Preacher." Between 1951 and 1953, he won 44 games and lost eight. 

John Franklin "Johnny" Sain (1917-2006) - Born on September 25, in Havana, Sain was a part of the one-two Sain and Spahn pitching punch for the Atlanta Braves, especially in 1948. "Spahn and Sain and pray for rain," was the Braves' motto for that season when they won their first pennant since 1914. Sain led the National League that year with 24 wins, 39 starts, 28 complete games and 314 innings. He also led the league in many pitching categories in 1948, and finished second in the Most Valuable Player balloting. He was known as a great control pitcher and was a 20-game winner four times with the Braves. He was later traded to the New York Yankees where he was used more in relief than as a starter, and led the American League in saves in 1954 with 22. After his playing career was over, Sain became a highly respected pitching coach during the 60s and 70s. He was inducted into the Braves Hall of Fame on August 13, 2002 and the Brooklyn Dodgers Hall of Fame in 1993. Sain has the distinction of being on the mound when Jackie Robinson made his National League debut with the Dodgers on April 15, 1947. 

Clyde Scott (1924 - 2018) - A Smackover native, Scott played college football at Arkansas and Navy between 1944-48. Lettered at the University of Arkansas between 1946 and 1948. He was an All-Southwest Conference player for all three years and the Razorbacks' first three-time all-SWC player. Played pro football with the Philadelphia Eagles and Detroit Lions; inducted into the College Football Hall of Fame in 1971. Scott won the Silver Medal in the 110 meter high hurdles during the 1948 London Olympic Games and five months later was selected to an All-American football team representing the University of Arkansas. As a Razorback, he won the 1948 NCAA high hurdles championship and set school records in the 100-yard dash, 120-yard high hurdles, 220-yard low hurdles, and 440-yard relay. Voted the number 30 of the 50 Greatest Sports Figures from Arkansas by Sports Illustrated in 1999. 

Pat Summerall (1930-2013) - Although not a native, Summerall is an adopted Arkansan because of playing football at the University of Arkansas at Fayetteville. Born in Lake City, Florida, he was a basketball, football, baseball and tennis star in high school. He was an all-state selection in both football and basketball, but recruited by the University of Arkansas to play football. Summerall was a defensive end, tight end and placekicker for the Razorbacks from 1949-51. After graduation from the U of A (to which he returned in later years to get a masters degree), he was drafted by the Detroit Lions in 1952 though due to injury, he never played a down for them. He was traded to the Chicago Cardinals, then the New York Giants where he made his greatest contribution to pro football. During the 1959 season, he was 30 for 30 on extra-point attempts and 20 of 29 on field-goal attempts. After football, he became one of the best-known voices in sports journalism, pairing with John Madden for NFL broadcasts. During his legendary career, Summerall received many honors: National Sportscasters and Sportswriters Association Hall of Fame; recipient of the Pete Rozelle Radio-Television Award by the Pro Football Hall of Fame, and a member of the American Sportscasters Association Hall of Fame. A member of the Arkansas Sports Hall of Fame, Summerall lent his name to the annual ASHOF golf tournament, a fund-raiser for the museum. One unique area is the Pat Summerall Broadcast Booth, which allows museum-goers to view a tape, then pop on a headset, record their own play-by-play calls and then take the tape home.. 

Barry Switzer (b. 1937) - Former head coach of the former Super Bowl Champion Dallas Cowboys was born in Crossett and played on the 1964 NCAA Championship Razorback football team. He was the head football coach at the University of Oklahoma (1973-1989) where he won three national championships and was named the 1973 Coach of the Year. In 1990, he authored the autographical book Bootlegger's Boy. 

Reese "Goose" Tatum (1921-1967) - Harlem Globetrotter's first "funny man," he was born in Calion. As a ninth-grader at El Dorado's Washington High School, he began what would become a successful basketball career. He played for the Globetrotters from 1941-1954 before forming his own team, the Harlem Road Kings. He managed the Road Kings until his death. Tatum's #50 was retired by the Globetrotters, and the entire Globetrotters team was enshrined in the Basketball Hall of Fame. 

Hazel Walker (1914-1990) - Considered one of the greatest women basketball players to ever play the game; native of Oak Hill just outside Ashdown; played three seasons with the All-American Red Heads before leaving to start her own barnstorming club: Hazel Walker's Arkansas Travelers. Playing up to six nights a week against male competition, the Travelers proved their ability as players, winning over 85 percent of their games. The Travelers played a total of 16 seasons before Walker decided to retire in 1965 at the age of 50. Inducted into the Women's Basketball Hall of Fame in 2001.