Arkansas on Page and Screen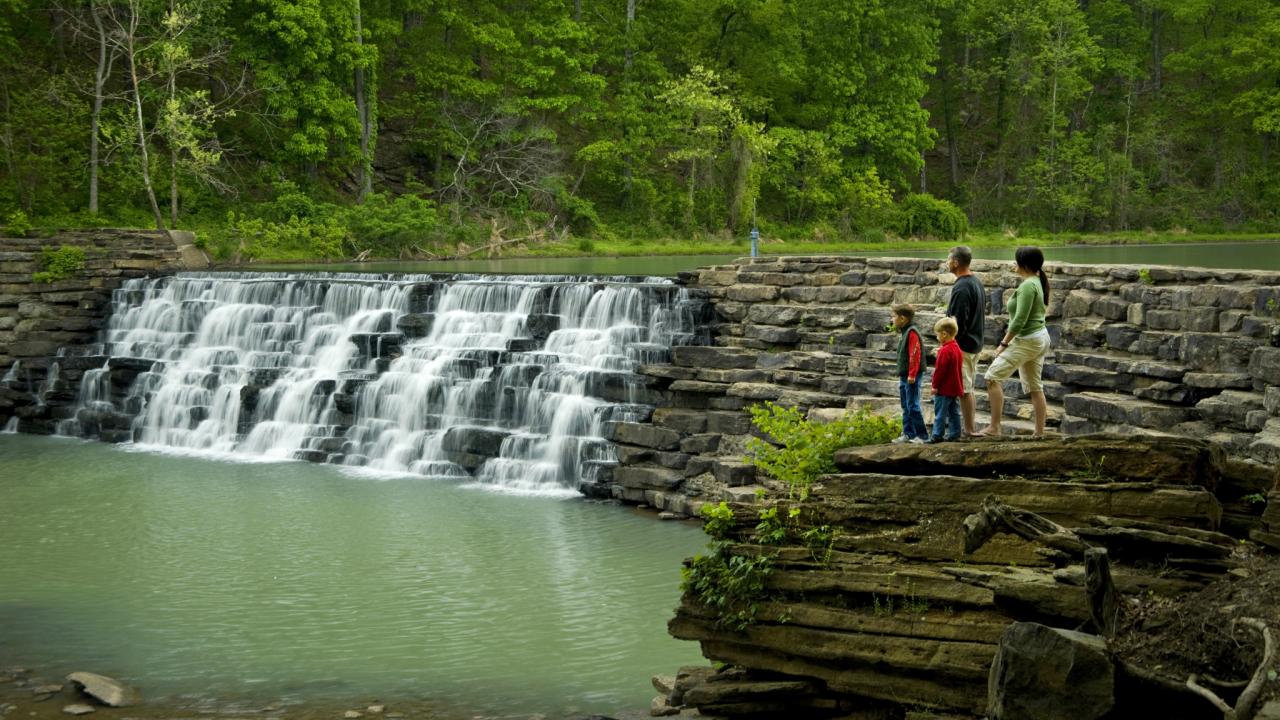 Need more entertainment during your quarantine to flatten the curve of the coronavirus? Here are some Arkansas related books, movies, television shows and documentaries to enjoy. They not only entertain, but also provide a glimpse of Arkansas landscapes, culture and history that you can visit in the future.
True Grit
A native of El Dorado, Charles Portis is perhaps best known for his bestselling 1968 novel "True Grit," a portrayal of Arkansas culture and the Wild West in the late 1870s. You can read or watch this one.
The story involves Rooster Cogburn being hired by Mattie Ross, a 14-year-old girl from Dardanelle, to track down her father's killer and return him to Fort Smith to be hanged by Judge Isaac Parker. Cogburn is the famous fictional Deputy U.S. Marshal made popular by John Wayne in the movie of the same name some 50 years ago. He won his only Oscar for the role. Other cast members included Arkansas's own Glen Campbell, Robert Duvall and Dennis Hopper. In 2010, a new film adaptation directed by Oscar-winning filmmakers Joel and Ethan Coen was released nationwide, starring Jeff Bridges as Cogburn, plus cast members Matt Damon and Joh Brolin.
When life gets back to normal, consider a drive along the True Grit Trail. You'll find signage along the AR 22 route between Dardanelle and Fort Smith.
True Detective
The critically acclaimed HBO crime drama True Detective is macabre at its heart. In its third season, the show depicts the lives of two detectives following a trail of missing children across Arkansas's small towns and backroads.
The landscape it's filmed in becomes a beautiful character in the story, despite the heavy subject. It's easy to see why the show's creator and director, Nic Pizzolato, wanted it filmed in Northwest Arkansas. He is a graduate of the University of Arkansas at Fayetteville, and knows this territory well.
From the beauty of the Ozark Mountains to the entertainment district of a college town, these locales are road trip worthy when the world is ready for that again.
Minari
In search of the American dream in the 1980s, a Korean American family moves to an Arkansas farm, where they encounter the challenges of a new life in a strange and rugged Ozarks land. They also discover the undeniable resilience of family and what really makes a home.  Minari earned six Oscar nominations, including for best picture, in 2021.
Calico Joe
Mixing fact and fiction, "Calico Joe" is John Grisham's first baseball novel. It's about a nearly fatal pitch and its implications 30 years later on both the batter and the pitcher. The batter is Joe Castle, known as "Calico Joe," because he is from Calico Rock, Arkansas. His hometown plays a role in the story since it's where he ends up after his baseball career is over.
Waiting for you when the pandemic has passed is this still small town that can give you a feel for Calico Joe's life. Here you can walk a quaint main street, visit a ghost town, and fish the White River.
A Soldier's Story
Shot completely in Arkansas, including scenes filmed in Clarendon, Little Rock and at Fort Chaffee, "A Soldier's Story" was nominated for three Academy Awards, including Best Picture. It co-starred a young Denzel Washington. The movie is about Capt. Richard Davenport, who is sent to Louisiana to investigate the murder of a black Army master sergeant in 1944.
In the future, visit Fort Chaffee's historic district, which showcases a unique piece of Fort Smith's rich history by offering a walkable showcase of America's military history that begins with WWII. Located within the 7,000-acre Chaffee Crossing development, the historic district is integrated within a budding, modern urban community that offers residential spaces, restaurants, recreational and entertainment venues, retail shops, and more.
Some of the historic district's key features include: Chaffee Barbershop Museum, where Elvis Presley received his famous first G.I. haircut; Fort Chaffee Barracks Museum; Museum of Chaffee History; Vietnam Veterans Museum; River Valley Nature Center; Maness School House; Enchanted Chapel; Enchanted Doll Museum. 
Elizabethtown
This movie has a lot of star power - Orlando Bloom, Kirsten Dunst, Susan Sarandon, Alec Baldwin and Jessica Biel, along with writer/director Cameron Crowe. The story follows an aspiring young shoe designer who is down on his luck.
A portion of it was shot in Eureka Springs, including a brief glimpse of the Christ of the Ozarks statue. Eureka Springs is a cool art town with lots of Victorian architecture, great restaurants and bars, and hiking and mountain bike trails.
Indians, Outlaws, Marshals and the Hangin' Judge
Larry Foley's latest documentary, "Indians, Outlaws, Marshals and the Hangin' Judge," tells the story of the wild and violent frontier days in and around Fort Smith, Arkansas and Indian Territory, when Judge Isaac C. Parker sentenced more than 100 men to die on the gallows.
Visit all the sites mentioned in the documentary with a future trip to Fort Smith. Hot Springs, Fayetteville and a trip to iconic Buffalo National River are detailed in other documentaries: "The First Boys of Spring," "The Buffalo Flows," and "Up Among the Hills-the Story of Fayetteville."
Other notables:
Donald Harrington is an Arkansas author with books based in his home state, including "The Pitcher Shower" and "South of Little Rock."
Author Phillip W. Steele of Springdale specialized in folklore of the Ozarks region, history of the Cherokee Nation, outlaws and lawmen of the Ozarks region, Hanging Judge Parker's Fort Smith court, Civil War in the Ozarks, the Mountain Meadows Massacre, the James-Younger Gang, and other Western subjects.
For more Arkansas book and movie ideas go to Arkansas.com or click here to view the Southwestern portion of the state and here for the Delta.