Must See
Arkansas Bucket List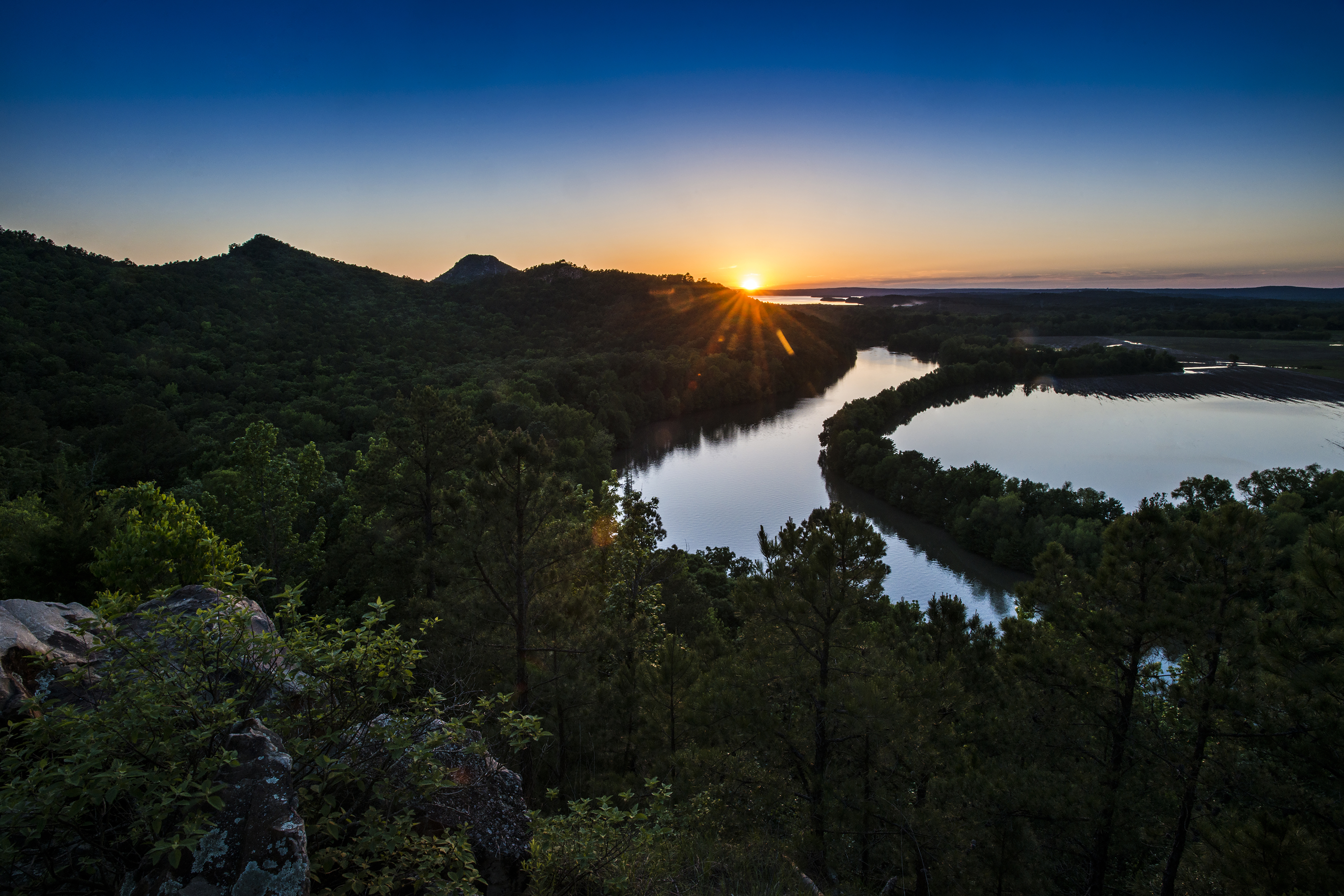 For people unfamiliar with The Natural State, a frequent question is "What are the must-see attractions?"  Even those who have general knowledge of the state ask "What should I not miss while in Arkansas?" Ask no more. We've made it easy for you!
Northwest
Arkansas Air and Military Museum: Airplane enthusiasts will enjoy the vintage aircraft, including pre-World War II racing planes in flying condition, aeronautical memorabilia, and a gift shop housed in a historic hangar at Fayetteville's Drake Field. 
Arkansas and Missouri Railroad: Travel over the Boston Mountains aboard beautifully restored turn-of-the-century cars, passing over three high trestles and through the 1882 Winslow tunnel. Three regular excursions are offered: Springdale to Van Buren, Van Buren to Winslow and Fort Smith to Winslow.
Arkansas Scenic 7 Byway: Scenic 7 runs from the Louisiana border to Bull Shoals Lake near the Missouri state line, passing through both Ouachita and Ozark Mountains. Resorts, attractions and scenic overlooks are found along the way. Car and Driver magazine named a portion of Scenic 7 Byway as one of the top 10 driving experiences in the U.S. and it's a popular route for motorcycling adventures.
Bass Reeves Statue: A 25-foot work of art honors the illustrious lawman, believed to be the first black U.S. deputy marshal west of the Mississippi. Reeves, born into slavery, served for 32 years under Federal Judge Isaac C. Parker. This larger-than-life monument is fitting for a man whose legendary exploits made him one of the most feared lawman in the Indian Territory.
Bella Vista Arts & Crafts Festival takes place the third weekend in October.  This Northwest Arkansas show has high quality arts and crafts, always hand-made. Since beginning in 1969, the festival has steadily grown in size and reputation.  All proceeds benefit the Village Art Club scholarship program, children's art programs, continuing education for artists/artisans, and festival partners.  Admission is free.  
Blanchard Springs Caverns: Ranked among the most beautiful underground discoveries of the 20th century, this is the only developed cave system operated by the U.S.D.A. Forest Service. Lighted walkways lead to stunning formations and massive rooms, one as large as six football fields. Wild Cave Tours are for the more adventuresome. Nearby, Blanchard Springs Recreational Use Area provides scenic campgrounds, picnic areas, hiking trails, natural spring and trout lake.
Buffalo National River: The country's first national river (1972), the scenic Buffalo flows roughly 150 miles and offers premier whitewater floating in the Arkansas Ozarks. Flanked by soaring limestone bluffs, beautiful vistas and wilderness area, the river offers fishing, rock climbing and wildlife watching, including the state's elk herd. Numerous outfitters for canoeing, rafting, horseback riding and fishing service the river. 
Crystal Bridges Museum of American Art: The brainchild of Walmart heiress Alice Walton, this is a premier art institution with a permanent collection of American art masterworks from colonial era to modern day and touring collections from national art institutions. A rare Frank Lloyd Wright structure, the Bachman Wilson House, has been disassembled at its New Jersey location to be reconstructed on museum grounds.
Daisy Airgun Museum: Located in historic downtown Rogers in what is probably best known to locals as the old Rexall drug store building, circa 1890s. Exhibits depict the company's history, airguns, advertising and other memorabilia. 
Eureka Springs: This quaint Ozark mountain town preserves turn-of-the-century architecture and features fine dining, shopping, antiquing, spas, historic hotels, art galleries and museums. It's packed with attractions such as Blue Spring Heritage Center and Gardens, caves, Turpentine Creek Wildlife Refuge, live music and magic shows, and Eureka Springs & North Arkansas Railway dinner train excursion rides. It has been named one of America's Dozen Distinctive Destinations by the National Trust for Historic Preservation and is great for romantic getaways in the South.  The Great Passion Play has been viewed by more than 7.7 million people since it opened in 1968 and continues to draw crowds.
Fort Smith National Historic Site: The site embraces the remains of two frontier forts and the Federal Court for the Western District of Arkansas. The historic courthouse, Hell on the Border jail, Judge Isaac C. Parker's courtroom and gallows where justice came at the end of a rope, comprise the site. Exhibits and videos also focus on U.S. Deputy Marshals, outlaws, Federal Indian policy, and the Trail of Tears. . The entire downtown is on the National Register of Historic Places. 
Greers Ferry Lake: Nestled between Clinton and Heber Springs, Greers Ferry is the third largest lake in Arkansas's Ozark Mountains at 31,500 surface acres. Campgrounds, lodging, resorts and championship golf courses are trademarks. The Little Red River emerges icy-cold from Greers Ferry Dam, providing excellent trout fishing. The former world-record brown trout (40 pounds, four ounces) was landed on the Little Red in 1992. 
Lake Dardanelle State Park: Visitor center features exhibits on the lake, the Arkansas River and its tributaries; four large aquariums and touch-screen kiosks with information on the park, area water resources and history. Facilities also include a fishing weigh-in pavilion, designed to accommodate major fishing tournaments, and campsites.
Lake Fort Smith State Park:  Campsites, a group lodging facility, picnic sites, pavilion, marina with boat rentals, swimming pool, and visitor center with gallery are found at this popular destination.
Mammoth Spring State Park: The spring flows at an average hourly rate of some nine million gallons of 58-degree water. It creates a 10-acre lake before becoming Spring River, a popular year-round canoe and fishing stream. The park includes a restored 1886 Frisco Depot with exhibits and a "crew" of workmen and passengers depicting the early 1900s, trails, picnic sites, playgrounds, and Arkansas Welcome Center.
Mark Martin Museum: Museum honoring the Batesville native, one of "The 50 Greatest NASCAR Drivers of All Time." Includes several of Martin's past cars, racing mementos including around 100 trophies and several of Martin's racing helmets and fire suits. 
Mount Magazine State Park: A luxury 60-room lodge with indoor swimming pool and hot tub, Skycrest Restaurant, conference center, fitness center and gift shop. Thirteen full-service cabins with fireplaces and covered decks with hot tubs. All lodging facilities have views of the Petit Jean River Valley and Blue Mountain Lake below.  Located atop the highest point in Arkansas at 2,753 feet, the park offers hang gliding, rappelling, rock climbing, horseback riding, camping and hiking.
Mount Nebo State Park: Native stone and logs from Mount Nebo were used by the Civilian Conservation Corps to construct many of the bridges, trails, rustic-style cabins and pavilions in the 1930s. It offers campsites and 14 fully-equipped cabins.  Historic Cornwell House contains exhibits about legacy of the mountain, including the teachers college, the grand resorts, the CCC, and the Cornwell Family.  
Museum of Automobiles: Founded by the late Arkansas Governor Winthrop P. Rockefeller, the facility is the home to the only two Climber Touring Cars known to still exist, one of which is on display. More than 50 vehicles are featured dating from 1904 to 1967 with most vehicles before 1950.
Ozark Folk Center State Park: Mountain View is the home of the only park in America devoted to the preservation of Southern mountain folkways and music. It showcases furniture making, quilting, blacksmithing, tintype photography, woodcarving and other crafts. Concerts feature songs and instruments from America's past. Also here are restaurant, lodge, conference and visitor centers, gift shop.
Pea Ridge National Military Park: The site of one of the largest Civil War battles west of the Mississippi River, Pea Ridge marks the successful culmination of the Union's effort to secure control of the Missouri and Mississippi rivers and protect the arsenal at St. Louis. This made easier the supply of General Grant's Vicksburg campaign. It encompasses 4,300 acres and includes a self-guided tour with 10 stops featuring wayside exhibits, including Elkhorn Tavern, plus a visitor center, museum and bookstore. 
Prairie Grove Battlefield State Park: The 1862 Battle of Prairie Grove was the last time two armies of almost equal strength faced each other for supremacy in northwest Arkansas. When the Confederate Army withdrew, it was clear Missouri and northwest Arkansas would remain in Federal hands. Today, the park's historic homes are featured on a self-guided walking and driving tours. Visitor center has a gift shop, museum and bookstore. Pavilions, a picnic area and a playground are also at the park.
Shiloh Museum of Ozark History: Dedicated to the study, interpretation and preservation of the rich history of the Arkansas Ozark Mountains, the museum offers lectures, films, classes, tours and frequently changing exhibits of interest to adults and children. Beautiful park-like grounds showcase six historical buildings.
Thorncrown Chapel: Designed by Arkansas native E. Fay Jones, a nationally honored and recognized architect, the chapel soars skyward from an Ozark woodland. Extensive use of glass and wood beams makes nature an integral part of the structure. The chapel was chosen in 2001 as one of the Top 10 Designs of the 20th Century by The American Institute of Architecture. It has also won the institute's Design of the Year for 1981 and Design of the Decade for the 1980s.
Turpentine Creek Wildlife Refuge: With more than 450 acres and 130+ exotic cats, this is one of the largest big cat sanctuaries in North America. Lions, cougars, tigers, leopards, bears and other wildlife are displayed in large natural habitats surrounding the main compound enclosures and gift shop. Each animal has a story plaque for self-guided tours. On-site is the Safari Lodge, RV Park & Campground. 
Van Buren Downtown Historic District: Located along a beautifully restored Victorian Main Street, the district is composed of six blocks of art galleries, antique shops, restaurants and attractions. Shoppers can search for offer hard-to-find collectibles, one-of-a-kind gifts, original art, local Ozark crafts, home decoratives and extraordinary antiques.
The Walmart Museum: The origin and growth of the nation's largest corporation is encapsulated at this Bentonville museum housed in the building that gave birth to the retail giant. In 1962, Sam Walton opened his first discount store in Rogers at 8th and Walnut streets and had 25 employees. Today, Walmart is the world's largest retailer. 
War Eagle Crafts Fair: Each October War Eagle hosts one of the largest crafts fairs in the country. Arts and crafts exhibitors from Arkansas and surrounding states come to sell their wares. Customers come from all over the U.S. Blanche Elliott and a group of fellow weavers founded the original fair over 50 years ago as a means to preserve and display the skills and traditions of Ozark craftspeople. Over the years, the rural site (historic War Eagle Mills Farm) has attracted coverage from The New York Times and Southern Living.