12 Things to be Thankful for in Arkansas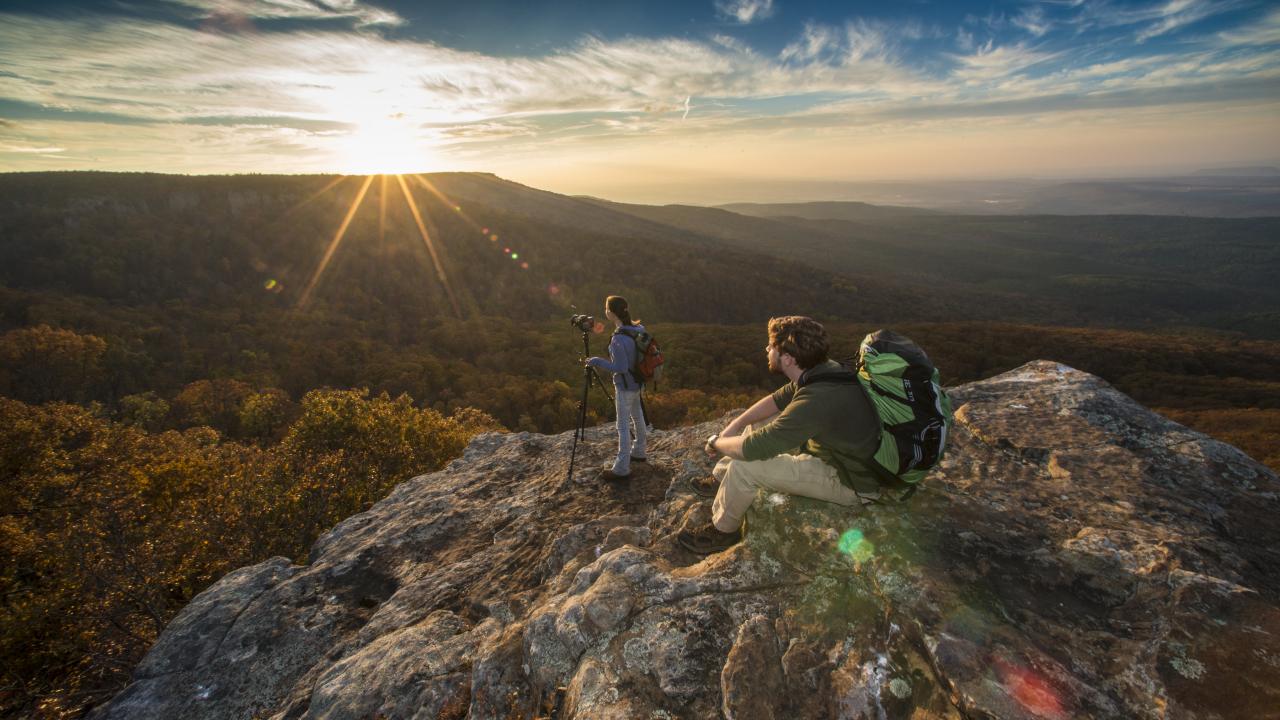 It's the time of year when Americans gather together for not only a big hunk of turkey slathered in gravy, mashed potatoes, stuffing, green bean casserole, cranberry sauce and pumpkin pie, but also to give thanks for the good things in their lives. In the spirit of Thanksgiving, here's a list of 12 things Arkansans can be thankful for regarding The Natural State.
1. Arkansas State Parks
Arkansas's 52 state parks are located on mountaintops, on the pristine shores of sparkling lakes, alongside rivers and at other scenic or historic locations. The parks offer endless fun and outdoor adventure, such as camping, fishing, boating, swimming, hiking, backpacking, horseback riding, tennis, golf, bird watching, sight seeing, rock climbing, hang gliding, caving, kayaking, mountain biking, river running, snorkeling and digging for real diamonds – just to name a few.  Historic parks, archeological sites and museums are also part of the park system. Visit ArkansasStateParks.com for details, maps, photos, videos and to book lodge rooms or cabins online.
2. Wild and Scenic Rivers
Allowed to remain as Mother Nature intended, the Buffalo National River in northern Arkansas provides a beautiful space for hiking, horseback riding, canoeing, caving, fishing, wildlife watching and much, much more. Primarily to keep it from being dammed, the Buffalo River was designated by Congress as America's first national river more than 30 years ago.
Along the Buffalo, the National Park Service oversees 95,730 acres with three designated wilderness areas. Tall limestone bluffs in earthy hues of gray, tan and brown are defining features of the Buffalo. Sometimes with calm water and sometimes with a furious rush of whitewater, the river wends its way 135 miles through the lush green valley that is home to elk, deer, black bear and other woodland creatures. It is a prime example of one of the last free-flowing streams of the Ozark region. Over the years, millions of people have taken advantage of this landscape that is still free, wild, natural.
Renowned as the best whitewater float stream in mid-America, the Cossatot River begins in the Ouachita Mountains south of Mena in western Arkansas. Flowing southward, it passes through the Cossatot River State Park/Natural Area, which preserves a 12-mile stretch of the stream. Located in this area is Cossatot Falls, a rugged and rocky canyon that challenges the most experienced canoeists and kayakers with its Class IV and V rapids. When the water is high, the paddlers are here. This National Wild and Scenic River is a watershed basin with flow levels dependent on rainfall.
3. Watchable Wildlife
Now through late February is the time to see Trumpeter Swans on Magness Lake near Heber Springs. Or head to Ponca and at dawn and dusk you'll see herds of majestic elk grazing in the fields. Bald eagles spend their winter months on Arkansas's lakes and rivers. More than 300 avian species visit The Natural State during the appropriate season and more than 155 documented species of butterflies reside here. Butterfly season begins in March and depending on weather can extend through early December. Butterfly enthusiasts favor Mount Magazine State Park, the Rick Evans Grandview Prairie Wildlife Management Area and Camp Robinson Wildlife Management Area. Plenty of other wildlife roams the land. For guide books and additional information check out AGFC.
4. Unique Museums
History in The Natural State encompasses a president of the United States, a literary icon, notorious gangsters, a famous entertainer, natural resources, the Wild West and more. Consider visiting the Clinton Presidential Library and Park in Little Rock, Smackover's Arkansas Museum of Natural Resources State Park, the Hemingway-Pfeiffer Museum and Educational Center in Piggott, Lakeport Plantation in Lake Village, Gangster Museum of America in Hot Springs, Old State House Museum in Little Rock, Fort Chaffee Barbershop Museum in Fort Smith… And the list goes on at www.Arkansas.com.
5. Trails for Hiking, Biking and Horseback Riding
From day hikes to multi-day backpacking across the Ouachita or Ozark mountains, Arkansas has numerous outdoor opportunities to suit the novice to expert outdoorsman. Arkansas offers hundreds of miles of hiking and backpacking trails. Additionally, some trails are legendary among mountain bikers. Arkansas also offers equestrian facilities and guided, horse riding trails. For a complete listing of campsites, hiking and horse trails, mountain bike and ATV roads, plus floater's information on whitewater streams, explore Arkansas.com.
6. Scenic Byways
Wherever you're headed in Arkansas, there's plenty of scenery to enjoy along the way whether you're driving through the Ouachita and Ozark mountains, shadowing the Mississippi River or riding atop a Delta prominence known as Crowley's Ridge. Detailed information on each of Arkansas's scenic byways can be found on www.Arkansas.com.
7. Arkansas Show Caves
Bearing names like Mystic, War Eagle, Crystal Dome, Cosmic, Spanish Treasure, Blanchard Springs and other flights of imagination, eight of these living caves currently are open to visitors. Each cave is distinctly different. With an average year-round temperature ranging from the upper 50s to lower 60s, depending on the cave, Arkansas's limestone caves are comfortable to explore any time of year.
Visitors who venture below ground will find glistening fossils; popcorn, flowstone, helictite, stalagmites, stalactites, and other formations; sometimes narrow passageways; and deep pools that are home to blind salamanders. There are vast rooms glittering with massive formations as well as tiny niches which might hold just one corkscrew-like piece of geological history. Check with cave operators before planning a visit to find out about hours of operation and accessibility.
8. Game and Fish
Arkansas is a hot bed of action for hunters and anglers. Choose from 600,000 acres of lakes and 9,700 miles of fishable streams. Fishing for trout is a year-round sport on the North Fork, White, Little Red and Spring rivers. There are nine species of bass, plus walleye, catfish, crappie, bream and other game fish. The state's liberal seasons for deer and small game attract hunters. Duck hunting in Arkansas ranks with the best in the world. The Natural State even has restricted hunts for black bear and elk. You can purchase your fishing and hunting licenses online through AGFC.
9. Trail of Holiday Lights
Delighting your sense of sight as communities across the state are decked out in their holiday finest to create the Arkansas Trail of Holiday Lights. What you can you find on the trail in addition to the lighting displays? Parades, dining, music, ice skating, angelic choirs, old-time open houses, special shopping opportunities and, of course, Santa's arrival.
10. Artists of Arkansas
The Natural State is blessed with a plethora of artists who grace the state with incredible works of art. These talented artists of visual arts, music and dance entertain us and enrich our lives and homes while bringing recognition to our state. Art is celebrated at the annual Artosphere festival in Fayetteville, Eureka Springs's month-long May Festival of the Arts, The Unexpected outdoor murals in Fort Smith, gallery walks in Hot Springs, during spring and fall arts and crafts shows in the Ozarks and other destinations throughout Arkansas.
11. Festivals and Events
Delve into the excitement of an Arkansas festival and find yourself experiencing the heart of Arkansas. Each region of the state celebrates its unique heritage and history through events that bring people together for fun, food and fellowship. Festivities often revolve around food, music, animals, heritage and races (cardboard boats to toads).
12. Southern Hospitality
Arkansans are, on the whole, gracious and hospitable. Whether lending a helping hand to another or investing in the community by building attractions such as Crystal Bridges Museum of American Art or restoring a historic hotel, Arkansas is the great place she is because of her people.