Caves, Caverns, Spelunking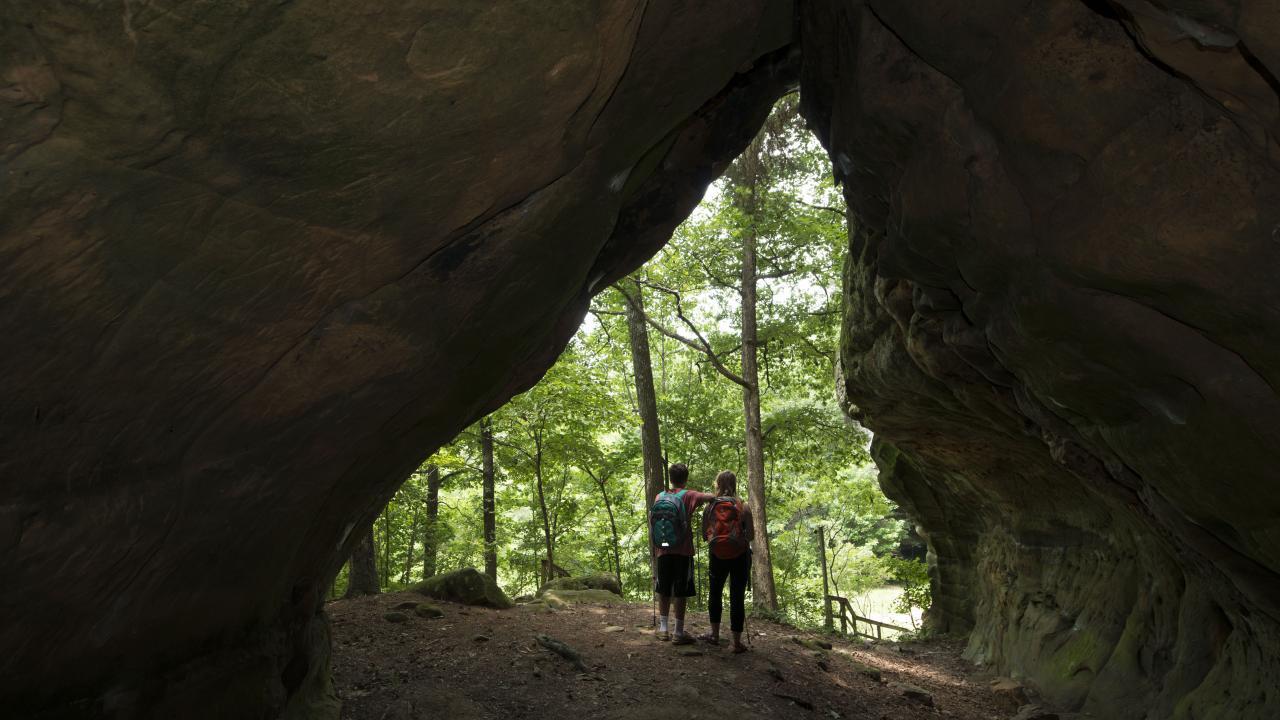 Those who explore the natural wonders of the Arkansas Ozarks--miles of unspoiled forests, lakes, rivers, and much more--might not realize there is another wilderness just beneath the surface. Below scenic mountains, lush valleys, and clear-running streams is an often dazzling underworld--the limestone caves of the Ozarks.
Visitors who venture beneath the surface will find subterranean lakes and streams, mazes, crystals, fossils, cave creatures such as blind trout and salamanders, and an array of formations with names like flowstone, helictite, stalagmite and stalactite.
Most of the Arkansas caves come with a story, usually about how the cave was discovered.
Around some swirl legends and ghost tales. Still others recall the days when saber tooth tigers and ancient tribes used the caves for shelter or when desperados used the caves to hide from lawmen and from fellow criminals.
Wild Caving
In addition to guided tours in show caves, Hurricane River Cave, Cosmic Caverns, War Eagle Cavern and Blanchard Springs Caverns offer guided wild caving tours for the physically fit. Hikers exploring the mountains near the Buffalo National River may also encounter wild caves such as the Lost Valley Trail Cave that houses a 35 foot waterfall.
Some wild caves in the Ozark Mountains require permits or guides for entry. Hikers may also come across cave openings with grated entries. These grates are designed to protect the endangered species whose year-round homes are in the Arkansas caves. 
"Living" Caves
All of the Arkansas tour caves are "living." This means the formations, which result when minerals are deposited by dripping water, are still changing. The caves are wet and frequently muddy.
Inside temperatures, although varying from cave to cave, remain the same year-round in each cave, usually ranging from the upper 50s to low 60s. In the summers, the coolness inside is a welcome relief from the warm Ozark sun, while in the winter, the cave interior feels warm. Normally, a light jacket is all that is needed for comfort.
Arkansas Cave Access & Hours of Operation
​
Of the nearly 2,000 documented caves in north Arkansas, eight are privately-owned, commercial tour caves open to the public. The U. S. Forest Service operates Blanchard Springs Caverns near Mountain View.
Access to the caves varies. Some of the entrances are steep, with stairways or ramps that lead into the interior. Inside there are varying degrees of access, with some level and some uneven walkways, narrow passageways, stairs and ramps. Visitors with questions about access should check with cave operators or group tour planners before entering a cave.
Some caves in Arkansas are open throughout the year, although days of the week vary by season. Others are open only from spring until fall for people who wish to go cave spelunking. Some offer other attractions, such as museums, gift shops, a reconstructed mountain village, and more, right on site. Admission is charged at all the caves in Arkansas.
Arkansas Tour Caves
Go Spelunking
Enjoy cave spelunking and exploring? Arkansas is well known for its many caving opportunities. One of our caves was even showcased in the IMAX film Journey into Amazing Caves.
A few have been developed as tour caves while many others still remain relatively unexplored. One way to see our caves is in their natural state at one of Arkansas' state parks, where you can often find a cave tour guide to take you on a guided exploration. You can also camp in these state parks and enjoy a whole weekend of outdoor adventures in one trip.
The Buffalo National River allows you to explore some caves with a cave tour guide, including Eden Falls Cave at Lost Valley.
Many other wild Arkansas caves exist around the state though some openings may have grated entries. These grates are designed to keep people out in order to protect the endangered species whose year-round homes are in the caves.
Cave spelunking requires special equipment and experience so the best route to learning the ropes is to join a grotto club.
These clubs represent local groups of cavers who spelunk, share trip reports and also plan caving trips, which are a great introduction to the sport. There are many grottos across the state that go by the N.S.S. conservation guidelines and promote the aspect of safe caving and preservation of the outdoors. Information can be found at www.caves.org.
Also find out about the famous Arkansas cave house, located in the Ozark Mountains, where you can host a wedding, dance or reunion inside an actual cave!

Make plans to travel to one of these caves for an underground adventure and experience everything Arkansas has to offer.