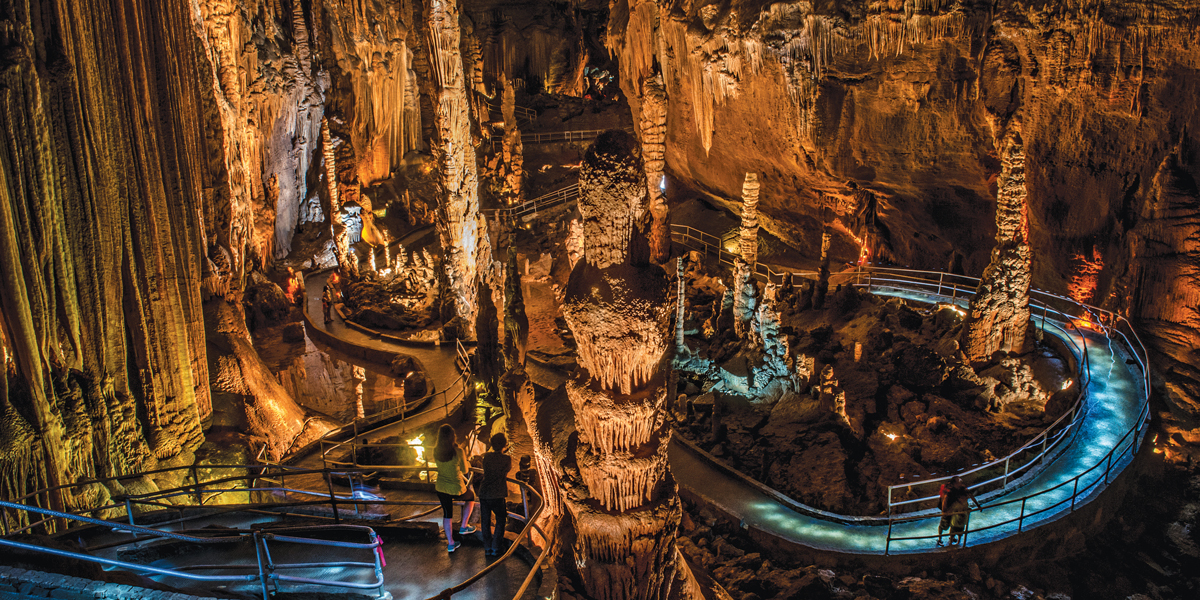 Uniquely North Central
The diversity of the North Central Arkansas landscape provides endless adventures. Take time to enjoy all the opportunities for outdoor recreation, witness the wonders of underground caverns, cast a line at Bull Shoals Lake or try trout fishing on the White River, enjoy nature on a classic hiking trail or pick up the pace on miles of IMBA EPIC mountain bike trails. Visit a state park to experience Ozark mountain life through interpretive programs and event or check out the local museums. There's something for everyone in North Central Arkansas.
1. Blanchard Springs Caverns, in the town of Fifty-Six, offers several subterranean trips and guided tours. The caverns stay at a nice, constant 58 degrees every day of the year, so visitors can admire the incredible rock formations regardless of the weather.
2. Norfork Lake has more than 550 miles of shoreline and covers some 22,000 acres. Boating, water skiing, fishing and swimming are extremely popular on the lake. Commercial docks on the lake have boats, motors, guides. In addition to parks for camping, there are many resorts offering accommodations, some with private docks, swimming pools and other recreational amenities. Almost all varieties of fresh water game fish are found in the lake. The North Fork River below the dam is a popular and productive trout fishing stream, and the Norfork National Fish Hatchery is available for tours.
3. On the White River, fishing is king. Cast for record-breaking trout, float or seek a swimming hole along this sinuous stream for outdoor adventures you'll never forget.
4. As America's first National River, the 135-mile Buffalo National River has long held a place in the hearts of locals and visitors alike. Soaring bluffs, sun-soaked gravel bars and a mix of swift and serene water make the stretch of the Buffalo in North Central Arkansas a must-visit attraction for canoe and kayak paddlers.
5. Despite its size, Hardy impresses with three museums, live summer concerts and an array of festivals throughout the year celebrating everything from cars to homesteading.
6. The Spring River is a treasured Ozark float stream fed by Arkansas's largest spring, the Mammoth Spring. Mammoth Spring was declared a National Natural Landmark in 1972.
7. The Jacob Wolf House Historic Site is located near the White River in Norfork (Baxter County). The site preserves and promotes the 1829 territorial building that is documented as being the oldest public structure in Arkansas.
Attractions in North Central