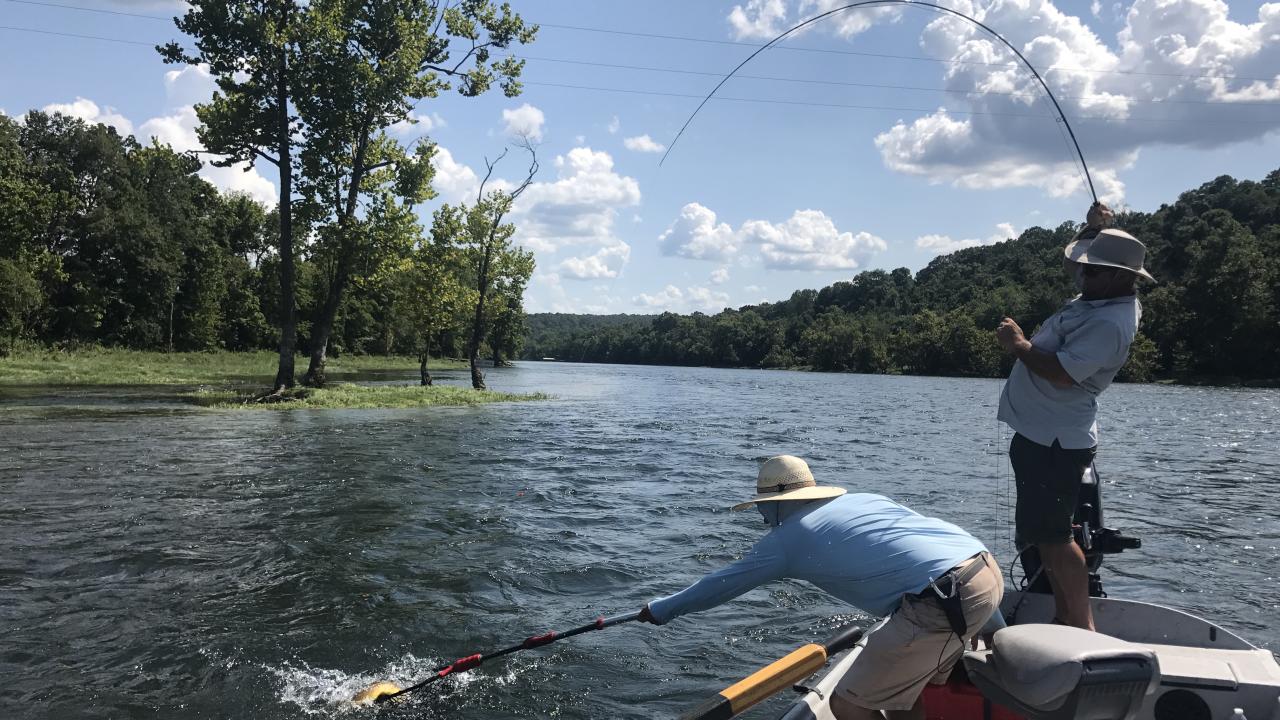 Trout are not native to The Natural State, yet Arkansas is famous beyond its borders for its outstanding trout fisheries.
The fish were introduced starting in the late 40s when U.S. Army Corps of Engineers dams were built on several Arkansas rivers for flood control and hydroelectric power generation. To mitigate the loss of warm water fisheries, trout were stocked in the newly created and cold tailwaters.
Today, more than 1.5 million trout are stocked annually in Arkansas. You can cast a line in Arkansas trout waters for rainbow, brook, brown, cutthroat, golden rainbow, and tiger trout. While browns can reproduce and there is some evidence that a couple of the other trout species may be able to as well, the trout fisheries are sustained by stocking.
Trout Waters
Trout fishing action is found in the tailwaters of Beaver, Bull Shoals, Norfork, Greers Ferry, and Greeson lakes and the Ouachita River. Additionally, the Spring River, originating from Mammoth Spring with a flow of 9 million gallons of water hourly, is cold enough for trout at a constant 58 degrees Fahrenheit.
The White River is one of the most popular trout streams, particularly below Bull Shoals Dam and on the North Fork of the White River below Norfork Dam. The Little Red River below Greers Ferry Dam is another hot spot.
Anglers hit the waters with fly rods or spinning rods, wading or fishing from a boat. Many people rent boats or guide services.
Maps with marked public access walk-in points can be found on the Arkansas Game and Fish Commission website — AGFC.com. These maps also show boat access, catch and release areas, shoals, handicap access, and more. Phone numbers to call for water generation information at each fishery are also on the map.
When fishing cold trout waters below Arkansas dams be aware of water generation. Water flows are driven by hydro-electric demand and flood control. Listen for a horn to blow when generation starts. However, always be aware of water depth and move to the bank if you see the water is rising. It rises quickly and you don't want to get caught in a swift current on the wrong side of the river.
Flies/Baits/Lures
Poplar baits for spin rods include live worms, marshmallows and corn, power bait, and zig jigs. For fly anglers, the nearest fly shops to the river you are fishing is the best place to find out what flies the fish are biting on as it can change with the seasons and from day to day.
Regulations & Licenses
Trout regulations differ across the state. Particularly pay attention to size limits, harvest limits, tackle restrictions, and catch-and-release areas. Also note sections that are closed to fishing during spawning season. AGFC fishing regulations can be found online at www.agfc.com/en/fishing/general-fishing-regulations/. You can buy your fishing license and trout stamp online too.
Tips for safe handling of trout
Avoid touching fish with dry hands or a towel.
Keep the fish in the water as long as possible; only take it out to remove the hook and take a quick photo.
If the hook is embedded in the fish, cut the line and release the fish.  Don't try to rip the hook out.  Many fish can survive, and later pass, a hook that is embedded.
Don't play the fish for an excessive amount of time.  Land it as quick as possible and release.
If fishing during the spawning season, avoid trampling on redds, which are areas of cleared gravel where trout spawn.
The reward for a day fishing is time well spent in nature, no matter what you land on the end of your line.