The Zip Lines at Ouachita Bend
For those unfamiliar with "zipping," the activity involves soaring through the air by a cable suspended above an incline, to which a pulley and harness are attached for a rider.
One option for thrill seekers is the Zip Lines at Ouachita Bend, located between Hot Springs and Malvern.
This seven line course criss-crosses high above a valley and is interspersed with hiking trails from one line to another. On average, the lines there are about a thousand feet in length.
"I think zip lining is a fairly new adventure," says Cindy Smith, who owns the Zip Lines at Ouachita Bend with her husband Bruce. "Many people come to the zip lines to mark things off their bucket list or to overcome their fear of heights. It gives you a feeling of flying and a rush of adrenaline."
Guides that are trained in ACCT (Association for Challenge Course Technology) criteria, lead each tour. Smith says what makes her facility stand out is the length of the lines, the transit speed, and the hike in-between. "Each one of the lines is different," she adds,"each has its own personality."
Each segment on the sky-born path is named for an animal that has been seen on the property. One is called Big Bear. "The construction crew saw a bear while they were building the course, plus they had to haul the cable over their shoulders across valleys and ridges, so it was also a 'big bear' to pull the cable," says Smith.
The high-rise path, which opened in 2012, was built on land the Smiths already owned. "We have three sons and so my husband and the boys have hunted out here forever," says Smith. "But they didn't ever hunt on this section because of the topography."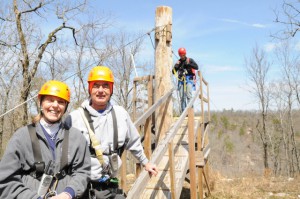 Smith says the airborne enterprise was inspired when the in-laws of one of her sons came home talking about a zip line encounter they had enjoyed. "My son also says he was sitting in a deer stand and fell asleep and dreamed about zip lines… so he called my husband and he said the southeast corner of the property would be perfect for this. It took about a year and a half to build."
An arborist was hired to check out the trees for suitability. Then a structural engineer reviewed the plans and assisted with the project. The Zip Lines at Ouachita Bend were also a family endeavor – with Bruce Smith and his son creating and constructing much of the course. They also guide participants, along with a 10-employee crew.
"We have good staff," says Bruce Smith. "You have to have 40 hours of (ACCT) training, CPR and first aid. Guides have to shadow, do rescue training, take refresher courses. We inspect everything, every day before we go out. We ride all the lines, check all the bolts, all the attachments and gear."
Smith says the maximum speed possible on the lines is about 40 miles per hour, and that's only when the wind is not blowing. The entire experience takes around three hours for a group – but there are also two and four line options. The final three lines are the fastest.
Of note: all participants must weigh at least 100 pounds. Smith says the youngest to make the attempt has been seven years old – while the oldest has been 90.
Overall, the goal is to enjoy the ride. "It's a guided tour and you don't have to learn how to brake," says Cindy Smith. "You just hold on and have fun."
For more details on the Zip Lines at Ouachita Bend, call 501-318-3711 or check outouachitabendadventures.com. It's located on Highway 171 between Lake Catherine State Park in Hot Springs and I-30, Exit 97 near Malvern.