Painted Scenes of Arkansas Landscapes Featured at SAAC in El Dorado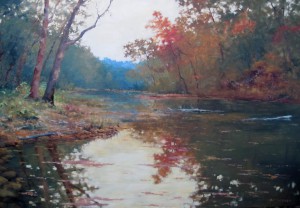 Bill Garrison's oil landscapes of Arkansas will be at the Merkle and Price Galleries at the South Arkansas Arts Center (SAAC) in El Dorado until January 30. The exhibit, called A Brush with Arkansas: A Collection of Arkansas Landscapes in Oil, is a chance to see a variety of beautiful painted Arkansas scenes up close. Many of Garrison's paintings showcase water scenes such as creeks, waterfalls, ponds and lakes.
Garrison, who is based in Russellville and whose work has received awards at local, national and international competitions, shares an art studio with his wife, who is also an artist. Art is a second career for the painter, who retired as a licensed Nuclear Power Plant Operator after 23 years at Arkansas Nuclear One.
According to an SAAC news release, Garrison is an avid plein air painter 'where much of his time is spent on a creek bank, lake shore, open field or just out in the woods of Arkansas painting on location.'
"Painting plein air (outdoors on location) is the best teacher of all and is the most enjoyable form of painting," he said via the news release. "I lose all sense of time and become oblivious to hardships such as weather and insects when standing in front of a beautiful scene in nature with a paintbrush in my hand."
"Being an artist is a continuous learning process," said Garrison as part of his artist statement. " I think I have learned more from the process of plein air painting than from any other source. Painting on location outdoors forces me to paint more quickly and intuitively because of the constantly changing lighting conditions. When I paint in the studio I like to work from studies I have done on location. If I paint using photographs as a reference, it is my goal to make the painting look as if it were painted on location. I have learned that it takes more than merely duplicating a photograph to make a good painting. Simplification of the subject and selective emphasis of certain elements of the painting are essential. Composition of the subject plays a major role in producing a good painting."
The SAAC is located at 110 East 5th Street in El Dorado. Some of Garrison's current work can also be seen on his Facebook page here.