Happening Hot Springs Village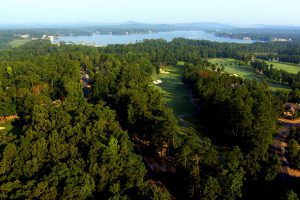 Hot Springs Village is around 15 miles from Hot Springs and holds title to being the largest gated community in the nation.  
"One of the biggest misconceptions is that it is only a destination for golfers," said Lesley Nalley, CEO of Hot Springs Village. "Another is that there is only one generation or demographic represented here."
Located on a vast 26,000 acres in the picturesque foothills of the Ouachita Mountains, there are a range of recreational outlets for residents and visitors to take on, along with nine golf courses, including 11 lakes, around 30 miles of trails, and over 500 miles of road to drive and explore.
One can get a sense of the extensive natural landscape of Hot Springs Village via the Gazebo Overlook on site, where one has a panoramic view of Lake Lago, mountain ranges and Lake Balboa in the distance.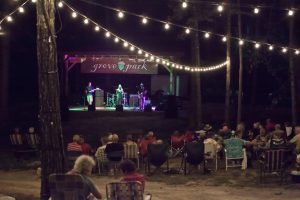 The diverse multigenerational community is also home to gathering spots like the new Grove Park, which hosts events such as live music and artisan markets, cultural performances at venues including Woodlands Auditorium, marinas, festivals throughout the year, sporting events like the annual Tri-the-Village sprint triathlon, and many clubs including a popular outdoor recreation program called Basecamp. This is just a sample of what one can find in the community.
A new avenue to learn about all the activities and events available there has recently opened in Hot Springs. The Hot Springs Village Discovery Center is located in the historic Wade Building at 231 Central Avenue and is next to the Arlington Hotel, which is the largest hotel in Arkansas.
"We just opened this center downtown and we don't want to necessarily funnel everyone through downtown but downtown Hot Springs is one of the biggest tourism areas in the state," said David Twiggs, COO of Hot Springs Village. "And we just wanted to be out in front of folks so that if they wanted to plan a weekend, plan some time here, they can do that there. Or they can do it over the telephone. Basically we now have an entity to help people plan their visit and tell people what is going on."
The center will serve as a single point of entry for those wishing to visit Hot Springs Village or learn more about it. While there, people can for instance schedule outings, learn about community programs and events and how to participate in them, or get information on lots or home purchases. Of note, a guest pass is needed for visitors to gain access to Hot Springs Village.
"If we are working with someone from out of state, we can email them passes," Twiggs said.  "Really it is just like making reservations at any large resort somewhere. If they are in Hot Springs, we can get them [visitor] passes in person at the Discovery Center. And if we have a club trip going on, anybody can join, it is not exclusive to residents."  
Hot Springs Village doesn't currently have a hotel on site, something Twiggs said they are hoping to see change in the future. But visitors can stay onsite via options such as the 99 timeshares available there. Residents also sometime put their homes on rental programs like VRBO and there are a couple of local companies that handle rental homes too.
The DeSoto Golf Course, which opened in the early 1970s, was the first golf course to open at the Village. The DeSoto Club, which is located on the course and was designed by renowned Arkansas architect E. Fay Jones (an apprentice of Frank Lloyd Wright), recently underwent a large scale renovation.
"The DeSoto Club was built in 1970 and is a Fay Jones design, so it had some historical and architectural significance," said Stephanie Heffer, Director of Lifestyle and Community Development at Hot Springs Village. "There was a flood here about four years ago due to a winter storm and they had to gut the building. It sat empty for a year and they got an architectural team in and went through around a $2 million dollar renovation. It was built as a private club and now it is a restaurant supporting residents playing golf but also visitors."  
An aim is for the club to become a destination at Hot Springs Village and outlet for community events to be held at.  "Although the flood was unfortunate, the silver lining was that it let us move this facility into something that has been extremely popular," said Twiggs. Plans for a next phase are for a pool complex to eventually be added to the area. "For a resort type setting you kind of have to have that element," Twiggs added.
The DeSoto Club renovation represents a wave of new happenings that have been taking place at Hot Springs Village over the past few years, including the addition of new programming like Basecamp.
"It is an outdoor adventure program we do on site and throughout the Ouachitas to take advantage of the outdoor amenities we have such as the region being home to three IMBA (International Mountain Bicycling Association)  Epic trails," said Twiggs. Hot Springs has also been named an IMBA Ride Center as well.  
"What we are getting is an influx of younger families and singles and that is opening up a whole new vibe to the programs. We are a multicultural venue. From our standpoint it has been creating these programs and then organizing them so that people can come to be a part of them."
"As a destination people can have their base here and ride a different IMBA epic trail each day for three days, and that's pretty cool," he said. "There is good flatwater kayaking here too and sometimes whitewater when the conditions are right we have opened up some whitewater coming off one of our spillways."
"With 11 lakes, we try to capitalize on the fact that we have great lake kayaking," added Heffer. "You can create your own kayak chain here and hit 11 different bodies of water."  While all of the lakes have paddling access, not all allow motorized access, making them prime spots for activities like kayak fishing.
The base of operations for Basecamp is at Waypoint at DeSoto Marina. The tiny marina was built in the late 1970s as a bait shop and was recently renovated. It now serves as a full service marina and meet up spot where one can get coffee or grab a bite to eat, rent a kayak, paddleboard or boat, find details on upcoming community events, and enjoy the view from a large outdoor deck that overlooks the 200-acre Lake DeSoto. The marina is also the active scene of events like live bluegrass music, crawfish boils, fish frys, and sunset kayak tours.
"Basecamp is a very strong program for us," said Twiggs. "There is so much to do in the Ouachita high country."
Plans are also in place to strengthen the arts scene, including the adaptive reuse of club facilities on site like the Balboa Club, which is in the midst of renovations. The club is in the early stages of offering arts programming and becoming a base for an arts center to take advantage of the rich arts culture of the region. Via a partnership with the Nature Conservancy, work has also been taking place on establishing a new system of trails on adjoining property that runs along the Saline River. Around 5 miles has been created so far. Plans for creating a system of mountain bike trails around Lake Lago are also in the works.
"Hot Springs Village has 26,000 acres, 11 lakes, and around 30 miles of trails and there is so many things moving forward," Twiggs said.  
For more details on Hot Springs Village, visit explorethevillage.com.