Homegrown Music Festival July 21-23 at Byrd's Adventure Center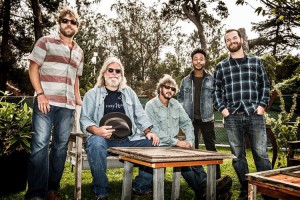 If you like your bluegrass served up with sustainability efforts, kid friendliness, and scenic views, this summer music festival is for you – the inaugural Homegrown Music Festival set for July 21-23 at Byrd's Adventure Center in Ozark, Arkansas.
The music
The event presents a stellar line up of national newgrass and bluegrass bands including Leftover Salmon, The Wood Brothers, and Town Mountain. Also appearing are Henhouse Prowlers, Tall Tall Trees, Arkansauce, Forlorn Strangers, and Taarka. Adam Cox, host of Singled Out radio show on Fayetteville's KUAF 91.3, will feature musicians away from the Main Stage in the Homegrown Music Festival's Pickin' Tent. Adam will conduct interviews, workshops, and small music performances.
Sustainability
In an effort to make a small footprint on the environment during the festival, organizers are including sustainability elements such as a solar energy powered stage, reusable bag that doubles as a festival map; reusable plate and cup for each ticket purchaser to use all weekend; bamboo collectible silverware; solar powered dishwashing station; massive recycling and sorting center; pocket ashtrays from Keep Arkansas Beautiful, and much more. Partners Richter Solar Energy and GreenSource are helping keep the event green and clean.
The food
Expect less "state fair food" and more handcrafted cuisine through handpicked food vendors such as Loblolly and the Green Goat. Ozark Natural Foods of Fayetteville will have a mini-market on Saturday, so you can buy some fresh food for your campsite cooking.
Kid-friendly fun
In the spirit of a family-friendly camping event, Art Feeds, with the help of some local artists and teachers, will host a kids' tent full of crafts made of re-purposed and recyclable materials. You can also stay in a special camping area designated for families with lights out at 11 p.m. A dance floor for kids only will be near the main stage, so parents can enjoy the music and keep an eye on their children. Kids 12 and under will be admitted at no charge.
The place
Byrd's Adventure Center is the leading ATV park in Arkansas and one of the top canoe, kayak, and raft rental services on the wild and scenic Mulberry River. Since 1982, Byrd's Adventure Center has been the original off road and ATV park in Arkansas. In addition to hundreds of miles of ORV and ATV trails in the surrounding Ozark National Forest, Byrd's Adventure Center offers 800 acres of the ultimate trails, mud pits, and obstacles for your ATV, UTV (side by side), motorcycle, and stock or modified 4×4. With concerts beginning in the 1980s, Byrd's was the original music venue in the Mulberry River Valley. In 1995 Byrd's staff obtained the first permit to teach rock climbing in the Ozark National Forest. Byrd's Adventure Center was the first RV Campground and one of the first to offer lodging and cabin rentals along the wild and scenic Mulberry River. Arkansas' first adventure race, the Ozark Challenge, originated at Byrd's in 1998. The first hang gliding aerotow clinic in Arkansas took place at Byrd's in 2004. In 2010 Byrd's Adventure Center was base camp for the first Outward Bound courses in Arkansas. So, of course, it's the natural place to host the first Homegrown Music Festival.
Get your tickets
Full event passes are now available online and at select venues. Primitive camping is included and is first come, first serve. For those of you who like to camp with the comforts of home, call up Byrd's at 479- 667-4066 and reserve one of their electric campsites. It's a $40 additional fee, paid directly to Byrd's.
These locations have tickets for sale:
Ozark Beer Company: Rogers, AR
Maxine's Taproom: Fayetteville, AR
River Rock Realty: Little Rock, AR
Merrill Check Cashing: Clarksville, AR.
Ways to connect
Keep up-to-date on the latest information about the festival via the Homegrown website and through its social media outlets.
Website: http://homegrownfestival-ar.com/
Facebook page: www.facebook.com/Arkansashomegrownmusicfestival/
Instagram: @homegrownmusicfestival
Twitter: @HGMFestival
Email: [email protected]