Three of the best museum gift shops
These three museums in Northwest Arkansas have gift shops that are so nice in their offerings they could stand alone. But, it would be a shame to miss the museum part, so make time to do it all and then take home a piece of the experience.
Museum of Native American History
Buy jewelry here. There are display cases of beautiful turquoise, other stones, and beads set in silver mounts for necklaces, bracelets and rings. You'll also find leather and hammered copper jewelry as well as gorgeous colors of layered fringe boots, Navajo rugs, books, medicine bags, fossils, healing stones, feather earrings and ceremonial fans.
Kids stuff galore makes shopping for young ones easy – headdresses, coon-skin caps, drum rattles, log cabin building sets, play hatchets, hand horses, tambourines, boomerangs, dream catchers, slingshots, bows and arrows, Magic Eggs, and more.
Don't forget to take a tour before you shop. There's just something about this museum that pulls you in, opens your world, and helps you hold hands with the past for a glimpse into what life was like for America's first inhabitants. Divided into five different time periods, the museum offers a vast array of artifacts the show the constantly changing lives of Native Americans. Relics date from over 14,000 years old to historic times.  See hundreds of arrowheads, bows and war clubs, Mississippian head pots, pottery, ceramics, headdresses, beadwork, and so much more.
The museum is located at 202 SW "O" St. in Bentonville. It is open Monday through Saturday from 9 a.m. to 5 p.m. For more information, call 479-273-2456 or visit www.monah.us.
Crystal Bridges Museum of American Art
Take a piece of the museum home with you, whether it's a selection of fine-art prints of some of the museum's most popular works or specialty items inspired by the art, architecture, and nature of Crystal Bridges and created exclusively for it. You'll find high-design home décor, hand-crafted jewelry, and elegant accessories created by international designers as well as regional craftsmen.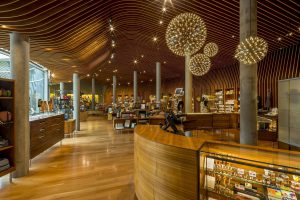 Check out the interior while you shop. It was designed by Fayetteville-based architect Marlon Blackwell and received an American Institute of Architects Honor Award for Interior Design in 2015. Inspired by the fluting on the underside of a mushroom, the design features undulating rows of cherry-wood panels along the ceiling and back wall.
Then, of course, don't miss a leisurely stroll through this art museum as well. The permanent collection spans five centuries of American masterworks from Colonial era to current day, on view year-round and enhanced by temporary exhibitions. The museum is nestled on 120-acres of Ozark landscape with amenities including a restaurant, the store, library, 3.5 miles of trails, and a Frank Lloyd Wright house preserved and relocated on the grounds.
The museum is located at 600 Museum Way in Bentonville. For more information, call the store at 479-657-2310 or visit www.crystalbridges.org.
Daisy Airgun Museum
I bet you can't resist the urge to stick your hand in the massive barrel of BBs, which you can then scoop into various containers for purchase. If you don't have a gun to put those BBs in, well, just look behind you and you'll find plenty to choose from – competition airguns to youth guns. The other great gift items are targets, like fake watermelons that ooze slime when you shoot them, collectibles, slingshots, scopes and sights, and other accessories. You'll also find a line of archery items.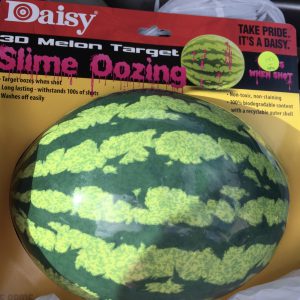 Since 1960, Daisy's corporate offices in Rogers have housed an impressive airgun collection. In 1999, the company decided to share that collection through a first-class, entertaining museum. Today, the museum can be found in the brick-paved historic sector of downtown Rogers in a building which dates to 1896. It attracts more than 1,700 visitors a year from almost every state in the continental U.S. and several foreign countries. Gun and history enthusiasts come to see displays of more than 150 antique airguns dating to the 1600s.
The museum is open from 9 a.m. to 5 p.m., Monday through Saturday. Its located at 202 W. Walnut. For more information, call 479-986-6873 or visit www.daisymuseum.com.