Warm Up With History: Arkansas Sports Hall of Fame Honors the Best
It's cold outside…so why not visit one of The Natural State's many great museums this winter? During January, our blogs will give you suggestions on museums throughout Arkansas that offer something for the entire family…a great chance to Warm Up with History!
Football winds down during January and basketball hits full gear.  The Winter Olympics are coming in February, with baseball not far behind.
Need a little sports fix to help with the transition from one season to another?  Then check out the Arkansas Sports Museum of Hall of Fame.
You don't even have to be a sports fan to enjoy this entertaining hands-on attraction. The highly interactive exhibits are designed to appeal to youth of all ages. One unique area is the Pat Summerall Broadcast Booth, which allows museum-goers to view a tape, pop on a headset, record their own play-by-play calls and then take the tape home. You can see how NASCAR legend Mark Martin got his start at the display of one of his earliest race cars. Test your batting skills.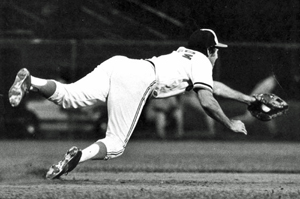 Some of the athletes that have been highlighted include such notables as Pat Summerall, NFL great and award-winning broadcaster, Steve Atwater and Cliff Harris (football); Brooks Robinson, George Kell and Bill Dickey (baseball); Pat Day and Larry Snyder (horseracing); Mike Conley and Clyde Scott (track and field); Mark Martin (NASCAR) and Joe Kleine and Reece 'Goose' Tatum (basketball). The museum is located inside North Little Rock's Simmons Bank Arena, bordered with displays and anchored by a 100-seat theater where a film of the history of sports in Arkansas is shown.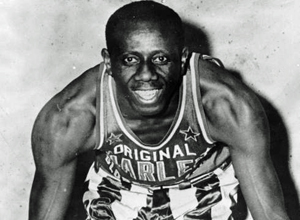 Pictured above is Brooks Robinson, a member of the National Baseball Hall of Fame and considered by most to be the greatest third baseman to ever play the game. Photo to the left is Reece "Goose" Tatum, one of the original Harlem Globetrotters.
Robinson photo courtesy of the National Baseball Hall of Fame Library, Cooperstown, New York, baseballhalloffame.com