Oil Town Festival in Smackover
One of the best ways to spend summer days in Arkansas is at a festival. Smackover's Oil Town Festival, which is held the third weekend in June, is one of the state's oldest festivals! The event (which is celebrating it's 43rd year this year) takes place at Tennyson Park and is a celebration of the city's oil boom heritage.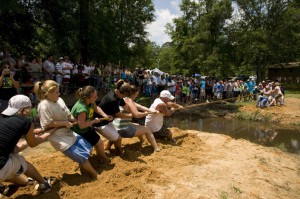 On the lineup this year are live concerts every night including The Issacs on Thursday, June 19, Jason D. Williams on Friday, June 20 and Frank Foster on Saturday, June 21. Also on the agenda are a range of festival activities such as  a 5K Oil Run, a rib cook-off, a tug of war event, a horseshoe throwing contest, a turtle race, a drill bit throwing contest, a rod wrenching contest and the famous yellow duck race down No Name Creek.
Smackover is also home to the only center of the road traffic light in the state. So be on the lookout for that if you go.  Also in town is the Arkansas Museum of Natural Resources, which preserves the state's oil history. The museum opened in 1986 and, although it represents all of Arkansas's natural resources, it is dedicated to the pioneers of south Arkansas's oil industries. This part of the state was transformed by oil and the discovery of it in 1922. It gave birth to one of the wildest oil booms in history. The museum is located at 3853 Smackover Highway. For more details on the festival call 870-725-3521 or visit smakcoverar.com.