Friends of James Beard Benefit Dinner in Bentonville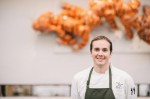 The Friends of James Beard Benefit Dinner is at 6:30 p.m. this Saturday, Nov. 8 at The Hive, located in 21c Museum Hotel in Bentonville. It features the "Best of Bentonville" with the culinary talents of Chef Matthew McClure from The Hive, Chef Rob Nelson from Tusk and Trotter, Chef Bill Lyle from Eleven at Crystal Bridges Museum of American Art, and Case Dighero, director of culinary services at Crystal Bridges.
Just take a look at the menu and I think you'll be sold.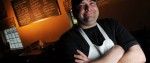 Hors D'oeuvres
Ozark Pumpkin Arancini
Duck Prosciutto-Pepper Jelly Canapes
Chicken Liver Pate
Black Walnut Moonshine
Dinner
Assorted Breads-Garlic Montasio Cheese Gougères; skillet cornbread; fried pork rinds
Glazed Sweet Potatoes with Pecans and Brussel Sprouts
Braised Arkansas Rabbit with War Eagle Mill Barley Risotto, Minted Black Apples, and Carrot Caramel
Marinated and Grilled Venison Flank Steak with Stewed White Beans, Ham Hocks, Tomato Confit, Pickled Shiitake Mushrooms, Grilled Scallions, and Mountain Bird Coffee Red Eye Demi-Glace
Dessert
Sticky Toffee Pudding
A selection of fine wines will be served with this dinner.
Tickets are $180 for James Beard members, and $225 for the general public (this includes a one year Friends of James Beard Food and Wine Enthusiast membership). Friends of James Beard Benefits support JBF programs and scholarships. A portion of the proceeds will go to the James Beard Foundation General Fund and the Bentonville Culinary Scholarship.
Call 479-271-9153 to reserve your seat. For more information, visit Jamesbeard.org/events/Bentonville-ar.