Texarkana: the best of four states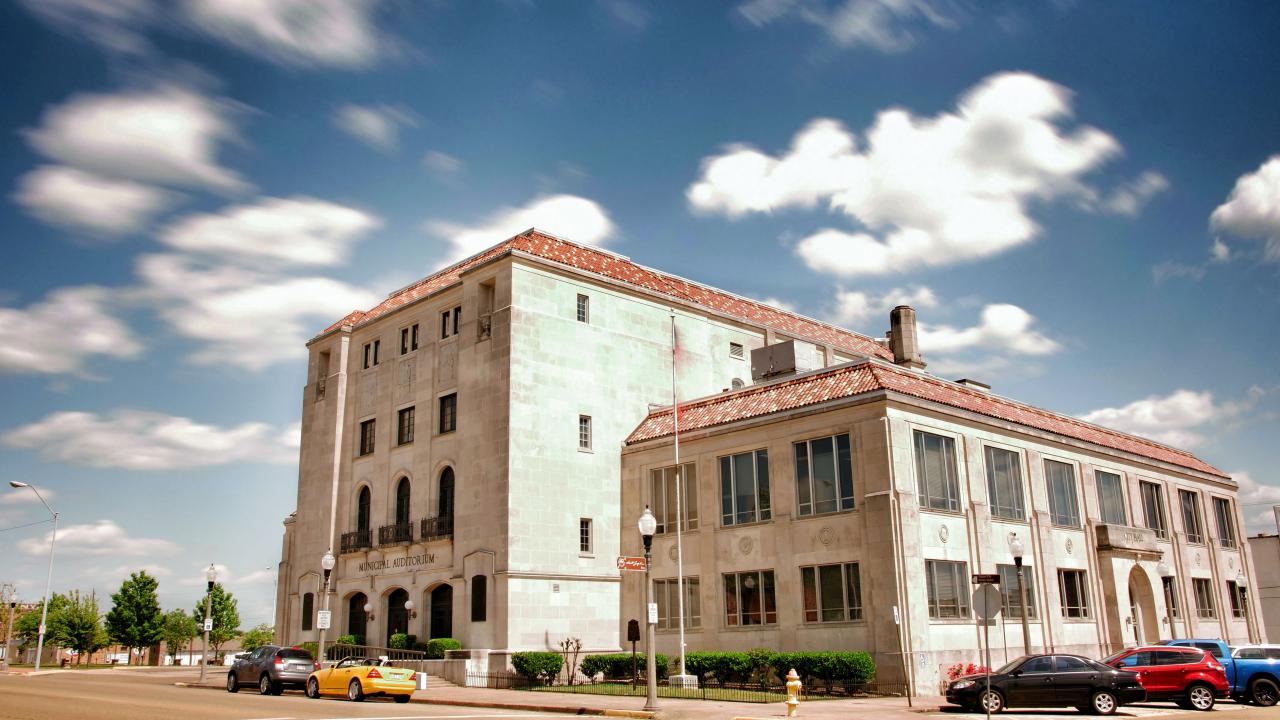 Welcome to Texarkana, one of the most unique cities in Arkansas!
Sitting at the crossroads of four states, Texarkana has been known for a century for its iconic courthouse and post office building that straddles the state line between Texarkana, Arkansas and its sister city, Texarkana, Texas.
The courthouse is one of the two most-photographed courthouses in the nation. You can straddle the line and snap your own photo as you exist in two states at once!
Multi-dimensional photos aside, there's so much more to Texarkana than a cool state line. Whether you love outdoor recreation, culture and the arts, history, shopping or dining, Texarkana has everything to entertain you for a fantastic visit.
Outdoor fun for all ages
Texarkana is packed with venues that offer recreation for everyone from humans to canines.
The Holiday Springs Water Park is an immensely popular family destination with its massive water slides and huge wave pool. The Texas Sky Fall will let you experience free fall 65 feet above the ground. Texarkana Splash Mountain is a 42-foot high play structure with over 100 interactive water features, while the Monkeys Island Pool contains a climbing wall and dares you to cross the lily pads!
A number of city parks offer pavilions, picnicking, sports fields and more. One of the most picturesque is Bobby Ferguson Park, which is threaded with extensive walking and jogging trails and includes two playgrounds, pavilions and a fishing pier. The lakeside pavilion is so scenic that it frequently hosts weddings. Wandering ducks delight young visitors, and dogs are welcome on leashes.
If your dogs want to roam free, though, check out Petsafe JefFURson Dog Park, a fenced park where dogs can run off-leash and have access to agility obstacles. Dogs under 25 pounds even have their own separate area for maximum safety.
The Texarkana Country Club offers luxury outdoor experiences with its 18-hole championship golf course, club pool and fitness center. Tennis facilities include 8 lighted courts as well as a full-service Tennis Pro Shop with excellent views of all courts from its patio and balcony. Murphy's Dining Room, the casual Grill, and the Formal Dining Room can serve every taste from a quick nourishing lunch to an elegant fine dining occasion with friends.
Culture, arts and celebrations
The Texarkana Municipal Auditorium is an icon of music history, built in the 1920s in the Art Deco style with stained glass and chandeliers. The auditorium was a primary stop along Rock and Roll Highway 67, as part of the Louisiana Hayride Circuit that hosted legends of country and rock-and-roll. Johnny Cash, Elvis Presley, Louis Armstrong and Mae West all played in the auditorium. Now, today's audiences can stop by to see the historic setting or attend intimate concerts in the restored building to experience the revival of a living musical heritage. Call for appointment: (870) 779-4991.
If your tastes run to the visual arts, galleries offer extraordinary exhibitions from regional and national artists. The historic 1894 City Market building contains the 1894 Gallery, which showcases work from the finest artists in the region. The 1894 Gallery also serves as an event venue with unique "floating walls" that allow visitors to interact up close with the artworks during their chosen events. Visitors should also check out the Joseph Raymond Fine Art Gallery, which features art by the talented Raymond himself as well as other curated exhibitions. Raymond specializes in large abstracts with deep texture and movement and often lively, saturated colors. He employs mixed media and nontraditional tools as well as brushes and knives with the goal to capture a beautiful feeling, place, time or memory. The result is a stunning and uplifting gallery experience.
If you want to host a special event, another option is the Crossties Event Center downtown in the Arkansas Entertainment District. With 36,000 square feet of beautifully renovated historic building featuring unusually high ceilings, Crossties can host an event as warm and close as a baby shower or as large as a cornhole tournament. This indoor space offers the loftiness and airiness of an outdoor setting. Weddings, catered dinners, corporate parties, concerts, school dances, quinceaneras, trade fairs and more have all found room inside the tasteful brick-and-wood renovation, which includes an original grand staircase in a railroad tribute setting with minimalist Western elegance. Crossties also has a full bar, platform stage, dressing rooms and a patio to allow for plenty of space for all types of events and guests.
While you're downtown, stop by the Four States Auto Museum on the weekend for a real treat for vintage car lovers or history lovers. Their rotating collection of peachy cars make you dream of cruising down that Rock and Roll Highway...or speeding along in aviator glasses and a long scarf in the Gatsby era!
Four States Fair and Rodeo
For more fun that will delight your family, come join us at the Four States Fair and Rodeo in April!
Held on the Four States Fairgrounds, the fair includes a professional rodeo (PRCA), livestock shows, a carnival and more. There's delicious fair food as wells as motorsports, a horse show and home arts on display to please every member of the family.
Dining indoors and out
Texarkana offers great restaurants, many of which include patios to allow you to enjoy the moderate year-round climate. Some notable patio restaurants are Pop's Place, which serves steaks, burgers, seafood and more, Fat Jack's Oyster and Sports Bar, Hopkins Icehouse, Three Chicks Feed, Seed and Café, and for good Mexican food, La Fogata.
A city moving forward
The Texarkana Regional Airport broke ground on a brand-new terminal in 2021. It is now home to a new United Airlines flight to Houston. It's a great time to be in Texarkana! Come visit us and experience this friendly community with all the advantages of small-town life along with the arts, shopping and dining of city life!